Obituaries
Captain Basil Tiernay Pegg
Late Grenadier Guards
by his son Jonathan Pegg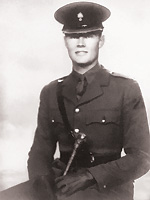 Basil Pegg passed away peacefully on 31st December 2019, at home in Alresford, Hampshire. Born in 1925, Basil enjoyed a rural childhood near Mayfield in East Sussex, as well as boarding at Allen House Preparatory School, before Eastbourne College in 1938. He ended his Eastbourne years, two of which were under wartime evacuation to Radley, as head boy, captain of the rugby, fives, and athletics teams.

From Eastbourne, Basil was commissioned in the Grenadier Guards. He was frustrated not to take part in the assault on the Nijmegen Bridge in September 1944, but was among the first into Berlin, beaten only by the Russians to Hitler's bunker. The rest of his service was largely concerned with intelligence gathering and restorative projects.

Upon being discharged in 1947, Basil went up to Queens' College, Cambridge. Two years later he was reading law at Christ Church College Oxford. His love of travel pointed to a career with British Petroleum. After five highly social bachelor years managing BP's Rome office, he was based in London with trips abroad for BP's Middle East and West Africa department. It was in London where Basil met Deidre Wingfield whom he married in 1969.Three years later they were sailing to West Africa with their one-year old daughter, Camilla and the next year their son Jonathan was born in Dakar.

In 1977, Basil seized the chance of returning to his beloved Rome when John Deuss, the oil tycoon, asked him to run JOC Oil's Rome office. Five years later the firm was consolidating its international operations and Basil returned to JOC Oil's London office before retiring. The next chapter was divided between a family house near Newbury and an apartment in Knightsbridge until a move to Hampshire, near Winchester. During these years he completed a History of Art degree and maintained an active interest in the stock markets.

In his early seventies, Basil developed cerebellar ataxia and consequently suffered from gradual loss of balance, a condition he bore with great physical courage and counting his blessings for being of sound mind and otherwise well. These became less apparent after he turned ninety, but in Deidre's care he could remain at home, where he was often surrounded by his five grandchildren. It was on the eve of 2020, a few months after golden wedding celebrations, Basil died peacefully at home aged ninety-four, with Deidre and both of his children present.