Obituaries
W S R Kenyon-Slaney OBE KSTJ JP DL
Late Grenadier Guards
by Major P A J Wright OBE
formerly Grenadier Guards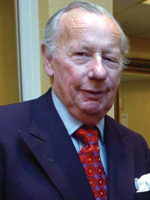 Simon Kenyon-Slaney, the former Vice Lord-Lieutenant of Shropshire, who died peacefully at his home in Much Wenlock on 12th May this year, was aged 88. He was born on 31st January 1932, the son of Major R O R Kenyon-Slaney, Grenadier Guards, and Nesta Forestier-Walker. His father served with the 1st Battalion in the First World War and was wounded in action with the King's Company at the First Battle of Ypres. Simon was brought up at Hatton Grange, near Shifnal.

After Eton, then the Brigade Squad and Eaton Hall Officer Cadet School, being taught to be an efficient platoon commander, he followed his father, grandfather, and great-grandfather into the Grenadier Guards. He was commissioned as a National Service officer with the 3rd Battalion in April 1951, and later that year was posted as a lieutenant to 14th Company Grenadier Guards at the Guards Depot to complete his service in 1952. His elder half-brother Robin had also joined the Grenadiers shortly after the Second World War, both coming from a prominent Shropshire family.

On completing his National Service, Simon returned to Shropshire and began his training as a chartered surveyor at the Apley estate, near Bridgnorth. In 1960, he married Mary Bridgeman, the daughter of Lieutenant Colonel The Hon H G O Bridgeman DSO MC. After periods spent in North Wales, and subsequently as the resident land agent at Haddon Hall in Derbyshire, he returned again to Shropshire in 1966 to start farming. In 1968, he bought Chyknell Hall, a Regency country house near Claverley where he and Mary lived for 42 years.

Simon was involved with the setting up of the Bridgnorth branch of the Shropshire Voluntary Helping Hand Association in 1966, and in 1969 was made county chairman of the charity. He became a magistrate in 1969, joined the county's Magistrates Committee and served on the Bridgnorth bench until retiring in 2002. He represented Shropshire at the Magistrates Association in London and was appointed High Sheriff in 1979. He was also a past chairman of the county St John Ambulance Brigade, having been a member since 1969, for which he was appointed a Knight of the Order of St John of Jerusalem in 1993 and in 2004 was awarded an OBE. He was an enthusiastic and supportive President of the Shropshire Branch of the Grenadier Guards Association from 2007 until 2012. One of his most significant contributions to the county was his long and enduring association with the Ironbridge Gorge Museum Trust, becoming Vice-Chairman.

Simon was widely considered as a kind, courteous, wise, and thoughtful man whose encyclopaedic knowledge of county life was always available if sought but never proffered without invitation. He was a true countryman and an astute and accurate observer of the natural world. He was a passionate gardener, with a particular love of azaleas, rhododendrons, and lilies, and also an accomplished fisherman and experienced forester.

Mary predeceased him in December 2018 and they are survived by their three sons Harry, Andrew, Francis and seven grandchildren. There will be a service of thanksgiving in 2021.