Obituaries
Colonel Edmund Hudson CBE
Late Grenadier Guards
by Colonel E H Houstoun OBE
formerly Grenadier Guards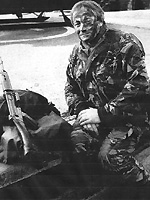 Edmund Hudson died suddenly aged 75 at home on 7th June this year. He was one of the few winners of 'the Empire Triple Jump' (MBE, OBE, CBE) for six years distinguished service in Northern Ireland. He was born in Harrogate on 21st June 1944; the Isle of Wight was home from 1945-48 and then Versailles from 1944-51, where his father, who was in the RAF, was involved in selling the French Air Force their first jet fighters. Then to Guernsey, enrolling at Elizabeth College in 1958 where he became a prefect and typically commented in a letter home 'I do not know why!'

After a heated argument about his future with his father, and in a huff, Edmund joined the Parachute Regiment as a 'tom' and passed the tough recruit training including on two occasions having to open his reserve chute on jumps. By 1964 he was at Sandhurst where he demonstrated that he had all the requisite qualities to be an officer: tough, resourceful, and straight talking. He was selected to be an Under Officer and in July 1965 at the Sovereign's Parade, he received the new Sovereign's Standard when it was presented to the Champion Company. In December 1965 he passed out of Sandhurst and was commissioned in 1st Battalion Grenadier Guards.

In 1968, the Battalion deployed to Sharjah, and as Mortar Platoon Commander, Edmund was able to make use of the limitless live firing opportunities and brought the platoon to battle-ready excellence. In April 1970, he was posted to Canada as an exchange officer commanding a company of the Canadian Guards in Petawawa, Ontario. His posting coincided with serious insurrection by the FLQ, a Quebecois separatist group. Edmund took his company to guard the Houses of Parliament in Ottawa, much to the concern of the British Embassy.

This was followed by the Vancouver Penitentiary riots when prisoners took over the jail, inmates were tried by Kangaroo Courts, murdered, and beheaded. Edmund recommended that the prison should be cleared from the top down. He organised helicopters from which his Company abseiled onto the roof and he led them in clearing the prison, witnessing the most appalling scenes in the process.

In 1976, with the 2nd Battalion in Hong Kong, Edmund commanded the Inkerman Company. On exercise in Brunei, he decided to construct a bridge over a river; with experience of felling trees with explosives in Canada, he selected one the size of a Saturn rocket, while the Company Second in Command moved the Company to what he thought was a safe distance. There was a massive bang and the tree took off in exactly the opposite direction of the river. At this point the Company 'legged it' crashing through the jungle like a herd of elephants. Edmund wanted to try again but was dissuaded when it was pointed out to him that there was a suitable deadfall straddling the river a few hundred yards upstream!

As officer in charge of water sports in Hong Kong, Edmund had procured a triple hulled speed boat for trips to the remote islands and had named it the Sir Alan Adair. All ranks and their families benefitted from day trips in this imaginative purchase for the Battalion. His several determined attempts at water skiing were a disaster; despite huge power from the boat, only a pair of hands between the tips of the skis were visible above the massive wake while his head remained defiantly submerged.

By 1978, Edmund had progressed to Headquarters British Forces Hong Kong as a staff officer. Sam Coleridge held a drinks party around the swimming pool at the Shek O Country Club. Commander 51 Brigade attended with the officers and wives from the Battalion. Edmund decided it would be fun to throw him in and creeping up on him from behind, he placed one hand on his waist belt and the other on the back of his shirt collar, lifted him up and propelled him in an arc high above the surface of the pool before gravity took over! Silence ensued before Edmund himself was pushed in and the soaking Brigadier joined in the merriment.

Six eventful years in Northern Ireland followed. He oversaw the formation of the South Armagh Patrol Company with its six platoons based at Bessbrook Mill and went on to command it; after a busy tour, he was awarded the MBE for his inspirational leadership. The job of Commandant at the Royal Tournament then intervened before he returned to Northern Ireland to command 8 Ulster Defence Regiment in Dungannon. Major Jay Nethercott, one of his company commanders, described him as 'a colossus of a Commanding Officer…his nature was to push the boundaries'.

East Tyrone was a dangerous, terrorist infested command area. While Edmund always put his soldiers first, this was a fight he was not prepared to lose, and the successes of the Battalion are a testimony to his commitment to succeed. Tragedy came when one of his soldiers was murdered by the IRA; this senseless and depraved act reduced him to tears. He was awarded an OBE for his outstanding command of the Regiment.
Edmund completed a sprinkling of staff appointments leavening his time in command. The Military Secretariat was invariably his choice for which he was regularly chosen as people meant so much to him. He was immensely popular, and it was in that appointment after his sixth year in Northern Ireland that he received a well-deserved CBE.

After completing an MS appointment at Headquarters British Army of the Rhine, his final job was managing the Army redundancy programme, which he did so well he emerged redundant himself! After leaving the Army in the 1990s, he tried various careers from bursar at the Dragon School in Oxford to building narrow boats before he finally settled on 'Toys for Boys', a company specialising in wooden structures for gardens and play areas. He became a talented designer and his clients included Richard Branson for whom he built a cricket pavilion, Jemima Khan, and Matthew Freud.

In 2003, his daughter Katherine married Jeremy Hodges and Edmund's first grandchild, Frederica was born in 2006. (Little) Edmund followed in 2008. His involvement in their upbringing, and the careful planning of holidays and outings which became major events, gave endless pleasure, purpose, and great satisfaction to all his family.

Edmund was leading a full and active life until in 2012 he was struck down by a mysterious disease which attacked the nerves in his legs, gradually depriving him of the ability to walk unaided. Every conceivable test was carried out, but doctors were unable to diagnose or cure his condition. His lack of mobility made his last years difficult and though he chafed at the enforced inactivity, he never lost his sense of humour or zest for life.

He became a supportive and enthusiastic President of the Oxford Branch of the Regimental Association and channelled his energy into its activities. His interest in natural history remained an enduring passion and he derived great pleasure from observing the wildlife in and around his house and garden.
Edmund was always larger than life and permanently full of fun. He loved his friends and was a devoted husband to Roz, who he married in 1969. She survives him with their daughter Katherine and their two grandchildren.