Obituaries
Lieutenant Colonel Alec Jackson LVO MBE
Late The Life Guards
by Lieutenant Colonel R J Morrissey-Paine
formerly The Life Guards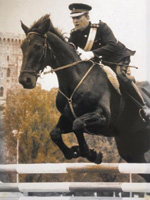 Alec Jackson, a legendary Riding Master of the Household Cavalry was born in Goole, Yorkshire, in 1928, and spent his earliest childhood years there. Alec could remember seeing German aircraft returning from bombing Liverpool dropping their remaining bombs on Hull. He came from a large family of ten and money was tight to the extent that Alec and two of his older brothers were sent to work on local farms after school in exchange for board and lodging. Alec worked alongside Italian Prisoners of War from whom he acquired a love of Italian food though not the language. It was on the farm that he first learned to ride on the shire horses then used on farms.

A mounted display in Yorkshire kindled Alec's ambition to join the Household Cavalry and he enlisted into The Life Guards in June 1947, the year of one of the coldest winters on record which resulted in severe economic hardship in Britain. After initial training he was posted to the Mounted Regiment where his formal equitation training commenced and his ability and work ethic were soon recognised by the redoubtable Major Tommy Thompson DCM, the then Riding Master who made Alec his groom. Then, as now, the Army helped in civil emergencies; in 1953 it was with flood relief work on the East Coast. But 1953 is remembered chiefly for the Coronation, on which Alec rode in the Sovereign's Escort.

Alec's subsequent career encompassed service not only at mounted duty but also tours with The Life Guards at Windsor where, as Squadron Quartermaster Corporal (SQMC) of C Squadron, the Squadron was despatched, at 48 hours' notice, on an emergency tour in Cyprus in 1963 under command of 16 Parachute Brigade, to contain a severe conflict between the Turkish and Greek populations. The administrative burden of such a tour falls largely on the shoulders of the SQMC and Alec rose to the challenge, remaining calm and in control of all the supply issue and challenges for an independent squadron. Alec was subsequently promoted to Squadron Corporal Major of the new Household Cavalry Squadron at the Guards Depot.
During his tours at mounted duty, Alec completed two riding instructor courses which consolidated his riding skills and marked him out as not only a fine horseman but also a gifted riding instructor who expected nothing less than the best from everyone.

On the retirement of Tommy Thompson in 1966, the Household Cavalry was fortunate in having two contenders to succeed him as Riding Master, one from each regiment. Alec was selected while Jock Ferrie of The Blues went on to be the Team Coach for Irish Eventing on his retirement from The Army. Alec was commissioned as Lieutenant and Riding Master in April 1966 on promotion from Warrant Officer Class 2.

Alec was to serve as Riding Master for 18 years. Apart from The Queen's Birthday Parade, The Garter Ceremony, State Visits, and The State Opening of Parliament, there were also Royal Weddings, The Investiture of The Prince of Wales, escorts in Scotland, The Queen's Jubilee, and many others, the success of which bore testament to Alec's attention to detail and his ability to train both men and horses to the highest standards.

This, in outline, are the salient events in Alec's early life and military career, but there was much more to the man. From being selected as groom to the then Riding Master, and only the best were, to SQMC of a squadron on an emergency tour, and finally as Household Cavalry Riding Master, Alec demonstrated a tremendous work ethic but it was his personality that shone through. He demanded the same standards that he himself lived by but Alec was by nature quiet and understated with a beguiling sense of humour. He had a reputation for bark but his bite was by no means worse. Fierce in Riding School and on parade, in private and off parade he was the most charming and considerate of men. Fiercely loyal to his Regiment, his Riding Staff and above all to the many Commanding Officers that he served, he set an example to everyone. A long-time member of his riding staff wrote, 'my son was named after him and he was present at wedding and christenings; I think that shows what I thought of him'. Stories are legion but one Alec told of himself was when he was preparing the Foot Guard officers for The Queen's Birthday Parade, including the Major General, John Swinton. He shouted, 'General, get your leg in' which had no effect and caused Alec to thwack the offending leg with his long whip. There was a sound like a pistol shot, horses and riders went in all directions. Alec was mortified to learn that the leg was wooden, the original being lost in Germany in 1945. The Major General's only comment was, 'that fooled you'. Alec's mere presence in the Riding School always enlivened proceedings and concentrated the mind of students, instructors, and horses.

Mounted Ceremonial apart, Alec was a keen competitor in show jumping competitions and competed as part of the Household Cavalry team at one of the first team chases initiated by Douglas Bunn at Hickstead that were to become a popular equestrian sport. Alec's lasting legacy to the Household Cavalry, however, was the reintroduction of the Musical Ride now not only a major feature of agricultural shows up and down the country but also overseas. Notably, shortly after Alec became Riding Master, with the Queen's Guards Tattoo in the USA, the Musical Ride stole the show in Philadelphia, Madison Square Gardens, and Boston. In 1975 Alec formed a quadrille, a feature of which was the 'lying down of the horses'. HM The Queen Mother asked to see a demonstration of this as HM The Queen had told her she had seen it at the Royal Tournament. Both the Musical Ride and Quadrille continue to this day and as recently as last year gave performances in Morocco at the instigation of the British Defence Attaché. Alec's legacy lives on and the Musical Ride and Quadrille continue to be significant contributors to showcasing the best of Britain. Alec was a great supporter of the Weser Vale Drag Hunt which had been co-founded by his friend Major Bill Stringer when Quartermaster of The Blues and Royals in Germany. Alec ensured that the most suitable horses were sent to the stables in Germany, suitable not only for riding school but also for hunting.

On retiring from the Army in 1984, having progressed from Trooper to Lieutenant Colonel and in the course of which he was appointed to be a MBE and later LVO, Alec did not hang up his spurs as so many would have done, but became Secretary of The Royal Tournament under its Director, Colonel Iain Ferguson, Scots Guards, a post he was to fill for twelve years. It was a truly family affair as his wife Alma ran the box office. In this role Alec was a personality to all three Services of the Armed Forces. He dealt with their myriad problems calmly and with great humour. Many an insoluble problem became soluble in Alec's hands. With contingents from many countries taking part, Alec was the soul of tact and reason. On one occasion, on being asked where a contingent from Jordan could pray, he led them to the roof which was perfect but he was only briefly stumped when asked in which direction they should pray. Inspiration came with the lights of the Mecca Ballroom coming on. The Royal Tournament gave Alec the chance to travel widely in the search for new acts and, having caught the travel bug, in retirement he and Alma continued to travel widely.

Alec finally retired in 1999 when The Royal Tournament was discontinued. Having lived in married quarters throughout most of his married life until leaving the Army, he and Alma bought a house in West Harrow where they lived until increasing frailty resulted in them being unable to continue to live on their own and they moved into a care home. Alma died in 2019, having been a mainstay of Alec's life. They were both justly proud of their son Kevin's successes from Cambridge University and beyond. Alec died on 27th April 2020, aged 91.

Traditionally, all ranks of The Life Guards are addressed as 'Gentlemen'. Alec was straight as an arrow and totally without side, the epitome of a Gentleman of The Life Guards and a most illustrious Household Cavalry Riding Master.