Obituaries
Major Peter Verney
Late Irish Guards
by Brian Gilbart-Denham
formerly Irish Guards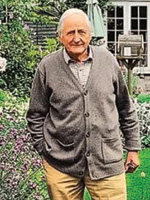 Peter Verney came from a distinguished family of soldiers. One of his forebears was Sir Edmund Verney, Knight-Marshal to Charles I at the Battle of Edgehill in 1642. His father was Major General Gerald Verney DSO MVO who in 1944 commanded 7th Armoured Division, the Desert Rats, before becoming British Military Governor in Vienna.

With fifteen evacuees from England in 1940 Peter escaped from the Nazi blitz to Long Island New York where aged nine he met his future wife Caroline Hartford. After Eton he went on to Trinity College Dublin where he studied horticulture and agriculture.

Peter Verney joined the Irish Guards in Egypt in 1954 with 80,000 servicemen guarding the Suez Canal. Between endless patrols there was excellent shooting in the Egyptian marshes. Henry Blosse-Lynch's game book records Peter shooting on eight occasions. 'Our best bag was 27 snipe and 1 teal'. Henry remembers 'We returned to England on board HMT Lancashire on 1st March and had a very liquid St Patricks Day'.

Peter was then to serve in Aden, Kenya, Cyprus and Norway. In Aden Peter commanded No 3 Company in Wadi Matlah. One night the position came under heavy fire from local rebels. David Webb-Carter abandoned his Scrabble and charged the attackers, later being awarded the Military Cross for his actions. From Aden Peter Verney, Christopher Wolverson and the author made a memorable trip to Ethiopia where we met up with Peter Fleming, friend of Peter Verney, who enthused about the treasures in the Coptic Churches and the tribesmen in the Danekil Basin, suggesting that it was an ideal setting for his brother Ian's James Bond.

Antony Weldon recalls 'When I joined the Battalion Peter was my Company Commander, and on my first day I went to the Company office to find a note from him: 'Welcome to No 3 Company. I'm sorry I'm not in the office today as the weather is good I shall be gardening for the next few days, but hopefully we'll meet up before too long'.

A countryman at heart, with a love of fishing and shooting, Peter became a prolific author, with books including The Standard Bearer, a profile of his family history; The Micks: Story of the Irish Guards, written in 1970, the first history of the Regiment; Here Comes the Circus; The Gardens of Scotland; and Earthquake Handbook. His garden in Bisley, Gloucester became a showpiece.

He was a devoted father to his three children Louisa, Harry and Hetty and to his eight grandchildren.