Obituaries
Major (QM) Albert Smith MVO MBE
Late Coldstream Guards
by Colonel Malcolm Havergal CVO OBE
formerly Coldstream Guards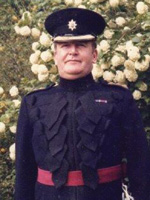 It was with great sadness that his many friends heard of the death of Albert Smith on 12th September 2019. His long and distinguished years of service embraced two very important appointments outside the Household Division and on leaving the Army he was to be appointed to a senior post on the staff of the Royal Household.

Albert was born in Gateshead in January 1938 where he attended St Chad's School and later Hartlepool School where he was an accomplished footballer. He was trialled at Gateshead FC and invited to return after his National Service.
Albert enlisted in 1956; he had intended to spend his National Service in the Royal Engineers, but the Recruiting Sergeant changed his mind and, to the Regiment's great good fortune, he joined the Coldstream, signing on for three years because the pay was so much better.

His early career at duty in both Battalions prospered and he was also to become a most successful Regimental Recruiting Sergeant in Newcastle and a Superintending Sergeant in the Junior Guardsmen's Company at the Guards Depot. His career progressed when he became Company Quartermaster Sergeant in the 2nd Battalion before further promotion to Company Sergeant Major in the 1st Battalion. The Battalion returned to Northern Ireland for a second time as part of Operation MOTORMAN to remove the barricades in the Creggan and Bogside of Londonderry. Albert's Advance Party was billeted in the Creggan Primary School; a Company Orders Group sitting on stools round tables built for five-year olds was a sight to remember!

In 1972 he was appointed Drill Sergeant of the 1st Battalion which then moved to Berlin. Two years later he was promoted to Regimental Sergeant Major of the Army Apprentice College at Chepstow. This was an inspired appointment and Albert's insistence on the highest standards coupled with his understanding and encouragement played a special part in the development of hundreds of the brightest young soldiers in the Army.

Having risen to the highest non-commissioned rank, Albert was commissioned in 1976. He returned again to Londonderry, to join the 2nd Battalion as the officer responsible for the well-being of the families who accompanied the married Guardsmen on that tour. This was at a time when the Guardsmen were very badly paid, and the financial position of many families was further weakened as there was no work the wives were allowed to undertake. There were therefore many delicate difficulties to be undertaken and Albert's natural kindness and friendliness, coupled with his ability to get things done, was a great encouragement to all and a welcome help and comfort to many anxious young families.

Albert's excellence was now widely recognised and over the next five years he would become the Technical Quartermaster of the 1st Battalion in Germany and Quartermaster of the Guards Depot.

In January 1984 Albert was selected to be Quartermaster of the newly formed British Army Training Team in Zimbabwe. This was a novel undertaking in difficult political and tricky social surroundings demanding enormous tact, patience, persistence and forbearance. Albert possessed these qualities in abundance and, even in particularly difficult moments the team were always perfectly supported. He much enjoyed his African sojourn and, for his superb service in Zimbabwe, Albert was made an MBE.

On returning to England he spent the last year of his distinguished Coldstream career happily at Regimental Headquarters, oblivious of the plans being hatched for his future. The zenith of his life's work still lay ahead.

Albert was appointed Superintendent of the Royal Mews in September 1986, a long-established position in the Royal Household of great responsibility. He embraced his new duties with characteristic enthusiasm and vigour and, with his natural tact, set about some modernisation.

Settled in an appointment of which he was justifiably immensely proud, in beautiful surroundings, surrounded by like-minded colleagues united by a common aim, Albert and Lynne were supremely happy. Then in 1992 while abroad on holiday the disastrous accident occurred resulting in the devastating injury which was to alter their lives forever.

As soon as he was able to do so Albert resumed his duties and manfully soldiered on, always putting his disability to one side, but at great cost to his future well-being. In 1996 in recognition of ten years exemplary service, he was received in private audience by The Queen who invested him with the insignia of an MVO.

In 1998 Albert retired from the Mews where he is still remembered with much respect and affection and, maybe particularly for his annual appearances as Father Christmas at the Mews Christmas Party.

The Smiths moved to their house in Haverhill: in 2008 they made their final move to King's Lynn where they had old friends and where Lynne's loving and devoted care made his last difficult years comfortable and happy.

Above all, Albert Smith was a man of exceptional goodness and kindness whose calm encouragement helped many friends and comrades of all ages through difficult times. He and Lynne were married for sixty-one devoted years, and to her and their family we extend our deep sympathy on their great loss.