Obituaries
Captain A J Maxse MBE
Late Coldstream Guards
by Colonel Martin Maxse
formerly Coldstream Guards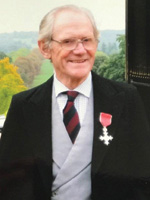 Tony Maxse was born in London on 22nd June 1932. He died on the 8th October 2019 in a Hampshire nursing home, a year after being diagnosed with Motor Neurone Disease, aged 87.

The family spent the war at Little Bognor in West Sussex, his grandparents' house near Fittleworth. It was an idyllic childhood, exploring the countryside, riding and occasionally hunting with the Leconfield.

He went to Amesbury Prep school, near Hindhead and then Eton. An attempt by his father to get him to go to a university having failed, when asked at interview why he wished to enrol, his response of 'I don't' settled the issue, and he went to Sandhurst. Following in the footsteps of his father and grandfather, he was commissioned into the Regiment in August 1952 and after the basic infantry courses at Hythe and Warminster was posted to the 1st Battalion in Egypt, returning with them to the original Chelsea Barracks in 1953. In 1955 the Battalion was sent to Krefeld BAOR. Tony was Anti-Tank and Carrier Platoon Commander; he may even have inherited the Irish Guards' legendary mythical 7th Carrier. In March 1959 he was appointed ADC to the Governor and Commander in Chief for Cyprus (Sir Hugh Foot, later Lord Caradon), which then was in the middle of the EOKA nationalist troubles. It was here that he met Sue Emson, his future wife, who was working for Lady Foot. On returning to England and Public Duties he enjoyed hunting at Melton with the Saddle Club and sailing on Gladeye. In 1961 he married Sue Emson. A very astute move and a most successful union.

He resigned his commission in July 1962, giving the demise of the 'Army Joke' as his reason and, having qualified, worked for the estate agents Weller & Egar in Farnham. For 8 years he was a Master of the HH but when a take-over of the firm threatened his hunting, he moved to Jones Lang Wotton in London. On leaving them he ran his own holiday cottage business, travelling the country photographing and inspecting potential lettings. When he retired from this, he really got started; organising charity walks; writing the First World War chapter for the Regimental history, as well several articles for various publications, and leading family battlefield visits to various First World War sites in France. His sixteen charity walks covered over 1500 miles, each one carefully recce'd on foot, and he raised over £500,000 for a wide range of local and national causes. He was awarded the MBE in 2010. He died as he had lived: quietly, without complaint. A model of common sense, he was a compassionate, generous and modest man.