Obituaries
Captain Philip Anthony Foxwood
Late Coldstream Guards
by Captain Richard Novis
formerly Coldstream Guards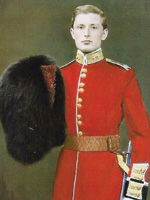 Philip Foxwood (formerly Philip Ali Fazil) had a diverse and complex family background. His grandfather, Prince Ali Fazil, was a member of the Egyptian Royal Family (Turkish in origin) who entered a morganatic marriage with a French National. Philip's father married an American National, acquired British nationality, and obtained a regular commission from RMA Woolwich in the Royal Artillery.

Philip's prep school headmaster (a war time Coldstream officer) at Hildersham House, sponsored Philip for the Regiment and in 1956 he was commissioned into the 2nd Battalion Coldstream Guards, then stationed in London, performing ceremonial duties. Educated at Harrow (where he was an accomplished athlete) and at RMA Sandhurst, Philip cut a dashing and debonair figure on the London social scene in the late 50s and was more often to be seen in white tie and tails or dinner jacket, which he described as his favourite uniform.

Philip took every opportunity to go skiing and was a fearless figure on the slopes giving little consideration to any dangers that might lie ahead. He also attended the Arctic Winter Warfare Course in Norway and was one of four subalterns selected for two weeks ski training with the Chasseurs Alpins French mountain warfare troops, based at Morzine in the French Alps, in preparation for the British Army Championships. This visit coincided with the French New Year Celebrations and a performance of 'Sabrage' by one of the French officers during dinner. Philip was taking no particular notice of the revelry until a small splinter of glass from the exploding magnum of champagne struck him on the cheek, at which point he stood up and uttered his first words of French of the visit; 'je suis blessé'.

In 1959 the 2nd Battalion was posted to Kenya on a 3-year tour as part of 24 Brigade with Philip acting as the Anti-Tank Platoon Commander. He was one of a party of four Coldstream officers to first climb Mt Kilimanjaro unaided and unassisted. Standing on the summit of Kaiser Wilhelm Spitz, as it was then named, Philip nonchalantly surveyed the whole of Africa stretched out below him and deliberated what might be on the menu for dinner at the Muthaiga Club on returning to Nairobi. The others were left gasping for air. Philip's athletic prowess was later demonstrated in somewhat bizarre circumstances in the final of the East Africa Command Championships when he was obliged to run a double lap of honour in the 4 x 880-yard relay after the Kenya teams (mostly consisting of Olympic athletes) had all finished! This was achieved with Philip's usual aplomb, accompanied by tumultuous cheering and clapping from the largely African spectators who delighted in seeing Philip complete the relay alone, a solitary figure round the track.

Back in UK, Philip joined The Guards Independent Parachute Company on a three-year tour which took him on various exercises in many parts of the world. This was probably the most rewarding part of his military career, making many friends and enjoying the camaraderie of this elite unit, of which he became a regular attender at the annual re-union dinners. His final appointment was Adjutant of the 2nd Battalion, which was posted to Aden in October 1964 under the command of Lieutenant Colonel Sir Ian Jardine Bt, whose father had served in the same regiment of Royal Artillery before the war with Philip's father. Shortly after arriving in Aden, Philip's Land Rover was blown up on a mine, which resulted in him losing his left leg with serious loss of blood. His driver, Guardsman Norton, was partially blinded but managed to find another vehicle, whose driver (a Gunner Wheeler) drove Philip and Guardsman Norton to RAF Khormaskar and reached the hospital just in time to save Philip's life, an action for which Guardsman Norton was later awarded the George Medal. This accident effectively ended Philip's military career.

After an operation and skin graft in Aden and rehabilitation at RAF Headley Court, Philip worked in the City for a short time before taking up an appointment as a Junior Treasurer with the NHS, in London. He resumed, at once, his skiing (on one leg) and met Mary, his future wife, on the slopes of Zermatt. He also rode 'The Cresta' but was unfortunately banned after a fall at 'Shuttlecock'. Each year, he held a 'Leg Anniversary Drinks Party' culminating in a memorable 50th lunch party for 50 guests at Boodle's where a pudding was wheeled in on a trolley. When the silver lid was lifted, there was a vanilla cake in the shape of a severed leg with lots of red jam on the end.

Philip accepted early retirement from the NHS and worked for 18 years part time at St Michael at the Northgate, Oxford and for the Conservative Association. He spent 10 years on various War Pensions' Committees and later another 10 years as a SSAFA case worker. During this time, he played a pivotal role in persuading his local MP, Douglas Hurd to un-freeze the percentage rates of the Polish Veterans who had served in the Eighth Army, for whom the Foreign Office was still hoping to pass the cost to the Communist Polish Government. He was also one of many who successfully persuaded David Cameron to intervene over many antiquated restrictions on the awards of War Widows' Pensions. He became an active member of The Pilgrims and was able to organise for them a tour of No 10 with lunch at Boodle's, where he was a member for over 50 years. He was also a member of Pratt's. He went out of his way to express the gratitude he owed to his many friends and kept in touch with his Aden driver, Andrew Norton GM. He continued to be a great supporter of his Regiment throughout his life and was the first to offer B&B accommodation to Coldstreamers returning through Brize Norton from Helmand province during the Operation HERRICK tours.

He is survived by his wife Mary whose father was Clifford Mansel Reece KC of the Colonial Legal Service, his son Hugo, now Curate of St Stephen's, Twickenham, and two grandchildren. He is buried in the Ramsden Cemetery, wearing, of course, his oldest possession and favourite uniform ... his dinner jacket.