Obituaries
Sir John Alexander Noble Graham Bt GCMG
Late Grenadier Guards
by Alan Ogden
formerly Grenadier Guards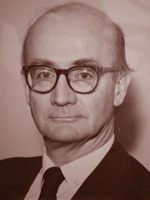 Sir John Graham, who has died aged 93, was born on 15th July 1926 in Calcutta, where the family business, Graham's Port, had diversified to in the 19th Century The son of Lieutenant Colonel Sir [John] Reginald Graham who had won a VC during the Samarrah offensive in Mesopotamia in 1917, he was educated at Eton College when two German bombs fell on the College in 1940. He joined the Army in 1944 and was commissioned in the Regiment shortly after the end of the Second World War. He served with the 3rd Battalion in England and Palestine.

After leaving the Army he went up to Trinity College Cambridge to read Classics and Law before joining the Diplomatic Service and studying at the Middle East Centre for Arabic Studies. His diplomatic career included tours in Bahrain (1951), Kuwait Army (1952), Jordan (1953), Yugoslavia (1957-60), Libya (1960-61), and London where he was Private Secretary to two Foreign Secretaries, Michael Stewart and Sir Alec Douglas-Home.

After being posted to Washington as Counsellor and then Head of Chancery, he served as Ambassador to Iraq from 1974-77, represented the British Government on the ground in the run-up to the Lancaster House Agreement deciding the future of Rhodesia in 1978, and was Ambassador to Iran from 1979-80 during the turbulent days after the overthrow of the Shah. He succeeded to the baronetcy as the 4th Baronet in 1980. His final post was as Ambassador and Permanent Representative to NATO from 1982-86, the last two years when Lord Carrington, a fellow Grenadier, was Secretary General.

He retired from the Diplomatic Service in 1986, becoming Registrar of the Order of St Michael and St George 1987–2001 and Director of the Ditchley Foundation 1987-92. In 1956 he married first Marygold Austin (who died as a result of a car accident in 1991) and then, in 1992, Janet Howells (née Hayes), the widow of a diplomat.

Sir John was always immensely proud of his short career in the Regiment and reminded his Argyll and Sutherland Highlander kinsmen that his experiences with the Brigade Squad and as a young Grenadier officer had left an indelible mark. He was a committed supporter and Vice President of the Oxfordshire Branch of the Association for many years. Sir John leaves two sons and one daughter from his first marriage. The eldest, Lieutenant General Andrew Graham CB CBE, formerly Argyll and Sutherland Highlanders, succeeds to the title as the 5th Baronet.