Obituaries
Captain A C Chambers DL
Late Grenadier Guards
by his brother-in-law, Captain P G C Maxwell
formerly Grenadier Guards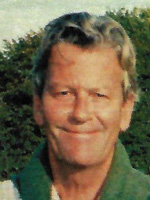 Tony Chambers died on 21st November 2019 at 75 years of age. He was born at Barnard Castle, Yorkshire on 8th December 1943, the 2nd son of Brigadier Sam Chambers CBE and Mollie née McAllister Chambers. Serving in the Royal Engineers, Sam was promoted during the Second World War from private soldier to brigadier, a notable achievement. At Sam's funeral, Tony pointed out that, in Sam's day, if starting with modest credentials, the Army was one of the few routes available for social mobility.

Tony was educated at Ampleforth College and, after a year studying as a novice monk at Ampleforth Abbey, went on to St Catherine's College Oxford, where he took a BA Honours Degree and subsequently MA in Modern History. He married, in 1965, Rosemary fourth daughter of Wing Commander Gerald Constable Maxwell MC DFC AFC, the Royal Flying Corps fighter ace who shot down 32 German planes in the First World War, and Carrie Carden of Dallas Texas. Whilst at Oxford with the OTC he did a stint with the King's African Rifles, commanded by his future Grenadier brother-in-law Brigadier Miles Fitzalan-Howard, later Major General the Duke of Norfolk,

Tony went on to be commissioned into the Grenadier Guards in 1965. His brother officer, James Tedder, says 'During the early years of the Northern Ireland troubles, in 1970, 1st Battalion Grenadier Guads were sent to Londonderry and within hours were on the street dispersing angry rioters. Tony, as second in command of No 2 Company was coordinating the military response from the Operations Room, which could be extremely tense and busy. However, he was always cool, calm and very helpful to all. Tony had a delightful sense of humour and much laughter was had by all concerned. He had a very good rapport with all ranks and was highly respected'.

Another close friend, Philip Wright, says 'Tony joined 1st Battalion when training for a possible emergency deployment to Aden was being carried out. This involved night patrolling exercises on Hankley Common, a small army training area surrounded by houses. Tony, who had been trained in the importance of following a compass bearing without deviating, managed in the pitch dark to lead his platoon of 30 Guardsmen off the area into the large garden of one of the houses. The astonished owner watched as Tony, followed by his platoon, climbed down one side of his, fortunately empty, swimming pool and then crawled across the bottom and over the far side without once deviating from their bearing.

By 1968 Tony had been promoted to captain in command of the Signals Platoon on a nine-month unaccompanied tour in Sharjah, providing a communications network throughout the Trucial States and ground-to-air communications with the Royal Air Force. He was a brilliant Regimental Signals Officer, who mastered the very tricky atmospherics of the desert and mountain signals environment.

After five years Tony left the Army, convinced by the Regimental Colonel that (in those days), as a married man he would not get the key jobs like Adjutant leading to high promotion. After his retirement from the Regiment, he kept in contact in part through his support for the regimental Miles Marriott Trust. John Rodwell writes 'The Trust was originally endowed by his family, at the end of WW2 in memory of Miles Marriott who was killed right at the end of the War. Since then it has been responsible for providing some small assistance with school fees for Grenadier Officers who might otherwise have left the Army to seek greater financial reward in civilian life. Tony was appointed as a Trustee 20 years ago and took over from Bernard Gordon-Lennox as Chairman in June 2012. His financial experience as a banker with Flemings, together with his experience of bringing up a large family, made him ideally qualified to advise his fellow Trustees and guide the fortunes of the Trust, a role which he carried out with characteristic enthusiasm, skill and determination'.

On leaving the Army, Tony joined the merchant bank Hill Samuel. He took an MBA at Manchester Business School, and joined First National Bank of Chicago in London, focusing in the early 1970s on North Sea Oil development, and also expanding the bank's interests in ex British Africa, notably Kenya and Nigeria. In 1984 he became a director of Robert Fleming, and in 1996, Head of Banking and Chairman of several of its overseas banking operations. A friend also on the board described him as an imposing presence. Later he held several chairmanships and directorships. He was a passionate sailor and member of the Royal Yacht Squadron.

Tony was devoted to his family, with huge pride in Rosemary, who survives him with their five children and 17 grandchildren. A friend says of him 'He was incredibly warm and kind; magnificent and upright in all he did, a man of complete integrity and decency'. He combined high intelligence with humour and practical common sense. He held a strong Christian faith tempered with constructive criticism of the Catholic Church hierarchy, which he felt gave inadequate attention to the views of the laity. He was a Trustee of the Army Benevolent Fund, Help the Aged, The Army Cadets, and The Hospital of St John and Elisabeth. He was also Chairman of Hampshire Scouts and a Deputy Lord Lieutenant of Hampshire.