Obituaries
Lieutenant Colonel Richard Besly
Late Grenadier Guards
by Major General Sir Evelyn Webb-Carter KCVO OBE DL
formerly Grenadier Guards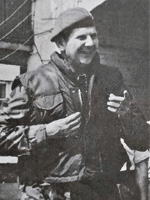 I first met Richard when I arrived in the 2nd Battalion as his Adjutant, I had just come off the Junior Command and Staff Course, a sort of school for budding staff officers and I hadn't done particularly well so was dreading the appearance of my course report. It arrived the day after I reported for duty so no chance to give a differing impression to the Commanding Officer. The closing sentence of the report said something like... 'this officer has not yet reached the stage of his career when he wishes to take it seriously'. Richard read this out to me and said with a laugh that I was to enjoy for many years 'thank goodness for that!'

That laconic comment showed that Richard was an immensely human person who although a very competent officer did not appear to take soldiering too seriously. He was immensely loyal to his officers and soldiers and he was far more interested in their wellbeing than in his own.

John Richard Seymour Besly, a Wykehamist like his father, joined the Regiment as a recruit in January 1950 and was commissioned as a National Service officer. He joined the 3rd Battalion in Tripoli and it was there at a Brigade swimming championships that he acquired his nickname. The result of the whole championship depended upon the result of the 4x50 metre relay race. Richard was in the final leg and the team were lying second. By his own admission Richard had done a great deal of sunbathing and was thus of a very dark complexion. Pat Robertson, the Commanding Officer, was so excited at the prospect of winning the championships he shouted: 'come on you ruddy wog, get a move on'. Although the team won the relay Richard won a nickname.

Not long afterwards the Battalion was warned to join 1st Guards Brigade to guard the Suez Canal and Richard's prime concern was his future, as his National Service Commission was about to end and unless he signed on to be a Regular he would miss the action in Egypt. So, he applied and gained the Regular Commission: later he said it was one of his better decisions, although the Battalion found themselves merely guarding the vast base at Tel El Kebir.

In Egypt he was able to enjoy sport; he was an accomplished tennis and squash player. Many years later as Commanding Officer he would see off officers 15 years his junior. He enjoyed other things too, after too good a night at the Officers' Club in Fayid, he and Christopher Keeling were asked to leave. Having driven back to camp somehow and parked the car they simultaneously remarked 'thank God I wasn't driving'. The 3rd Battalion was a wild battalion in those days and the Adjutant, Hew Hamilton-Dalrymple was one of the few sober officers and it was he who, seeing the potential in Richard deflected his exuberance into learning French and so to an Interpreter's course Richard was sent and this was to prove a useful asset later in life and Richard was always very grateful to Hew.

Switching battalions to be the Adjutant of the 2nd Battalion, Richard spent four years in Egypt, which seems extraordinary these days. But in 1956 the Battalion moved to Windsor when one of the more bizarre events took place. Richard had just inspected the Windsor Castle Guard and so was dressed in greatcoat, forage cap and sword when the Police appealed to him to come and assist in dealing with an angry bull that become loose following a cattle market in Slough. Richard and David Fanshawe, the weapon training officer armed with his rifle, drove to the scene. What met them was more like Laurel and Hardy and the newspaper description entitled 'Besly the Matador' makes for good melodrama: it read 'Captain Besly arrived with Lieutenant Fanshawe, the bull made a short charge. Captain Besly raised a cold eyebrow and adjusted his sword. The Bull stopped and licked its lips. "Fanshawe", said Captain Besly "shoot the bull" and so he did with a fine shot'. Osbert Lancaster created a cartoon out of the story. Not long after this Richard married Dinah Gore. As we have heard he and Dinah were a great team making a wonderful family life with their five children.

In 1968 Richard was sent St Cyr, the French Officers' Academy as the British Liaison Officer; his work in learning French years before had paid off as the two years there were one of the happiest periods of his life. Richard was highly thought of by the French military who enjoyed his quick wit and sense of humour. Whilst there Richard wrote a remarkable account of the Algerian War, 1954-1962, which was much acclaimed but caused some irritation that it was written by an Englishman! Hubert de Lisle tells me that ten years later it was still being quoted at the French War College in Paris. Rather unusually, Dinah gets a mention in his St Cyr confidential report for being a perfect hostess and an excellent French speaker.

Richard took command of the 2nd Battalion in Caterham in 1971 and at the time we had a residual responsibility, at company level, to garrison the colony of British Honduras, now known as Belize. In January 1972 there was flap when the Governor of the colony was convinced that the Guatemalans were going to invade on the pretext of some ancient claim. The Battalion was going out anyway for a six-week exercise and in the process rotate the company. After the advance party had deployed and the main party was at Brize Norton the Ministry of Defence decided to play safe and ordered the Battalion to remain for 6 months. You can imagine the implications of all this for the Commanding Officer who found himself in an Evelyn Waugh situation (as in the Sword of Honour trilogy) complete with a deranged Garrison commander, a spit image of Ritchie Hook. The whole scheme was beset with gross exaggerations of the threat, but Richard had to decide how he was going to defend this small colony against the Guatemalans. The Garrison Commander took it very seriously which Richard found hard to do. He was wont to say, 'I think we should kick the whole thing into touch' or 'it's totally clapped out'. On the way back from yet another recce of the planned Battalion defensive position at a place called Teakettle, he turned to Henry Boyt, our tame helicopter pilot, and said 'well, can you imagine the next time we troop our colour on the Queen's Birthday Parade it will have Blenheim, Waterloo, Normandy and..... Teakettle emblazoned on it'; ... much laughter followed.

British Honduras was a trying tour and as the threat was clearly evaporating it became harder to sustain the morale of the Guardsmen, but Richard was well equipped; he was approachable, enjoyed talking to soldiers and frequently made them laugh. In the orderly room Richard used to award officers and soldiers nicknames. Many are unrepeatable but Patrick Nisbett who rejoiced in having 5 initials to his name was referred to as Patrick Alphabetical.

The Battalion's next challenge was two tours in quick succession in Northern Ireland; the first just for a few weeks and then shortly after, a full four-month tour of the Ardoyne and Shankill. We took over from 3 PARA who in their customary way had stirred up the pot and gripped the area. Richard's approach was different; he had a light touch and was more measured. Pundits thought the situation would revert to a lawless scenario; in fact, Richard's sensible and gentler tactics worked, and his Brigade Commander commented in Richard's report that the opposite had occurred, and instances of violence, shooting and bombing continued to drop throughout the tour. Not only did he receive this compliment but in the last week of the tour the Catholic priest in the Ardoyne thanked Richard for the Battalion's restraint and professionalism, something I doubt he told 3 PARA!

Robert Nairac was in the Battalion at the time and he did some good work with Bob Woodfield in semi-covert operations in the Ardoyne. Richard felt very responsible for Robert whom we all liked and admired. So, when later, Robert's work took him to South Armagh and the tragic circumstances of his death came to light Richard was very troubled that he had been unable to prevent Robert being sent back for another tour in his undercover role. Richard, latterly supported by Ginny, became something of a champion of Robert's reputation and did much to correct misrepresentations of his life and death in Ireland.

Richard was a popular and much-loved Commanding Officer who frequently gave Guardsmen the benefit of the doubt. He had the irritating habit of giving Guardsmen, who were able to spin a cakey bar, time off without telling the Adjutant or anybody else for that matter. After commanding the battalion, Richard went to London District for two years as AQMG. When afterwards he was offered a job in Germany he decided to leave the Army. He became a fundraiser for several charities, notably The British Heart Foundation where he spent eight years finishing as Director of Fundraising. This was hard work, but Richard brought his own brand of enthusiasm and humour. He became something of a charity expert, latterly being a self-employed consultant and was a key member of the Regimental Council for some years. His last role in the charity sector was as a fundraiser for Eating Disorders Association, about which he felt passionately.

Richard was a lovely man, amusing, generous and kind, who was universally popular and is much missed in many circles. As we reflect on the man let us give a thought to Ginny.... and Emma, Lucinda, Tom, Sarah-Jane and Mikey, a Grenadier, and their families who have lost a wonderful husband, father and grandfather. For my part I am sad that this is my last adjutantal duty to a Great Grenadier it was a privilege to know and serve.