Obituaries
Major Stewart Vetch
Late The Life Guards
by Lieutenant Colonel R J Morrisey Paine
formerly The Life Guards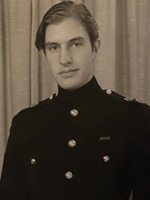 Stewart Donald Granville Vetch died, aged 69, on 25th December 2019 at home in Kenya surrounded by his family.
Stewart grew up in Kenya on the family farm at Nyeri and at Molo in the Kenyan Highlands and later at Lake Baringo. It was an idyllic childhood giving him a deep knowledge of Kenyan wildlife which was a source of pleasure throughout his life. This idyll, facing down a rhinoceros, escaping from askaris whilst attempting to visit a girls' dormitory in Limuru and numerous other escapades, ended when he was sent to The Nautical College, Pangbourne, in England.

Stewart was popular at Pangbourne as he possessed an innate personal charm. While there he showed no apparent interest in joining the Army let alone the Navy, but he did play the drum in the band appropriately clad in a leopard skin. From Pangbourne after brief dalliances in the City and at the Sorbonne, dalliances being the operative word in the latter case, Stewart was commissioned into The Life Guards in 1971, joining them in Germany. Stewart was not a man to bear a grudge but, having received an instruction to report to The Regiment, whilst on holiday in America, he was greeted by the Adjutant saying that he was not expected for several weeks; he was a little piqued. Stewart had a full and varied army career encompassing Germany, Northern Ireland, mounted duty at Knightsbridge, Windsor and Cyprus before resigning his commission for civilian life in 1988.

Urbane and exceptionally good looking with great personal charm, Stewart was a hugely popular officer respected by all ranks. His languid air was deceptive as it concealed a tremendous work ethic.

Stewart's time on the Westphalian plain was uncongenial to him but his generosity and thoughtfulness were ever present, and on one occasion he provided champagne for a brother officer's 21st birthday – an event that the officer concerned had forgotten. Typically, he once told a rather loud Field Officer, 'you know, I don't take kindly to being shouted at'.

His service in Northern Ireland was first as a Troop Leader at Aldergrove for a relatively quiet tour followed by a second tour in Armagh as a Squadron Operations Officer which was much less so but during which he demonstrated his unflappability and coolness under pressure, including a machine gun attack on one of the bases. Stewart's professionalism attracted favourable comment from the Brigade Major (H Jones, of Goose Green fame). He did horrify the Brigade Commander, however, who was to attend The Royal College of Defence studies in Belgrave Square, by suggesting that a house near Belgrave Square would be a good idea, much to the Brigadier's consternation at the expense.

Stewart took to mounted duty like a duck to water; a long equitation course honed his skill as a natural horseman, and he took full advantage of the opportunity to hunt in Leicestershire. His house in Montpelier Walk was conveniently close to the Barracks.

A Cyprus tour commanding an independent squadron as part of UNFICYP was very successful. He was exceptionally good at not only getting on with but charming all nationalities and he enjoyed establishing the highest sartorial and culinary standards in the Officers' Mess, designing an exotic cummerbund for mess dress. Stewart enjoyed all that Cyprus had to offer, not least, surprising all with his skill at mono-skiing.

Back in Germany, Stewart was an elegant Field Master of the Weser Vale Hounds and demonstrated his skills as a horseman across country until, in chasing a loose horse and coming back with it, he calmly announced he thought he had broken his leg which indeed he had, in five places. A spell in Rinteln Hospital followed where, as always, he charmed everyone.

Stewart commanded Caterham Company at the Guards Depot and did two tours as a staff officer, as SO3 at 1 Infantry Brigade and as SO2 (Ceremonial) at Headquarters London District under Lt Col Jonathan Seddon-Brown SG, who remarked on his charm, attention to detail, and his ability to get on with the police. From this appointment Stewart retired from the Army.

Stewart left the Army to return to Kenya but with the family farm having gone post Kenyan Independence, he became involved in several ventures, initially as a safari guide and then a partner in a safari company where his deep knowledge of African wildlife proved invaluable. Other ventures included working in the security field for Armour Group with David de Stacpoole, a fellow Guardsman, where his knowledge of people and places in the region was a tremendous asset; and finally, as secretary of the Muthaiga Club in Nairobi. With over 6,000 members and 260 staff it was a demanding job. Stewart was an enormous success. He undertook a major building programme to enhance the facilities of the Club whilst also significantly improving the existing facilities. He was an immensely popular secretary and again his charm and ability to persuade rather than cajole reaped its reward. His focus was always on those who worked for him. On retiring from the Club, he lived between Soysambu on the Delamere Estate and Somerset.

Stewart married June Ross, his childhood sweetheart, in June 1980 in the Guards Chapel. June and his two daughters Cynara and Liana were his life and it was a huge comfort that his final days after a long illness borne with courage and dignity were spent with his family at Soysambu.

From the many letters received after Stewart's death all commented on his generosity, calmness, sense of humour and total lack of side. Truly a gentle man.