Obituaries
Captain Sir Nicholas Powell Bt
Late Welsh Guards
by Paul de Zulueta
formerly Welsh Guards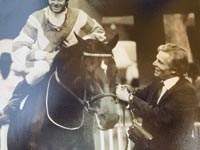 Nicholas Powell's life was reminiscent of Denys Finch-Hatton, the aristocratic big-game hunter played by Robert Redford in the Academy award winning film, Out Of Africa. He was an old-style adventurer, glamorous, devilishly attractive to women, often just a step away from near death encounters with crocodiles, and a loner at heart.
He was born in 1935; if it had been much later, he would have found contemporary life intolerable. He had no time for convention or conformity.

Nicholas gave the examiners an easy ride at Cothill and Gordonstoun, his teachers less so; but his time at Gordonstoun, where he became Captain of Ferreting and Hare Coursing, at least developed his love of the outdoors. It was inevitable that Nicholas would be drawn to the Welsh Guards as his father, from whom he inherited the baronetcy, had a distinguished war record with the Regiment's 2nd Battalion, winning an immediate MC in 1944 and bar in 1945. His Brigade Squad report described Nicholas as 'A smart, pleasant personality, a natural leader, robust and physically fit; he should make an average officer'. Senior officers were not given to exaggerated praise in those days.

Nicholas was commissioned in 1953 and served with the Regiment in Egypt, and in Kenya during the Mau Mau rebellion where he was attached to the King's African Rifles. It was his time in Kenya that first sparked his love of Africa. After a Landrover crash in Yorkshire over which a thin veil was drawn, Nicholas retired from the Regiment to return to Africa. His first job with the unpromising title of 'assistant to the assistant ranch manager' of the Central Estates in Rhodesia (Zimbabwe) allowed him to pursue his love of danger, though he had little intention of becoming a farmer. By then, he was married to his first wife, Daphne Errington, a woman of fortitude and perseverance, who bore him two children, of which the elder, James, has inherited the baronetcy.

It was a hand to mouth existence though a happy one as Nicholas and Daphne sought to make ends meet and give their two children an adventurous childhood and life-long memories. In 1972, they took a gamble and moved to the Eastern Highlands to take over a derelict coffee farm. With their determination, it soon became a beautiful farm and in 1976 they had their first true lucky break. The coffee harvest in Brazil had failed due to widespread frosts, neatly coinciding with Nicholas and Daphne's first big coffee crop. Not one to put away money for a reversal of fortune, Nicholas did away with his Peugeot 403 pick-up, snapped up a powder blue Mercedes, a string of race horses, and a permanent suite at the Meikles hotel.

The Rhodesian Bush War didn't prevent Nicholas from conducting business as usual. He would hurtle through the Lowveld in his Mercedes with the Rolling Stones song Start me up blaring through the speakers, reasoning that the terrorists would have no time to mount an ambush. Daphne's patience and appetite for drama had by then worn thin and their marriage came to an end. In 1989, at the age of 54, Nicholas married Dee Alsopp and fathered three more children, the second of whom, Oli, is now serving with the Regiment. Dee was a great horse and racing enthusiast, and Nicholas and she bought a farm filled with horses, ostriches, giraffes and antelopes in Bromley (not Kent!) but in the Mashonaland, east of Harare. The racing weekends became five-day affairs, witness to the last of the care-free and sparkling days of the old Rhodesia.

In 2002, Mugabe and his government requisitioned all white settlers' farms and Nicholas and his family, with heavy hearts, moved back to Wiltshire. Nicholas had time on his hands, he was then in his late 60s, but he made the most of his time and devoted himself to bringing up his second family. Africa's lure was never far away but he was fortunate that his eldest son, James, had moved to Tanzania to build a career and bring up his own family. Many evenings were spent with James's family, whisky to hand, pouring over maps and planning the next mission, with scant regard to health and safety.

Nicholas was buried in the churchyard in Little Coxwell, Wiltshire. In the African tradition, his sons and grandsons took off their sombre jackets and filled in the grave, tenderly laying the turf for his final rest.