Obituaries
HRH Grand Duke John of Luxembourg KG
1921-2019
Late Irish Guards
Seventh Colonel, Irish Guards, 1984-2000
by Colonel Sir William Mahon Bt LVO
formerly Irish Guards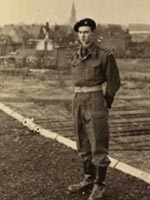 John Luxembourg, an Irish Guards ensign aged twenty-two, never forgot that he had performed public duties in battle dress in the summer of 1943, including King's Guard at Buckingham Palace. Unlike most of his fellow Guardsman, this young man would one day be Guest of Honour at a State Banquet.

He was born Prince Jean Benoit Guillaume Robert Antoine Louis Marie Adolphe Marc d'Aviano at Berg Castle, the family's principal residence at Colmar-Berg, in central Luxembourg, in 1921. He was the eldest of six children of Grand Duchess Charlotte of Nassau and her husband Prince Felix of Bourbon-Parma. Lest there be a shortage of Christian names, a godfather, Pope Benedict XV, gave the young Prince his second name.

Prince John's early education was in Luxembourg followed by Ampleforth in spartan North Yorkshire. Aged thirteen, when he arrived, the Yorkshire Post commented that he would 'have to wait many years for his accession, for his mother, the reigning Grand Duchess Charlotte is only 37'. At Ampleforth, among other skills, he learned to eat whatever was set before him, a knack that came in handy in the army and later at state banquets. Jean studied law and economics at Laval University, Quebec.

The Germans invaded Luxembourg on 10th May, 1940. Thankfully the family had escaped the previous night. They sought refuge in Paris before the prince and his siblings went to the United States, renting an estate in Brookville, New York, while the Grand Duchess oversaw the administration in exile from London.

Then, since there was a war to be won and his country needed liberating, with King George VI's support he volunteered for the Irish Guards. The Scotsman of 20 November 1942 reported 'Crown Prince Jean of Luxembourg has joined the Irish Guards as a Private, enlisting at a London Recruiting Office on Saturday. He is 21.' He went to the Guards Depot, Caterham, and was in Sgt B. Bassetts's Brigade Squad in No 8 Company Welsh Guards under Major H.T Rice.

In due course he moved on to 161 (RMC) Officer Cadet Training Unit, otherwise known as RMC Sandhurst, and commissioned on 28th July 1943; later that day he addressed the people of Luxembourg on BBC Radio. He was posted to the Irish Guards Training Battalion at Lingfield, and as part of his continuation training attended a London District street fighting course at Chelsea.

In February 1944 he joined 3rd Battalion Irish Guards at Malton in Yorkshire, preparing for the invasion of Europe (in countryside totally different from the bocage of Normandy). Before the young officer saw action, however, the Regimental Lieutenant Colonel, Colonel Sidney FitzGerald visited the Grand Duchess Charlotte, in Wilton Crescent. She is said to have remarked: 'Well if he gets killed that will be that, but please do not allow him to be taken prisoner'.

He made many friends for life in the Regiment so when he returned as Colonel he was among old friends again, in particular the late (Senator) John Ross, and Richard, Viscount Boyle, later Earl of Shannon who had been in his Brigade Squad.

He remembered his arrival in Normandy well, and recalled in The Guards Magazine that the '3rd Battalion landed near Arromanches on 23rd June, 'unmolested and dry shod' and reunited "in pleasant orchards" outside Bayeux. They found that by the strange processes of the Army, the first reinforcements had already been in Normandy for nearly a week" As a matter of fact, I belonged to this reinforcement or holding unit, under the command of Captain Goddart-Jackson, reaching French soil on 11th June. Both he and Sergeant Daly played us ashore with their bagpipes when our landing ship Infantry touched the beach. Around 23rd June I was happy to watch the officers and men of my Battalion landing on the beach near Arromanches'.

Colonel John kept in touch with many of his old friends: 'In a letter our signaller reminded me of two German fighter planes attacking our group, unfortunately killing an anti-aircraft gunner behind us'.

On 28th June he re-joined the 3rd Battalion, taking part in the costly Operation GOODWOOD in the area of Cagny, intended to clear the ground for the taking of Caen. Shortly before the fall of Caen John Luxembourg was attached to Headquarters 32nd Guards Brigade under Brigadier George Johnson. With them he was involved in the fighting right through France, including the Race for Brussels, which, amid tumultuous rejoicing, he entered by the Porte de Hal and Boulevard de Waterloo.

When the advance resumed after the liberation of Brussels, he continued with the Brigade Headquarters until they reached the Albert Canal near Bourg Leopold.

At that moment General George Patton, commanding the US Third Army, ever alert for political opportunities, was about to enter Luxembourg, and realised that the Prince was nearby. He arranged with General Montgomery to release him for the liberation. He received orders on 7th September to join his father Prince Felix who was serving with the 5th US Armoured Division at that time. On September the 10th, 1944, John Luxembourg crossed into his country at Rodange, whence his family had fled the German invasion. Then accompanied by Prince Felix he joined General Patton in the group of first Allied VIPs to enter Luxembourg city, greeted by flowers, clapping and delirious happiness.

Returning to 32nd Guards Brigade, he was involved in the Battle of the Bulge, and the costly Reichwald attacks north west of Wesel. As German strategic resistance began to crumble, there was fanatical tactical defence to overcome during the advance towards Bremen and Hamburg.

On 14th April, 1945 he was back in Luxembourg (with his father, Prince Felix), to greet the Grand Duchess as she returned from exile accompanied by Winston Churchill and to celebrate with a jubilant population.

After the war, and now a captain, he was attached to the Allied Military Mission in Luxembourg, helping to arrange the repatriation of his displaced countrymen and women.

He wrote: 'Later on I was sent to Berlin to try to ascertain the fate of my fellow countrymen, so many of whom had been deported to Germany during the previous four years. I made the acquaintance of the great Marshal Zhukov, victor of the Battle of Berlin, who showed me the gruesome wreckage of Hitler's bunker amongst the ruins of the city'. The Marshal asked whether the Luxembourgois people had suffered much in the war. When Captain Prince Jean replied that there had been widespread starvation, and deportation to Germany for forced labour, and that they had suffered greatly, Zhukov flew into a towering rage and shouted 'How dare you say your people suffered when Mother Russia has suffered millions of dead and untold suffering in the Great Patriotic War?' Then, just as quickly as his rage had erupted, it dissipated, and he became polite, hospitable and well-mannered. It left a lasting impression on the young prince. Zhukov's alarming indignation had masked the fact that he was unaware that a higher proportion of people from Luxembourg had been deported or killed than from any other country in Europe.

Prince John was in London on 14th February 1952 and marched in King George VI's funeral procession in a rank of fellow-Princes from Jordan, Norway, the Netherlands, Denmark and Iraq.

Acceding to the throne after his mother's abdication in 1964, Grand Duke Jean became sovereign of the small territory. During his 36-year reign, this constitutional monarchy, in which legislative power is vested in an elected Chamber of Deputies, was transformed into one of the wealthiest countries in Europe, an evolution for which his wisdom and diplomacy deserves much of the credit.

The Grand Duke's state visit to Britain in 1972, when he returned to Buckingham Palace, this time as a guest, was the first by a ruler of his country. As he walked into Westminster Abbey to lay a wreath on the tomb of the Unknown Soldier, an elderly woman in the crowd called out: 'I always listen to Radio Luxembourg'.
The speeches at the state banquet looked forward to Britain's forthcoming membership of the European Economic Community, with The Queen paying tribute to the remarkable recovery that Luxembourg had made since the war. She concluded: 'I know that we shall always be able to maintain the same happy personal relationship between our two peoples which has existed for so long'. In reply the Grand Duke, with a mind to the 1839 Treaty of London and two world wars, observed that Britain had always stood by his country.

The Grand Duke was a countryman at heart, and an excellent international mixer. When his friend King Hussein of Jordan married in May 1978, the Grand Duke, knowing his Harrow and Sandhurst credentials, gave him a characteristically personal wedding present: a black Labrador called Jazz.
The Grand Duke of Luxembourg was installed as Knight of the Garter in company with the Queen of Denmark on 16th June 1980. This was the same summer that Lord Mountbatten was murdered, and Field Marshal Sir Gerald Templer died, whose funerals in London and Windsor respectively, involved the Regiment.

In 1984 he was appointed Colonel of the Irish Guards, as successor to General Sir Basil Eugster. This broke the mould, for the Regiment in deference to Irish politics had hitherto always had a senior officer as its colonel. Thus, in 1984 the idea of a royal colonel, discreetly proposed by senior officers in the Regiment, was novel. Colonel John was enthusiastically welcomed back because he was 'one of us'. Although he had ridden horses as a young man, he was not a ceremonial horseman. The Regiment sent him a groom to help him to prepare, but like many others, he found riding behind The Queen on the Birthday Parade a nerve-racking experience.

His first visit as Colonel was in Münster, Germany on St Patrick's Day when after the parade he visited the cook house. The new Colonel stood to attention and stated as if he were a recruit: 'Nothing has changed; here I am, 23585014 Guardsman Luxembourg J! Washing in the wash, boots in the cobbler's shop; otherwise kit present and ready for your inspection, Sir!' It brought the house down. On another occasion he drove himself from Luxembourg to Münster. By the time he had arrived at the German border darkness had fallen. The German Autobahn Polizei in a Porsche ('the white mice') were waiting to escort him at speed to Münster. Following the flashing and whirling blue light was dazzling over the long distance at night. He stayed with the Commanding Officer in his quarter. One afternoon the programme was intentionally relaxed, so a happy time was spent shooting clay pigeons on the Dorbaum training area.

The Grand Duke received honours from many countries, and in March 1995 The Queen appointed him Honorary General in the British army. He was a reticent, shy figure who almost never gave an interview and addressed his subjects only at the end of the year and on the national holiday, 23rd of June.
In 1986, he attended the battlefield tour of Tunisia incognito, (in the way of such things he was shown on the hotel list at Hammamet as Colonel Connor, Connor being the Wolfhound at the time). There was a coach load of cheerful Irish Guards veterans. Colonel John sat in the front and took a great interest in it all. Somewhere near Medjez-el-Bab the vehicle became grounded on some stones on a rough track, and the Arab driver climbed out. Realising he needed some assistance and thinking that 'Duke' was a forename in the American fashion, he called back 'Come on, Duke, we need you to help give a push'. And the Grand Old Duke of Luxembourg duly climbed out to join his smiling veteran friends giving their bus a shove. And loved it.
His character shone out on many occasions in Tunisia. He was at his very best at Massicault War Cemetery, comforting the elderly Mrs Kinane at the grave of her husband, CSM Michael Kinane who had been killed at the Bou on 27th August 1943. She was accompanied by her son, who had never known his father, then also CSM Michael Kinane. Some years later, after he had ceased to be our Colonel, Colonel John, hearing of the death of ex-RSM Kinane whom he remembered from Massicault, sent a personal message of condolence to his family. That's the reason we liked him so much; he minded about 'his' people.

In 1987 he visited HMS Boxer, the Regiment's affiliated new Type 22 Frigate, the first of her class. He spent the night on board and was most impressed. The ship did a standing full-power start, with the Grand Duke standing aft, reaching 35 knots in what seemed like seconds. He had to be hastily grabbed lest he be thrown off the stern by the tremendous acceleration. Afterwards he gave the captain a huge silver Armada Dish engraved with an Irish Guards star, and suitably inscribed.

After attending a dinner night with the officers at Chelsea, which he enjoyed greatly, he explained to the Lieutenant Colonel that he thought the mess ought perhaps to have napkins at a dinner night. Visions of gigantic laundry bills flashed across the room, and it was gently explained that napkins were sometimes viewed in the Micks as an expensive foible, and not really necessary. He was not persuaded. Within a week or two a huge consignment of the finest Irish Linen Guild double damask napkins arrived at Chelsea, a generous Grand-Ducal addition to the property book. It became a point of honour to remember them whenever the Colonel came to luncheon or dinner.

Having heard a lot about Belize, Colonel John, never one to miss a good swan, decided he would visit the Battalion there for St Patrick's Day 1989. So, complete with tropical uniform he presented the shamrock, fresh and green as ever, of course; a moment he and the Battalion treasured.
In 1990 he visited the 1st Battalion in Berlin in company with Queen Elizabeth The Queen Mother for St. Patrick's Day. The Wall may have been high on the international agenda, but St Patrick was properly celebrated as usual.

Remembering his part in the Liberation of Luxembourg, Colonel John decided that the occasion of the 50th Anniversary should be marked by the presence of the Irish Guards. The Regimental Band, the Pipes and No 1 Company all travelled to Luxembourg in September 1994 and found a Guard of Honour for the celebrations. Afterwards the Grand Duke and Grand Duchess held a private party for all ranks, at which to the surprise and pleasure of everyone the Grand Duchess sportingly took the roll of barmaid and drew the pints of beer for the thirsty guardsmen. What a treat.

There was one of the most special St Patrick's Days at Chelsea in 1995. Luckily it was not a repeat of the 1980 Windsor experience when the drenching deluge was regarded as a passing shower and two Queens smiled the while. This time Colonel John helped to host both The Queen Mother and Her Majesty The Queen. A very good day, even making allowance for the near collapse of the officers' mess marquee in the strong wind. There were three top tables, The Queen with the ensigns on best behaviour. The Queen Mother and Colonel John each with a mixture of ages. Nobody knows what the puppies told Her Majesty, but luckily, she seemed happy. Meanwhile gallant guardsmen outside heaved laughingly on the guy ropes. Thanks to them the tent withstood the tempest.

Like his mother, the Grand Duke signalled his intention to step down, appointing his son Henry, as Lieutenant-Representative in 1998 before abdicating two years later. After the Regiment's centenary celebrations in 2000 Colonel John notified The Queen of his wish to stand down as 7th Colonel of the Regiment. For the first time in our history a dinner was held at Whites at which, at least in the eyes of those present, Colonel John Luxembourg handed over happily to Colonel James Abercorn at dinner. Colonel John had done a wonderful job and gave so much in his sixteen years as Colonel.
Thereafter he retreated to Fischbach Castle, pursuing interests in hunting, sport, music and especially photography, rarely being seen without a camera round his neck. He loved the outdoors and as a young man had enjoyed skiing, both downhill and cross-country. As he grew older, he kept in touch, and particularly liked the visits by his grandsons, with whom he is said to have enjoyed long chats about life in the Regiment which he held in such high affection.

In 2002 the Grand Duke visited Dublin, where in addition to seeing some of his old friends, he undertook some official visits, including to Trinity College Library. He was given a facsimile of the Book of Kells by Bertie Ahern, the Taoiseach, with the comment 'And here's a wrap for the Missus' as he handed over a beautiful National Museum of Ireland silk wrap.

The Grand Duchess died in January 2005 and Grand Duke Jean is survived by their five children. He had 22 grandchildren and 15 great-grandchildren. To his intense pleasure, four of his grandsons have served in the Irish Guards. It was rumoured that in the early days the Regimental Sergeant Major raised a querulous eyebrow on seeing a nominal roll listing an ensign, as HSH, and commented …'His Serene Highness?…. Ensigns in this battalion aren't supposed to be serene, are they, Sir?'

Colonel John, as he was always known in the Regiment during his second tour, was very much admired and loved; a real Mick, notwithstanding his roots. He often said how thrilled he was to be 'back', and how delighted he was that the character had remained just as he remembered it. Cognoscenti will perhaps wish to look out for a simple memento of his colonelcy, borne with pride by a piper, who carries the Regiment's only green pipe-banner bearing Grand Duke's coat of arms. All the others are crimson.

He loved the pipes, and two pipers were specially requested to play The Flowers of the Forest and Highland Cathedral at his funeral in Luxembourg, one wearing his banner. Since 1943 he had retained that strong bond of friendliness, living by our adhesive motto: Quis Separabit? Who Shall Separate us?