Obituaries
Lieutenant Colonel H S Hanning
Late Grenadier Guards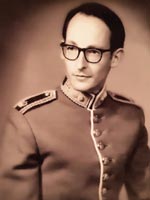 Lieutenant Colonel Henry Somerset Hanning died peacefully at home on 22nd February 2019, after a short illness, aged 80. Henry was born at Windsor on 19th January 1939, while his father, Arthur, was on duty as Captain of the King's Guard. His father went on to command 3rd Battalion Grenadier Guards during the Second War. Henry's maternal grandfather, Wilfrid Abel Smith, died of wounds received at Festubert in 1915 while commanding 2nd Battalion. When putting Henry down for the Regiment, his father wrote to the Lieutenant Colonel 'You may remember that two uncles, two great uncles and seven cousins have also served in the Regiment'. Educated at Bradfield College then Sandhurst, Henry was commissioned in 1959, It was the start of 48 years of unbroken years' service to the Regiment.

His regimental and staff careers took him to West Germany, Berlin, the Trucial states, Belize, Hong Kong and Northern Ireland, as well as ceremonial duties in London. Notable regimental appointments included Adjutant of 2nd Battalion in 1966 in Wuppertal, command of the Inkerman Company in Belize in 1971, and in 1976, Senior Major 2nd Battalion in Hong Kong. His intellect and potential were recognised by selection for staff training: two years at the Royal Military College of Science were followed by a further year at the Staff College at Camberley. An operational staff post in Berlin at the height of the Cold War meant he was always on call to deal with alarms either real or imagined.

Thereafter, staff posts were largely Weapons orientated, dealing with the development of infantry weapons and equipment, ammunition design and safety and towards the end of his career specializing in Defence Export and Sales. It was from this last arena in 1988 that he retired from the Regular Army to work for the Ministry of Defence for a further happy and fulfilling ten years as a Special List Officer at the Directorate of Land Services Ammunition, based at Didcot, working with NATO allies on unifying standards for the movement of ammunition. Henry revelled in the idiosyncrasies of each nation's military and his natural charm and infinite patience held sway. A Warrant Officer who worked with Henry at Didcot wrote to his son 'I am aware that there were some obvious "cultural differences" between the Ordnance Corps and the Grenadier Guards but, in all my years of service I can truly say your Father was one of the best officers I served under! It was an absolute pleasure and a privilege to know him!'

Henry was something of a regimental rarity for the early 1960s when he went up to Keble College Oxford as an Army Scholar to read History. Michael Craster (then a young officer in the Argylls) got to know Henry in the Officer Training Corps and recalls him as something of a father figure, having high standards, being considerate and displaying style, gravitas, humanity and above all, great humour. The impression Henry made on Michael was such that it was to the Regiment that Michael turned when the Argylls were disbanded.

Early in his career Henry acquired the affectionate nickname of variously The Vicar, Canon, or The Bishop. Explanations as to why this nickname came about differ. Some say it was on account of his somewhat academic demeanour, coupled with his skill on both piano and organ and his singing in the Battalion Church Choir. Others maintain that it was as a result of him leaving a bible behind when stepping ashore from a spell aboard The Household Division Yacht, Gladeye. What is beyond doubt is that Henry was a Christian soldier of great faith who increasingly followed the command based on the words of Jesus in the Sermon on the Mount '… do unto others as you would have them do unto you'.

Henry's charming, polite, slightly understated manner will be remembered. He was always interesting and interested, a soldier's officer who really did care for his men. Even as Adjutant of 2nd Battalion he was said to have administered discipline with a smile and light touch. Many have said that they never heard Henry raise his voice in anger. But there was steel in him too. In 1973, as Commanding Officer in Belfast, Richard Besly had to decide which areas to allocate to his Company Commanders. He wrote afterwards 'The Protestant Shankill area contained lots of criminals, so I put Henry Hanning there, his very astute but charming diplomacy defused most situations. He kept a firm grip on what had been a difficult area for our predecessors' (3rd Battalion The Parachute Regiment). Without fuss or bluster Henry made his mark. Equally, Michael Craster recalls receiving a fully warranted 'blistering rebuke' by letter when he was late submitting an article for the Grenadier Gazette.

There is little doubt that the need for hearing aids limited the scope of Henry's military career, but he never displayed any frustration and typically made light of it. To the Lieutenant Colonel, he wrote, when discussing further military employment, that he would be a disaster as an attaché since 'one can't say "what" in a foreign language for ever!" A brother officer recalls Henry telling him that, as he was in receipt of two hearing aids, he now regarded himself as 'fully mechanised'.
It was Henry's great joy to share his interests enthusiastically with others. Whether encouraging the literary efforts of brother officers, filling the corridors of the Mess at Caterham with the sound of the Overture to Wagner's Tannhauser or running a Mahjong School during Company training in Sharjah. Henry's enthusiasm was infectious. He delighted in the successes of his friends being quick to write to congratulate those in receipt of awards, other accolades or indeed grandchildren.

The Reading and District Branch of the Regimental Association was extraordinarily fortunate to have been led by Henry with similar enthusiasm for the past 12 years. Fun and style abounded, but above all the welfare and well-being of retired Grenadiers was his pre-eminent concern. The Branch is the oldest in the Association and in 2013 Henry and his wife Elizabeth jointly led an outstanding celebration of the Branch's centenary at Bradfield College.

In 1976, the then Lieutenant Colonel, Greville Tufnell, decided that a replacement was required for the Association Handbook. On a visit to 2nd Battalion in Hong Kong he discussed his ideas on the Chinese border with Henry and the Grenadier Gazette was born! Henry later described this episode as 'an ill-conceived moment'. For the next thirty years he edited the Gazette with great flair, never losing his enthusiasm despite Adjutants and other contributors not giving their submissions the priority the Editor might have required. With the assistance of Barry Double and then Trevor Rolfe, who were in turn Assistant Editors, Henry established the Grenadier Gazette as pre-eminent amongst regimental journals.

Henry, thinking ahead to his looming retirement, volunteered in 2001 to write a history to mark the 350th anniversary of the Regiment. With the full support of the then Lieutenant Colonel, Edward Bolitho, his innovative approach broke new ground for such a work. Accounts of the Regiment's proud and costly heritage are interspersed by individual portraits of interesting (and not just senior) Grenadiers, pictures, maps and charts combine to produce a book that is informative and above all a compelling read. His aim, he tells us, was to 'march with the men of the First or Grenadier Regiment of Foot Guards down a road 350 years long'. He says, speaking of the survival of the Regiment, that 'a small glow if preserved and cherished, can burst into a vivid flame'. Indeed, one can say that his book is about a light shining in great darkness and not being overcome. The Grenadier Gazette and The British Grenadiers will live on as abiding legacies of Henry's encyclopaedic knowledge of, and love for, his Regiment.

Henry and Elizabeth were married in Winchester Cathedral on 18th December 1971. In his introduction to The British Grenadiers Henry dedicates the book to 'Elizabeth my wife, and to our children Matthew, Sally and Christopher, in most grateful appreciation of their loving help, support and encouragement, and in special recognition of their cheerful endurance, over many years of the claims of my other regimental family'. We in turn thank Elizabeth and the children for so generously sharing Henry with us. It has been the greatest fun.

Based on the Tribute from the Regiment given by Colonel Richard Aubrey-Fletcher at Henry Hanning's Funeral Service.