Obituaries
Major Paddy Kersting
Late The Blues and Royals
by Captain C J Elliott
formerly The Blues and Royals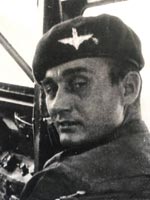 Paddy Kersting joined the Army as a Trooper in the Royal Horse Guards on 20th August 1954 and was initially trained as an armoured car crewman. His first overseas posting was during The Blues' long and successful tour in Cyprus during the EOKA emergency (1956-58) where he received his first promotions, to Lance Corporal in 1956 and to Corporal in 1957, and also became eligible for the General Service Medal with 'Cyprus' clasp.

Paddy left the Army, briefly, in August 1957 but by June 1958 he was back, once again in Cyprus with The Blues and was soon reappointed Corporal. Cyprus was to prove to be a strand throughout Paddy's long career; he was to return again.
One of Paddy's later reports gives a sense of his character: he '...is happiest in the field and does not take so easily to routine soldiering in barracks', and was particularly happy when serving with the Guards Parachute Company. He was posted to No1 (Guards) Independent Parachute Company as a Corporal on 19th September 1960 and, having passed a parachute course, was granted his 'wings' on 8th November 1960.

The next four years of Paddy's service is something of a blur of action, as he served on operations in Singapore, Borneo, Cyprus and on various exercises and training courses. He was promoted to Corporal of Horse on 3rd January 1962 and, more importantly, he married Sheila on 12th November 1964.

Paddy returned to The Blues in May 1965, serving in BAOR and in the UK before returning to the Guards Parachute Company in June 1968, spending time in Hong Kong. This was destined to be a short tour and, following an CQMS course at Deepcut, Paddy was back with The Blues in time for the Amalgamation in March 1969, spending the next few months between Windsor and BAOR, before attending an All Arms Drill Course at the Guards Depot.

Yet another return to the Guards Parachute Company followed and Paddy spent the next three years with the unit, first as SQMS before being promoted to Warrant Officer Class II in March 1971.

Back with The Blues and Royals, Paddy took over as SCM of A Squadron on 13th February 1973 and rapidly became a living legend among the younger members of the Regiment. Bearing in mind that he was nearly 40 years old by this stage, he could run any of the much younger and supposedly fitter members of his Squadron into the ground. A quote from one of his reports states... 'He is very fit and tough and demands high standards from his subordinates, generating enthusiasm in those he is responsible for'.

A Squadron at this time were part of the NATO 'Ace Mobile Force' and were renowned for rarely being found in barracks. Paddy served with them in Norway, Turkey and various other countries on exercises and training and also on active service in Northern Ireland between June and August 1974, where he gained his second General Service Medal.

Promoted Warrant Officer Class 1 on 8th June 1975, Paddy was granted a Short Service Commission on 12th August 1976. He was subsequently promoted Captain on 12th July 1978 and Major on 30th September 1984.

During his commissioned service he served at the Guards Depot between July 1976 and March 1981 as a Troop Commander with the Household Cavalry Training Squadron and also as a Personnel Selection Officer, but returned to his Regiment once again in April 1981. Between then and his retirement in October 1986, Paddy served as Regimental MTO, Regimental Admin Officer and as a Squadron Second-in-Command. He also managed to fit in a last posting to Cyprus for a year as Admin Officer for both A and B Squadrons during their unaccompanied tours with UNFICYP during 1982/83.
Major Paddy Kersting retired from the Army on 14th October 1986, although retirement was never really in his mind as Paddy had already successfully applied for a job as a Retired Officer, which officially started on 12th October 1986, and which he was destined to hold for the next 14 years. Officially described as 'HQ Household Cavalry Regimental Secretary/ Curator Household Cavalry Museum', the new job would make a younger and fitter man quail and in reality, was at least two full time jobs rolled into one. In fact anyone with experience of either can only look at the job description Paddy worked to and wonder 'How did he fit that in?'

Suffice it to say that Paddy was an excellent and well regarded member of the Regimental Home HQ team throughout his tenure and always remained available to assist with any queries regarding the Regimental collection well after his retirement.

One further quote from a later report sums up Paddy ... 'He has a warm hearted, uncomplicated approach to life, sees values in old fashioned virtues and is outstandingly loyal'. A truly unique Regimental character, Paddy will long be remembered by those who knew and worked with him. He provided a role model for more than one generation of young soldiers and his humour, dry wit and compassion will be missed.

Sadly his much-loved wife Sheila pre-deceased Paddy in 2018, and our deepest condolences go to Beverly and Siobhan and the wider Kersting family and friends.