Obituaries
Bruno Schroder
Late The Life Guards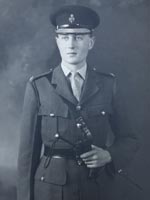 Bruno Schroder, who has died aged 86, was the senior member of the family which controls the highly successful Schroders plc, an international fund manager and investment bank with responsibility for overseeing assets worth £450 billion. With operations in 26 countries and 4000 employees, it is a world-class asset manager on behalf of private and institutional investors, including pension funds, and also boasts a strong private banking arm, which acquired the wealth management element of Cazenove in 2013.

Bruno Schroder was a non-executive director of the eponymous firm for 56 years and the longest serving board member of any company on London's FTSE 100 Index.

He was also the guardian of the 18,000-acre Dunlossit Estate on the Scottish island of Islay, where he invested considerable time and resources in establishing it as a viable working estate, developing farming, forestry, quarrying and renewable energy schemes among other initiatives. Bruno played a significant and highly appreciated role in the island's community life, supporting a wide range of activities, including helping to resuscitate the Bruichladdich whisky distillery and funding Islay's lifeboat.

Heriot-Watt University awarded him the honorary degree of Doctorate of Letters in 2012 for 'his contribution to Scottish whisky and other industries and to the preservation and development of the heritage, cultural life and economy of Scotland'.

Bruno's great-great-grandfather, Johann Heinrich Schroder, founded the firm of J Henry Schroder and Co in 1804. Bruno joined the company in November 1960, initially working in the internal audit division, then in commercial banking before moving into the field of corporate finance, advising companies on takeovers and acquisitions. On 1st January 1963, he was appointed a non-executive director and continued in that capacity for the rest of his life.

He was a dedicated and meticulous pilot, having learned to fly in the 1970s, and flying remained a passion for the rest of his life. Having flown himself around the world in 1987, he was an enthusiastic member of The Royal Air Squadron.

Bruno Lionel Schroder was born in London where, with his sister Charmaine, he was brought up by parents Helmut and Margaret, the daughter of Colonel Sir Lionel Darell DSO, who had fought with the 1st Life Guards in The Great War. He was initially educated at Cothill House Preparatory School in rural Oxfordshire before attending Eton. During his National Service he naturally followed his grandfather and served as a lieutenant in The Life Guards. He never lost touch with the Regiment and was a generous supporter of their charitable appeals, including playing a significant role in funding The Household Cavalry Museum.

After his National Service he went to University College, Oxford to study politics, philosophy and economics, graduating with an Honours degree. He then obtained an MBA at Harvard before briefly working in Hamburg prior to returning to London in 1960.

In 1969 he married Patricia, known as 'Piffa', Holt, the daughter of an Irish soldier diplomat, and in 1974 they had a daughter, Leonie. The couple separated in the 1980s and later divorced. Bruno subsequently married Baroness Suzanne von Maltzahn. He is survived by Suzanne and Leonie.