Obituaries
Sir Patrick Sheehy
Late Irish Guards
by Alan Ogden
formerly Grenadier Guards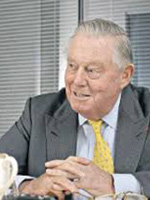 Born in Burma in 1930 where his father worked as a senior civil servant in Rangoon, Pat Sheehy's early life was peripatetic to the extreme, spent shuffling between Burma, England and India, school in Australia and finally Ampleforth. Offered a Wartime Commission by the Irish Guards in 1948, he joined the Brigade Squad in early 1949 and after Eaton Hall was posted to the 1st Battalion in Chelsea Barracks.

Classified as 'scruffy' by the Adjutant, Pat was hidden from view either on Tower Guard or the Bank Piquet. Apart from the distraction of a dock strike, soldiering in London held few challenges, so on completion of his service he jumped at the chance to join British American Tobacco (BAT) and a life of working abroad.

For the next ten years he was in his element, with postings to Denmark, Nigeria, the Gold Coast, Ethiopia, and the West Indies. With his energy, affability, intelligence and shrewd business judgment, he became BAT's worldwide trouble-shooter and then took over their North American operations before becoming chairman of BAT Industries as the group was known in 1982.

An opportunistic bid by the Hoylake consortium orchestrated by three financiers, Sir Jimmy Goldsmith, Jacob Rothschild and Kerry Packer, led to an epic City takeover battle during which Pat robustly defended the group by divesting its non-core businesses and consolidating its move into financial services.
The fall of the Berlin Wall in 1989 and the breakup of the USSR provided new markets for BAT and with his customary energy and zest for a deal, Pat led the charge in as faraway places as Siberia. In the first 10 years of his chairmanship, the market capital of BAT increased from £2bn to £12bn, a remarkable achievement by any yardstick.

Knighted for his services to British industry in 1991, the following year he was asked by Ken Clarke to chair an inquiry into the responsibilities and rewards of the police in the UK. Conducted with his usual rigour, the Sheehy Report attracted considerable opposition from vested interests and an irksome change of Home Secretaries watered down the implementation of his far-reaching proposals.

After retiring from BAT, Pat remained much in demand by the business world and become a non-executive director of BP, Celtic FC, Cluff Mining and several other companies. Algy Cluff also invited him on the board of the Spectator Magazine which he enormously enjoyed.

A keen sportsman, he skied and played golf well into his seventies and was also a passionate supporter of the arts. In 2017 he completed his autobiography, Never A Dull Moment, which was published by another Mick, Anthony Weldon. The title was characteristically appropriate as Weldon discovered when Pat rang him every week to check the sales figures!

Throughout his life, Pat was immensely proud of his service with the Irish Guards and the first to acknowledge that his service with the regiment held him in good stead throughout his long and eventful life. As he put it, 'having fun as well as working hard is all important'. Few Guardsmen would disagree with this sentiment.

He is survived by his wife Jill and their two children.