Obituaries
Rupert Edward Kilpatrick Hutton
Late Scots Guards
by Julian Kilpatrick Hutton
formerly Scots Guards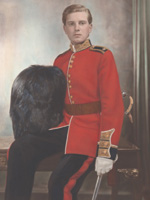 Rupert Hutton, who died on Easter Sunday in Portugal, his home for the last 32 years, was born in London on 25th March 1935. The Hutton family hailed from the Scottish Lowlands; Rupert's great-grandfather providentially leading his family from out of the dark satanic mills of mid-Victorian industrial Dunfermline to seek his fortune in the Orient. That strain of austere Presbyterian respectability was enlivened by Rupert's grandfather's marriage into a romantic line of Catholic Spanish nobility in the Philippines, a union that produced his father and nine siblings. His father attended Downside Abbey in Somerset and then played rugby for Scotland before returning east to India where Rupert was brought up.

He had an idyllic early childhood in India, barely troubled by the war, although his father served with the Indian Army and two of his uncles transitted through on their way to fight the Japanese with the Chindits in Burma. After the war he returned to Britain to attend Worth, then a preparatory school for Downside which he joined in 1948. Like his father Rupert was a natural athlete, an excellent boxer, gymnast, diver, swimmer, and games player, he followed his father as head boy of the school. Although he excelled at Downside, both academically and athletically, it was not a time he remembered fondly and Catholicism, or indeed religion in general, never again played a large part in his life.

One of Rupert's uncles, an officer in the Black Watch, had served with the 5th Battalion Scots Guards ('The Snowballers') in the early days of the war and an interview was arranged with the Lieutenant Colonel Commanding Scots Guards. For Rupert it was a most fortuitous event. Although a National Service officer the Regiment was to be a significant influence in his life, out of all proportion to the time he actually served. He joined the Brigade Squad at the Guards Depot at Caterham in September 1953 and was commissioned from Eaton Hall in March 1954. He served with the 1st Battalion Scots Guards in the Canal Zone, Port Said, Egypt before returning with the battalion to Wellington Barracks in January 1955.

He had a prodigious social life in the London Season and with his good looks, immaculate turnout, charm, and innate good manners he was a popular and much in demand 'Deb's Delight'. But he found Britain's post war austerity bleak, grey and ultimately depressing and so decided to head west, giving up a place at Cambridge, with a long-term view of moving to the United States. The first stop on that journey was to Canada, where he joined the investment bank of Wood Gundy until, in 1961, he was able to join one of Wall Street's most prestigious private banks, the Fiduciary Trust Company of New York.

In his 18 year career at the Fiduciary Trust he was one of the pioneers in the development of the Eurobond market, establishing the bank's global investment businesses outside the United States, setting up and managing banking operations in Europe and the Far East, as well as managing the investments of the United Nations pension fund and the Vatican (where his contact was the sinister head of the Vatican Bank, Archbishop Marcinkus, whose nefarious dealings were laid bare in the book 'In God's Name').

Rupert especially loved his time in New York in the early 1960s. It was a time of optimism, of belief in the American dream, of 'Camelot', where anything seemed possible. It was here he met his first wife Patricia, who was out from England and travelling around the country. They spent their weekends sailing on the Chesapeake, summer trips to Maine and the Adirondack Mountains, skiing in Vermont and making lifelong friends amongst what was then the very Anglophile East Coast establishment.

In 1964 with their newly born son they moved to London for Rupert to head up the European side of the Fiduciary Trust's international operations. He was to stay with the Fiduciary Trust until 1979 when he set up Reserve Asset Managers in the City, before selling the company to the Philadelphia National Bank in 1985.
In 1977 Rupert married Fiona, a long and happy love affair that lasted until his death. In 1987 they moved to the hills of Southern Portugal, where Fiona transformed a former cork baron's semi derelict house and garden into a warm and beautiful home. Although these later years were blighted first by the devastating financial consequences of being a name at Lloyds, and then the onset of Alzheimer's disease, their 32 years in Portugal was one of much affection, countless friends, and happy memories.

His time in the Scots Guards was a source of many close lifelong friendships that he valued enormously – David Walter, Alick Rankin, Henry Beresford-Pierce, David Brooke, John Arthur – and of pride articulated best by Harold McMillan of his service with the Household Division 'It is a marvellous thing for once in your life to have been a part of something that is absolutely first class.' Like I suspect many of us who served a relatively short time, it was an experience from which he gained a huge amount, and was proud of, but at the time saw it as one step on the road to the rest of his life. It is only when looking back on all the inevitable compromises made for second rate people in second rate organizations that came after that one can put it into perspective and realize how lucky we all were to have been a part of something that never compromised its standards. As is so often the case in life one is too young and inexperienced to always appreciate it at the time!

Rupert was neutral about very little, and seldom had cause to reconsider his opinion once formed. He adored his family, and for those he loved nobody could have had a more devoted or loyal friend. His philosophy for dealing with awkward situations or misfortune was to laugh at them; he had a great capacity for seeing the preposterous side of everything and everybody. In this he always included himself. Hopeless at remembering names, almost everybody had a nickname, seldom one they would have thanked him for, that incisively honed in on some essential aspect of their character or behaviour. The more innocuous the person the more fantastic the story that was weaved around them. Those (including inanimate objects) who incurred his fury became part of family legend whose offences became more elaborately diabolical with each retelling. Ridicule was the best defence against the bully, the pompous, the arrogant, the second rate, and those he felt didn't meet his high standards of decency. Although capable of biting wit, and willing to deploy it, he was never unintentionally rude and to the end his fundamental kindness and essential good manners were displayed as he struggled to stand up when one of the female nurses entered the room, or doffing one of the remarkably ugly bush hats he favoured.

The affection in which he was held by so many was demonstrated by the great gathering at his funeral. He died little by little until in the end he faded away, peacefully and painlessly. Wherever he is now he will find the funny side of it, making many friends and I'm sure a few enemies along the way; which won't bother him at all. He is survived by his wife Fiona, his children Julian, Caroline, and Alexander, his stepsons Marc and Michael and nine grandchildren.