Obituaries
Major J T M Rigby
Late Coldstream Guards
by Major General P G Williams CMG OBE
formerly Coldstream Guards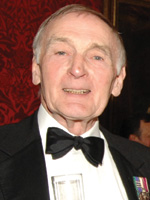 John Terence Michael Rigby was born on 3rd June 1937 in Leeds and died, aged 82, on 12th June 2019.

After a brief spell as an apprentice motorcycle mechanic, he joined the Coldstream as a boy soldier on 21st April 1954 and was posted to the 3rd Battalion at Wellington Barracks before moving on in August 1954 to Krefeld and the 2nd Battalion in which he served for the next decade or so in Germany, England, Kenya and Aden, where he was the Intelligence Sergeant and Battalion Arabic Interpreter. During this period, he became a Drummer, passed a Drum Majors course and spent some time instructing a King's African Rifles corps of drums. In Kenya he had passed the Swahili language course and in Aden he passed the Colloquial Arabic exam; his desire to master other languages was to be a distinguishing feature of his highly unusual career.

In 1966 he was posted as an Acting Colour Sergeant to HQ 51st Gurkha Infantry Brigade in Borneo. On his return to England and the Guards Depot in early 1967, John seized the opportunity to marry Lorna Stalker, a schoolfriend of his youngest sister. He then left for Arabia again, initially refreshing his Arabic in Aden before moving on to spend almost two years with the Trucial Oman Scouts in Sharjah, once more as an Acting Colour Sergeant.

After a year with the 2nd Battalion in Wellington Barracks and Münster, John's posting as CQMS of No 13 Company at the Guards Depot from 1970 until 1972 coincided with the births of his and Lorna's two elder daughters, Helen and Claire. In July 1972 he was promoted and joined the 1st Battalion for the first time, serving in London, Northern Ireland and West Berlin as CSM of No 1 Company and then of Headquarter Company. During this time, he was an outstanding Intelligence Warrant Officer during the 1st Battalion's tour in West Belfast, playing the role of 'Gordon, My Superior' in support of the author.

In August 1976 John was promoted again and was posted as the Regimental Sergeant Major and WO1 Chief Instructor of the Kuwait Military Academy, an appointment for which he was ideally suited as a fluent Arabist, both spoken and written, and as one of life's natural diplomats and problem-solvers. It was while they were in Kuwait that in March 1979 Lorna gave birth to Joanna, their third daughter. John was so deeply respected by his Kuwaiti comrades that they insisted on him registering Joanna as a Kuwaiti citizen, a unique honour that reflected the bond that John had created with them.

Maj Gen Burns, Maj Felton, and
CSM Rigby. Berlin 1974

Ulster John 'Gordon' Rigby and
Peter Williams, in early 1976
In April 1980 John received a commission in the Regiment, a decision that was thoroughly deserved and long overdue in the opinion of those who knew him well. Starting as the Families Officer in Caterham, in 1981 he became the 2nd Battalion's Technical Quartermaster in Fallingbostel before moving on to be the 1st Battalion's Quartermaster in 1984, serving as such in Caterham, the Falklands and Hong Kong. He was an unflappable operator, coping with whatever challenges presented themselves, not least the task of creating at almost no notice a tented camp for thousands of Boy Scouts in the New Territories. During this tour he is even said to have taught himself basic Cantonese by watching the Chinese television subtitles.

Leaving regimental duty after 33 years, John was appointed as an Instructor at the Army School of Training Support in Beaconsfield before moving in 1989 to Bielefeld to serve as SO2 G3 (Operational Training) at HQ 1st British Corps. In October 1990 he was transferred to the SO2 G5 (Host Nation Support and Arabic Interpreter) post as the Corps prepared itself for Operation GRANBY, the operation to liberate Kuwait from its occupation by Saddam Hussein. Rarely can someone with such a depth of previous local knowledge have been available at such a critical time.

In March 1991 he returned from Kuwait to discover that he would receive no further promotion and so he decided to bid farewell to the Regular Army. He spent the next six years at Lincoln's Inn as the Permanent Staff Administrative Officer for 68 (Inns of Court and City Yeomanry) Signal Squadron before finally leaving the Army in March 1997, after 43 years of military service.

Where some people retire to the golf course, John moved on to another career, spending the next six years as the Town Clerk of Horley, near Gatwick, dealing with many issues that would be familiar to soldiers and even more that would not. Even after he handed over the job in Horley, John kept his hand in as a problem-solver, acting as the part-time Town Clerk of Caterham-on-the-Hill. In 2017 he went on to serve with distinction as the President of the Riding Masters, Quartermasters and Directors of Music of the Household Division Association.

John and Lorna enjoyed a long and happy marriage and were utterly devoted to their three girls. Tragically Joanna and Claire predeceased John and so it is to Lorna and to Helen and her family that our thoughts and prayers must go as we mourn the death of a most exceptional gentleman and a Coldstreamer who was truly Second to None.