Obituaries
Lieutenant D P A Critchley-Salmonson
Late Coldstream Guards
by Captain H R D' A Redmayne
formerly Coldstream Guards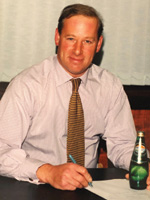 Denis Critchley-Salmonson was born in Malaysia where his father was serving with the 12th Royal Lancers. He spent his childhood in Suffolk and was educated at Ladycross and Downside. On leaving school, he worked in a stud in South Carolina before returning to attend Mons Officer Cadet School.

Denis joined the 2nd Battalion Coldstream Guards in Chelsea Barracks in 1972. He served in Northern Ireland December 1972 - March 1973 and was in Cyprus in 1974 when the battalion came under the command of United Nations following the Turkish invasion. In 1976, while stationed at Victoria Barracks, Windsor he married Jane, daughter of his then Commanding Officer, Lieutenant Colonel the Hon Christopher Willoughby.

Denis spent his last year in the army at the Guards Depot leaving in 1978. He joined Guinness and after working in East Anglia, he was seconded to Dunn and Moore, a bottling company in Glasgow. He loved Scotland and at the end of his secondment, elected to stay and it was at his suggestion that Dunn and Moore bought the ailing Strathmore Mineral Water Company. Denis's energy and determination transformed the company and under his management, he turned Strathmore into one of the best-selling bottled water brands in the United Kingdom.

After leaving Strathmore he joined the Caledonian Brewery in Edinburgh in 2003, taking up the post of non-executive director where he remained until the brewery was bought by Heineken. A keen shot and fisherman since childhood, in retirement he continued with the shoot he'd run for many years at Dunsyre in the Scottish borders and his love of fishing took him to many parts of the World. He was the most generous of hosts, a great raconteur, enthusiastic and full of good humour. He bore his illness with immense stoicism and died on 19th March 2019. He leaves behind Jane, his three children and five grandchildren.