Obituaries
Captain J B Blackett
Late Coldstream Guards
by Major A P F Napier DL
formerly Coldstream Guards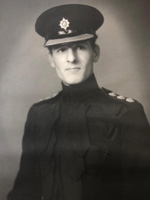 Beachie Blackett died on the 5th June 2019 at 80 years of age, a larger than life personality who added so much to life. Born at Arbigland in Dumfriesshire on the 6th May 1939, he was educated at Aysgarth and Eton, before being commissioned in the Coldstream Guards in 1957, following in the footsteps of his father Major Bill Blackett and elder brother Archie.

Beachie had a touch of the hills about him and a love of the wide-open spaces, where he spent so much of his early life. As well as Arbigland on the shores of the Solway Firth, the family also owned the Borgie River in Sutherland, where Beachie spent many happy weeks. A fine fisherman and good shot, Beachie had a deep interest in the countryside and all therein. He took a great interest in the running of Arbigland and in particular the excellent shoot and was a most generous host.

After training at Mons OCTU, Beachie's career in the Coldstream started with the 1st Battalion for two years, part of 4th Guards Brigade, at Krefeld and Hubbelrath in Germany. He was then fortunate enough to join the 2nd Battalion who were on a two-year tour in Kenya, which was still a colony. This suited Beachie very well with interesting soldiering, lots of polo, wildlife and wide-open spaces. It included a trip to Lake Rudolf to catch the elusive Nile carp.

Beachie was very good with the Guardsmen and as such was selected for The Junior Guardsmans Company at the Guards Depot, where he had a good influence on the young.

I am sure that he is remembered well by them, for Beachie was an amusing character, full of common sense, humour and got things done in a forthright way.

His final posting was at Regimental Headquarters as Assistant Regimental Adjutant and Recruiting Officer, resulting in a steady flow of recruits for the Coldstream.

In 1970 his elder brother Archie was drowned in the Solway Firth and Beachie was summoned by his father to take charge of the family estate at Arbigland, resulting in him leaving the Regiment. A sad loss, for Beachie was a good Regimental Officer.

He was a fine horseman, riding to hounds with the Dumfriesshire Hunt, he played polo for the Army and captained his Regimental Team in the finals of the Inter Regimental Cup.

The Guards Polo Club at Smith's Lawn in Windsor Park played a large part in his life where he had a handicap of three. For some years he gave the commentary at Smith's Lawn and for one year when the regular commentator for the Windsor Horse Show was taken ill. Beachie was recruited at the last minute to stand in, and it all went well, until he became a little over-enthusiastic, fuelled up on alcohol, and he fell out of the commentary box.

Beachie bought a fish shop in Leadenhall Market called Ashdowns, which he ran for many years, adding a restaurant and club above the shop. This divided his time between London, Dumfriesshire and his family home near Windsor.

There was never a dull moment when Beachie was around, he was intelligent and above all a good communicator, devoted to his family, his many friends and to Arbigland – a healthy tonic in this drab modern age.

His first marriage to Sarah Withycombe was dissolved in 1974 and he is survived by Jamie and Edward, but sadly daughter Annabel died in 2017. His second marriage to Sue Badger was in 1977 and he is survived by Sue and daughters Flora and Lettie and a total of 12 grandchildren.