Obituaries
Captain C A J Keeling
Late Grenadier Guards
by Colonel A T W Duncan LVO OBE
formerly Grenadier Guards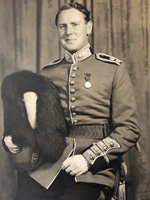 Christopher Keeling died peacefully in his sleep, at his London home on Friday 26th April 2019, He was 88.
Christopher was born in London on 15th June 1930. His father was Sir Edward Keeling, MC MP, at that time Mayor of Westminster and Conservative Member of Parliament for Twickenham.

Following the Dragon School, Eton and Sandhurst, Christopher joined the 3rd Battalion Grenadier Guards at Chelsea Barracks in July 1950. His contemporaries were Hugh Hertford, Alan Hissey, Mike Button, Richard Besly and a rather stout Indian officer on attachment called Major Singh. Richard Besly recalls that the latter was a great advantage as they never got seriously chased on the square in case Singh collapsed!

In July 1951 the Battalion boarded a troopship for Tripoli; this became an excellent training ground as, shortly after its arrival, the situation in the Canal Zone deteriorated and the Battalion moved to Tobruk on board the cruiser HMS Liverpool. After a few weeks, during which it was possible to visit the underground hospital and other wartime sites of interest, the Battalion continued its move to the Canal Zone where it remained for three years in a camp at Deversoir. During this tour Christopher shared a tent with Richard Besly, plus a bulldog named Carlos which had been left with them by a brother officer.

Christopher and Richard were frequently in front of the Adjutant, Hew Hamilton-Dalrymple, for various misdemeanours. Richard recalls one occasion in the French Club in Ismailia, when Christopher stuck a pin into the backside of the manager, a large stout Frenchman who was singing a song with the dance band. The culprit was discovered, and both were thrown out!

On another occasion, after a considerable amount to drink in the Officers Club in Fayid, they were both asked to leave; having driven back to camp and parked the car, they emerged remarking to each other at the same time, 'Thank God I wasn't driving!'

In June 1953, Christopher was selected to be one of the officers of a Guard size detachment which flew back to London to represent the Battalion at the Coronation. The Battalion returned to England later that year, by which time Christopher was the Battalion's Signals Officer. He had, however, decided to retire and take up a career in the City, opting for the insurance market at Lloyds of London. After working as a broker and underwriter he became a managing agent for non-working names at Lloyds, the majority of whom lived abroad. For decades he made annual trips to Australia, the US, Asia and Southern Africa where many of these names, despite the fluctuating fortunes of their investments, became lifelong friends. He loved his work, mainly due to the people he met, and did not retire until late into his 80's.

In spite of his business responsibilities and varied pursuits, he never lost interest in the Regiment and was at heart a traditionalist. He regularly attended the First Guards Club and was Vice-President of the London Branch of the Association; his commitment to the Regimental Reserve of Officers resulted in his being called back for duty with the 3rd Battalion during the Suez Crisis in 1956. His splendid house on the Thames Embankment held a treasure trove of Grenadier memorabilia, including pictures, figurines, in silver, bronze and china, and bound copies of the Journal of the Brigade of Guards. All these items he has most generously bequeathed to the Regiment and the Guards Museum.

Away from work he was a very enthusiastic shot and was passionate about cricket, belonging to the MCC and travelling abroad to watch England in Test matches in Australia, South Africa and the West Indies – but not as part of the Barmy Army! An avid reader, he devoured several books a month, including memoires, history, military history and the occasional novel. He was also an enthusiastic stamp collector from early childhood to his last days, and a good bridge player. He was also devoted to his Border Terriers,

Christopher married first in 1955 Veronica Waugh, with whom he had two sons, the eldest of whom tragically died in India in 1981, and a daughter. The marriage was dissolved and in 1974 he married Rachel MacDonald who predeceased him in 2016. He is survived by his son Julian, and his daughter Nicola.

A Memorial Service for Christopher was held in the Guards Chapel on Thursday 10th October 2019.