Obituaries
Lieutenant Colonel (QM) William Ronald Clarke OBE
Late Grenadier Guards
by Major General Sir Evelyn Webb-Carter KCVO OBE DL
formerly Grenadier Guards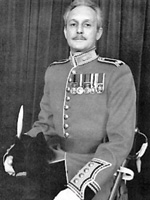 Bill Clarke died this year, aged 83. He was a fine Grenadier who made an enormous impression on me. He died on St George's Day; something he would have said was only for Coldstreamers! I first came across him when he was CSM of the Queen's Company in Sharjah in 1969 and I was the newly arrived Second Captain. He had very high standards and I learnt many things from him. I was always entertained by his dry wit and repartee tinged with sarcasm. I was to serve with him frequently thereafter. He became the Sergeant Major when I was Adjutant of the 2nd Battalion in 1972 and we went out to British Honduras for a battalion exercise which turned into a semi operational tour. We were being reunited with the Inkerman Company which had been making up a small garrison for the preceding six months. There were already suspicions they had gone native. Going out we were both in the main party and as we entered the gate to Airport Camp he took in the bad order of the barrack guard and said to a nervous guard commander with some force "Butlins in Belize is over, come and see me in my office". Later it was my practice to take the small battalion HQ on an early morning run and as the runway was seldom used we frequently crossed it. However, on one occasion as we were about half-way across Bill looked right and said something like 'clucking bells that aircraft is about to land' and sure enough a large aircraft with a Foreign Office minister on board had to abort its landing. Bill refused to go running with me ever again!

Bill was born in Lambeth in 1936 and as a boy he worked as farm labourer for a while and acquired a passion for gardening which never left him. He joined the Regiment aged 17 and went to the 3rd Battalion. He quickly gained promotion and was a Gold Sergeant in No 1 Company when the battalion went into suspended animation in 1960. He was subsequently sent to the Queen's Company where he spent most of his battalion service. He married Mary in 1959 and they had two children, Debra and Paul. In due course he became CSM the Queen's Company, followed by Drill Sergeant. In this latter role there is one person who remembers his sensible approach to ceremonial. In 1971 at the State Opening of Parliament the Queen's Company was on duty outside the House of Lords complete with the Queen's Company Colour. Second Lieutenant Forbes was Ensign. A vicious wind blew. As many know, the Royal Standard is awkward in a strong wind. Bill gave clear, sensible advice: 'don't let go of the Colour until "SHE" arrives; then just the Royal Salute'. Jonathan Forbes was forever grateful for his wise words, having bodily 'sailed' ninety degrees starboard on releasing the Colour for the 'Present' on the arrival of the first lesser member of the Royal Family! All was well, his subsequent inactivity going unnoticed.

In 1972, the following year he was Sergeant Major of the 2nd Battalion. Afterwards he was Families Officer and then TQM and MTO of the 1st Battalion. In September 1978 he returned to the 2nd Battalion as the Quartermaster where he served for four years earning a GOC's Commendation, an unusual length of time and for which he was also awarded the MBE. It was a well merited award as he had to manage the Battalion's arms plot move and the change to the mechanised role. Being of social disposition he suggested to the Commanding Officer that there should be a Guardsmen's Club in barracks. In due course this was agreed, and Bill devoted much time to the concept which was named 'The Wellington Bar'. It proved to be a popular move and helped to reduce the dramas in Münster city centre. In amongst all this was an emergency tour to Fermanagh with a company detached to Londonderry. He was an outstanding organiser and always conducted his business with his dry sense of humour. On one occasion after a good party in the Officers' Mess and safely negotiating the main road at Oxford Barracks he and David Webster, the TQM, smartly dressed in mess kit walked through barracks on their way home to their quarters. They decided to do some area cleaning to make the point to the Sergeant Major, Maurice Joyce, that the barracks needed sorting. They deposited two bags worth of leaves on the Sergeant Major's doorstep and went merrily home. However, the Sergeant Major the next morning although somewhat enraged was soon amused to find 5 miniature medals amongst the leaves which could only have belonged to Bill. Maurice had a lot of fun over this as Bill wriggled and placed the blame on David Webster whose idea it allegedly and probably was.

In 1982 he was released from the rigours of Münster but not before his Commanding Officer wrote: 'He was responsible for overseeing a major modernisation programme of Oxford Barracks. His deft handling of the various agencies involved, his imagination, forethought, initiative and perseverance ensured the complete success of the venture.......He leaves the Regiment after 28 years loyal service; his willingness, selflessness, efficiency, quick reaction and above all his marvellous sense of humour will be greatly missed by all'.

His reward for his hard work was a posting to Cyprus as QM of the UNFICYP Support Regiment, a job which he loved but perhaps more to the point he and Mary discovered this was where they wanted to retire to. But before that Bill was sent to Warminster as TQM of the School of Infantry at Warminster. This was followed by a further two years as Quartermaster in the rank of Lieutenant Colonel of the British Army Training Support Unit Wainwright in Canada. He clearly had had some spare time to improve his qualifications as he worked to qualify himself as a member of the British Institute of Management and as a Master of Information Systems Management. Nevertheless, he was rewarded for his services to Anglo-Canadian relations in Edmonton with advancement to OBE in the Order of The British Empire. And so, to retirement in 1990, and at last he and Mary could retreat to Paphos in Cyprus which became their happy home for over 25 years. His funeral service was held at Dhekelia British Military Cemetery. Bill was a character and for all his working life a loyal Grenadier. He was a good friend to me over the years and those of us who remember the immaculate Sergeant Major or industrious Quartermaster will mourn his passing and so we commiserate with his family, Mary, Debra, Paul and their three grandchildren.