Obituaries
Warrant Officer Douglas Godfrey-Cass
Late The Blues and Royals
by Brigadier Andrew Parker Bowles OBE
formerly The Blues and Royals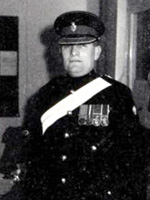 Douglas Leslie Godfrey-Cass (Dougie to his friends) died in May 2019 aged 94. He joined The Blues in November 1944 and was posted to BAOR [following the end of the war?]. For some time, he acted as an orderly to Major Harry Hopkinson (he later commanded the Regiment), who realised that this young trooper orderly was not only very efficient but also highly ambitious, had a strong personality and a good brain.

In 1952 the Regiment returned to Windsor and the following year D G-C, as a Corporal of Horse, was posted to the Inns of Court Regiment as the Regimental Signals NCO. He next re-joined A Squadron in Cyprus. D G-C was appointed to be the Squadron Intelligence Corporal of Horse. Major Johnnie Watson, his Squadron Leader, described him as 'having a detective's mentality with great zest for terrorist hunting and he became a key figure in the Squadron'. The Blues returned to Windsor in 1959 having completed a highly successful tour dealing with the Eoka conflict.

I joined A Squadron in late 1960 and was a troop leader with four Ferret scout cars; D G-C was my troop Corporal of Horse. Not surprisingly, with his WW2 Victory Medal and his successful Cyprus tour, he didn't have much time for a young officer with only two years of soldiering at RMA Sandhurst under his belt. He ran the troop with great authority. We got on well and he was an outstanding NCO when it came to both tactics and administration, and I learnt much from him.

The Regiment moved to Herford in NW Germany in 1962 as D G-C became Squadron Corporal Major of B Squadron;' commanded by Major Peter Lendrum. This was followed by a posting as a Warrant Officer Class I to Hong Kong where he spent two well reported-on years. There is a rumour that at The Queen's Birthday Parade he handed over the parade to the GOC Hong Kong having forgotten to order the parade to fix bayonets.

In 1968 I was Adjutant of The Blues. Ahead lay two barrack moves, conversion from armoured cars to the new Chieftain tank and, more importantly, a regimental amalgamation with The Royals. I requested that D G-C returned to the Regiment as Regimental Corporal Major. In his new role he was a great success: firstly, getting on well with the Commanding Officer, Lieutenant Colonel Mark Darley, a perfectionist but not always easy to work with; and secondly, making sure the moves from Windsor to Perham Down, and then some months later to Detmold, went smoothly. His most important work was to advise on which Warrant Officers, Non-Commissioned Officers and Troopers [were to be part of the new Regiment], a difficult task as many soldiers of all ranks had to be told there was to be no place for them.

Under the leadership of Lieutenant Colonel Richard Vickers, the amalgamation was a great success and much credit must go to D G-C. It was reported at the time that the WOs' & NCOs' Mess was in superb condition due to the exceptionally high standards and organisational skills of the RCM. 'The new Regiment owes a great debt to his leadership and disciplinary powers, a terror to the evil doer, he has always helped those with genuine problems. He set an outstanding example to all his successors'.

After finishing his tour as RCM, he stayed in Detmold as Garrison Corporal Major. Despite his excellent reports from all his postings, he was not commissioned, perhaps due to his age, colour blindness, or possibly because he failed to impress Field Marshal Sir Gerald Templer, our Colonel, with the entertainment he laid on at one of his Mess functions.

On retirement from the Army he started a framing business, only stopping last year aged 93 when his wife Steffs died.

Barbara, his daughter, is rightly proud of her father's great success in general, and in particular as the first Regimental Corporal Major of The Blues and Royals.