Obituaries
Major David Greenacre JP
Late Welsh Guards
by Paul de Zulueta
formerly Welsh Guards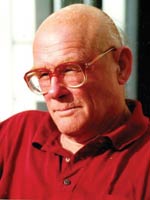 David Greenacre, who has died aged 88, was the son of Brigadier Douglas 'Boomer' Greenacre DSO, a much-revered Welsh Guards' officer from whose shadow he initially found it difficult to escape. On commissioning, David's first company commander was Vivian Wallace, known as the 'Bomber' because of his talent for throwing hand grenades. Despite the overarching presence of 'Boomer' and 'Bomber' in his early military life, David went on to serve for 19 successful and happy years in the Regiment and the Army, retaining a great affection for the Welsh Guards family.

David was born in the Anglo-American Hospital in Cairo in June 1929, just two months after the 1st Battalion Welsh Guards had arrived in Egypt in which his father was serving as a company commander. He was sent to a boarding school in Reigate and then to Heatherdown. He was described in his early reports as 'Too bouncy, with occasional bursts of self-applause, but of admirable keenness and intelligence'. Amusingly, his contemporaries in the Regiment were to say the same about David, though quick to point out that he was invariably good company, and particularly kind and supportive to younger officers.

David's father, cautioned by his experience fighting with the 2nd Battalion in the defeat at Dunkirk and the prospects for England's survival, sent David to the States where he spent four years with two different Boston families. In 1944, he returned on an aircraft carrier, string-pulled by his father who was then commanding 6th Guards Brigade. He was immediately sent to Eton where his housemaster described him as an outstanding house captain.

Keen to win his father's approval, David embarked on his military career a little too early, failing his War Office Selection Board twice before becoming a National Service officer and then transferring to the Regular Army Reserve Officers' list from 1949 to 1953. He rejoined the Regiment in late 1953 as a Regular officer. With the maturity that comes with a few extra years, he was an immediate success. As signals officer, his natural technical proficiency and resilience stood him in good stead in a job where the Commanding Officer's admonition 'Get hold of Pronto immediately' is often heard, and praise is rarely won. He was an exceptional adjutant of the Guards Training Battalion, a remarkably successful organisation before it was replaced by the Guards Depot, and where the tyrants of the drill square were soon to hold sway. There was one entertaining setback when he was asked to model the new Welsh Guards dress uniform in front of The Queen at Buckingham Palace only to be picked up by Her Majesty for failing to wear white gloves.

In 1958, he was second in command to my father, Peter de Zulueta, who commanded an eclectic and entertaining joint Welsh and Irish Guards company in Cyprus patrolling against EOKA, the Greek Cypriot guerrillas, fighting a campaign to end British rule in Cyprus and effect union with Greece. My father, a soft smile crossing his face, always spoke of David with great affection and respect.

In May 1960, David married Lady Elisabeth Lindesay-Bethune, daughter of the 14th Earl of Lindsay. They had three children, Philip, Louise and Andrew. Almost immediately, David joined the Regiment in Germany as a company commander under Vivian Wallace who was commanding the Battalion. By then, David had the measure of 'The Bomber'. In 1962, in Kitzbuhel, he won the army downhill skiing championship on the hazardous 'Hahnenkamm' course, probably the most fearsome downhill course in the world. The Regiment was also to win the team event under David's leadership. David remarked that his skills and sense of balance as a skier had been developed whilst serving in Egypt, water-skiing along the Suez Canal as he was towed by a Jeep speeding down the quayside.

A succession of staff jobs was to follow; nothing too onerous, and all based in London, as David wanted to see as much of his growing family as he could. He was GSO2 in the Inspectorate of Establishments replacing a Coldstream officer, the wonderfully named 'Lump' Windsor-Clive. 'Boomer', 'Bomber' and 'Lump' - one could be reading Evelyn Waugh's Sword of Honour trilogy but nicknames serve an important purpose in the Household Division: to give a sense of individuality in an environment with an unbreakable collective ethos. David's final job was GSO2 (Trg) Cadets in HQ London District. He left the Army in 1969 and went into the City.

David joined a discount house, Page and Gwyther where he became a partner and, when it was sold, moved to be head of personnel (now referred to as 'head of happiness and people experience' in Silicon Valley tech firms) at the merchant bank, Charterhouse Japhet. He was there for 11 years. Sadly, his first marriage failed but he found happiness when he married Pauline in June 1971. They shared a love of sailing though, by all accounts, Pauline was by far the more proficient. David retired in 1984 but remained, as his old prep school head once remarked of him, 'bouncy' to his very last years. He was a highly respected magistrate on the Colchester bench and tax commissioner for the Essex board. He and Pauline took to their grand-parenting role with great pride and generosity of spirit.

David's younger brothers, Francis and Martyn, spoke at his service of thanksgiving and their words bear witness to the esteem and admiration in which he was held; and as Brigadier Johnny Rickett wrote of David, 'he was a symbol of all that was best in the Regiment'.