Obituaries
Major General Sir John Swinton KCVO OBE
Late Scots Guards
by Major Randall Nichol
formerly Scots Guards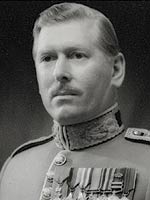 Major General Sir John Swinton died peacefully at his home, Kimmerghame, Berwickshire, on 4th October 2018, aged 93. His immediate forebears had lived there for several generations, but before that the Swintons had been a significant presence in the Borders for centuries. John Swinton's father, Brigadier Alan Swinton, was the first of the family to be a Scots Guardsman. Major General Sir Ernest Swinton, a leading proponent of the tank during The Great War, was a distant cousin but a close family friend.

On leaving Harrow, John Swinton's military career began with officer training before he was commissioned into the Scots Guards in March 1944. That October he was posted to the 2nd Battalion, then at Stobs Camp, Hawick. In January 1945 they left for Holland to join the Guards Armoured Division. As the fighting went rapidly onwards after the Rhine Crossings, the Division was diverted in mid-April 1945 from its previous path across Westphalia and Lower Saxony to work northwards to cut off Bremen. Stiff and determined enemy opposition was still being met in the coastal area further west as far as Emden. On 17th April the 2nd Battalion Scots Guards had reached Walsrode, close to a neighbourhood familiar to generations of Guardsmen after the War, Soltau Training Area. The following day they moved on Visselhövede, where many roads met. John Swinton, wounded once already the month before, was a platoon commander in Left Flank. The company first had to clear the hamlet of Ottingen, during which he was hit by a shell fragment and lost the lower part of his left leg. His father lost the same part of the same leg to a shell fragment while commanding Left Flank of the 1st Battalion at La Longueville, near Maubeuge, a week before the 1918 Armistice. The amputation came close to putting an end to an Army career for John Swinton and was still a consideration ahead of his selection as a Commanding Officer, but, right from the start and as he was to show throughout, the loss of his foot was no obstacle. When he was fit to do so he returned to duty and in 1948 to the 2nd Battalion, serving in the Malayan Emergency till 1951.

In March 1953 he was appointed ADC to Field Marshal Viscount Slim, Governor General of Australia, who was writing Defeat Into Victory at the time. John Swinton told how Bill Slim would disappear into a spare room in Government House. Having completed a chapter he would emerge, thrust it into the ADC's hand and bark 'Correct that!' When telling this, John Swinton would look expressively plaintive and say 'What could one do?'

While in Canberra John Swinton met Judith Killen and they were married in August 1954. Thus began a supremely happy and rewarding relationship, Judy's warmth, intelligence and impish sense of fun being a perfect foil for John's strong sense of duty, impeccable standards and instinctively private nature. Those who did not know him often thought him a touch aloof, but just behind the apparent reserve was generosity of spirit, charm, humanity and a keen eye and ear for the humorous. The other side of his personality was that he could be terse and unforgiving towards those who did not meet or appeared not to share his standards. His knowledge of Regimental traditions, history and customs was both encyclopaedic and precise. When Regimental Adjutant in 1962 he produced The Short History of the Scots Guards for easily accessible use by all ranks, updating its Second Edition in 1982 and its Third Edition in 2008.

In July 1962 he became Adjutant at Sandhurst. When the preparations for a Sovereign's Parade were not to his satisfaction he called out from the grey charger, 'Sergeant Major, that man in Gaza Company is idle; put him in the Guard Room'. Gaza Company was at the furthest point of the Parade and the instructors circled. 'This one, Sir?' called the Academy Sergeant Major. 'No' came the reply, studiedly languid. 'This one, Sir?' called the Sergeant Major. 'No'. For a third time 'This one, Sir?' 'No, but he'll do'.

Another tale, perhaps apocryphal, was nevertheless very much in character. During similar preparations someone sneezed. John Swinton paused, 'Take his name', and the instructors circled till someone owned up. With growing satisfaction the name passed by stages from Colour Sergeant to Academy Sergeant Major, who smugly reported 'Officer Cadet Malarkey, Sir'. 'Bless you', said John Swinton casually.

In March 1966 he took command of the 2nd Battalion Scots Guards in Chelsea Barracks, where he was respected and admired by officers and men in equal measure in a happy and contented battalion. Those he commanded quickly learned that he was wise, fair and completely reliable in their interests. Almost the first thing he did was to ask George Nickerson, commanding Headquarter Company, with much longer service regimentally, to come to see him. He said that they had always been 'George' and 'John' to each other, that it was to continue, and that George was never to call him 'Sir' except on parade.

Tony Heybourn was Orderly Room Colour Sergeant. To him this period was one of the most rewarding and stimulating of his career because of John Swinton's absolute focus on every aspect of his job, whether matters of the moment or of long-term planning. He would listen to all intently and act immediately, while giving himself time to weigh his judgement and consider all possible knock-on effects.

On a military flight to Canada ahead of an exercise in the summer of 1966 John Swinton sat next to an officer's wife occupying a spare seat, who was greatly impressed when he took off his shoe and polished it. Next time she looked up she got a shock as he had removed and was polishing his wooden leg. While there the Battalion held a cocktail party for their Canadian hosts in their tented camp, for which the centrepiece of the decorations was an enormous black bear made from the Drummers' bearskins.

At the beginning of 1967 the Battalion moved to Iserlohn and a traditional German barracks. There an enterprising storeman established his German girlfriend in the mattress store in the depths of the company cellars. This only came to light at a Commanding Officer's Inspection of Barracks. John Swinton acknowledged the ingenuity, commenting on this unexpected variation on Hans Andersen's fairy story of The Princess and the Pea, in which the test of a real princess was whether she could feel a single pea at the bottom of the twenty mattresses on which she slept.

That year saw the introduction into service of the new armoured personnel carriers, AFV 432s. The Battalion was equipped during the first phase of deployment, among the first of the infantry. Familiarisation with this new vehicle meant that training took on an even greater priority, not helped by the swarms of senior officers who all wanted to come to see and have all explained to them. John Swinton saw an opportunity, which appealed to his sense of history and decorum, and so the Battalion held a parade for the new vehicles, all with their pennants, following the pattern of the tanks of the 3rd Battalion Scots Guards during the Second World War. The Colour Party was mounted in one 432.

While the Battalion trained at Soltau in the summer he instructed Iain Ferguson, commanding Right Flank, to send a fighting patrol to another company's location and capture prisoners. The patrol successfully removed two. Only while withdrawing did it become apparent that they had raided Battalion Headquarters, because one was Martin Lance, the attached Royal Signals officer, who accepted the uncomfortable fair cop. The other, less acquiescent, was Mike Scott, the Adjutant.

When in 1968 the Battalion lined up on the square for the Brigade Commander's annual inspection the precision was only spoilt by a large hole where Right Flank should have been. Two minutes before the Brigadier's arrival they could be seen coming up the road at a swift clip, led by Iain Ferguson, who reported 'Right Flank present and correct, Sir'. John Swinton applied his forefinger to his cuff and casually glanced at his watch 'I cannot recall when a company has cut its arrival quite so tight for a highly important parade; please join the officers'. That was the end of the matter.

On relinquishing command he was appointed OBE. In 1970 he became Lieutenant Colonel Commanding Scots Guards before further promotion in January 1972 to command 4th Guards Armoured Brigade in Münster. Here others came to identify with his visibly relaxed nature and with his trust in and support for his staff and his commanding officers.

Throughout John and Judy Swinton were exceptionally generous and hospitable. Ian McLaughlan, on the Brigade staff, was asked to join the family for New Year's Eve at Cambrai House. At the end of dinner Sandy Swinton, then about ten, sat down to the piano and played the Moonlight Sonata perfectly. John Swinton then handed Ian a small parcel, which, after many layers of unwrapping, turned out to contain two bronze crowns, Ian being due to be promoted major on 1st January. These were the first crowns that John had worn many years before.

Pets always played a significant part in the Swinton family and at this time there was Puzzle, a terrier, which when he picked it up or played with always growled at him, of which he seemed oblivious. At one family dinner the pet rabbit was put on the table where it lolloped about and, if not invariably released at parties, it frequently attended them, sitting on John's lap. The most enduring of all the Swinton pets was (and is) a very noisy cockatoo, which ruled the roost in the sitting room at Kimmerghame, flying from one picture frame to another and occasionally landing on someone's head. Subsequently it dominated the kitchen and was recently taught to say 'Good morning' in Polish by one of John's carers.

His final military appointment in 1976 was as Major General Commanding The Household Division and General Officer Commanding London District. His style and close personal interest quickly drew everyone to him and led to praise and affection across the board. Harry Scott, in 1978 in The Life Guards Squadron, listened to John Swinton discussing the peculiarities of correctly fitting a wooden leg into a field boot with the Master Saddler at Hyde Park Barracks, and commenting recently that he was 'a much-loved Major General'.

Many Foot Guards officers required to ride on ceremonial parades needed advice, encouragement and more usually assistance, to a greater or lesser extent, in order to mount and dismount their chargers. While undoubtedly a challenge for John Swinton, a senior officer of considerable stature, with the disadvantage of his wooden leg, he would make no fuss of climbing aboard from a normal mounting block and had no need for help when dismounting. At the end of every parade and after several hours in the saddle, The Queen's Silver Jubilee in 1977 being probably the longest, he would take both feet out of the stirrups, swing his right leg over his charger's back and from some considerable height land fairly and squarely, evenly on both feet, with an audible thud. Those watching would wince, but he would just hand the charger to his groom, thank him and stride off to whatever was next.

John Swinton would later tell how following the Silver Jubilee he gave Charles Guthrie, the Brigade Major, an 'Outstanding' grading in his confidential report. This quickly led to a call from the Commander-in-Chief, Headquarters UKLF, for a meeting as the C-in-C felt it should be reduced to 'Excellent'. He told John Swinton that he did not expect the report on any Brigade Major, Headquarters London District, the job being what it was, to qualify for an 'Outstanding' and that he required John Swinton to amend it. John Swinton said that he could not do that because, he explained mildly, the 'Outstanding' had already been approved by The Queen.

During the national emergency of the Firemen's Strike in 1977, John Swinton loved the challenge of being in charge of London as GOC, especially having motor cycle police outriders. He remarked that he inspected his troops in London in places he never knew existed and always first asked them if they were being well looked after. Throughout his plans were meticulous and worked very well in difficult circumstances. He went out visiting every day, including each day over Christmas.

He was also fastidious in his regular visits to TA units, all over weekends or evenings, always on the move and not at all a desk bound general. This could enable him to revel in informal formality, as when he went by train to visit the Infantry Junior Leaders Battalion at Shorncliffe, with the Brigade Major and ADC. All three wore field boots and spurs, thus appearing, for all the world might know, to be extras on their way to a remake of Oh, What A Lovely War. Nevertheless he did love his very special office at Horse Guards and had a very strong bond with his PA, Miss Grant. She was PA to numerous Major Generals and kept the Headquarters on the road.

One evening an ADC made a mistake with the dinner party invitations at 8 Cadogan Gardens and asked a senior general and his wife on the wrong day. When they turned up the numbers were two too many, but Judy and the staff coped as if nothing had happened. When the ADC apologised next morning, John Swinton told him that that particular general had an inflated opinion of himself, that it was probably his fault and so any inconvenience served him right.

He left the Army after The Queen's Birthday Parade in 1979 and was appointed KCVO. He is remembered as a benign Lord High Keeper of The Blue Seal Club from 1984 to 2002.

John Swinton was quickly adaptable when he judged it right. Michael Whiteley, Lieutenant Colonel Commanding, was seeking a suitable venue for the Presentation of New Colours to the 2nd Battalion Scots Guards in 1988 and said to David Archibald, Assistant Regimental Adjutant, 'David, Buckingham Palace is boring. Let's take 2SG to Scotland and find somewhere to have New Colours presented by The Queen. Meet me at Edinburgh Waverley Station at 0900 on Sunday morning with a hire car and we will go and look'. Hopetoun House was first on the list and was chosen. John Swinton commented 'I hear you are proposing to hold the New Colours Ceremony at Hopetoun. You cannot ask The Queen to present New Colours in someone else's house'. However, on learning that The Queen knew and was enthusiastic, he immediately said 'In that case, many congratulations, you have chosen a wonderful setting'. It was entirely in character.

After retirement he and Judy lived at Kimmerghame. From 1989 to 2000 he was Lord Lieutenant of Berwickshire, which required precision and invariably thorough reconnaissance. He wrote careful briefs and so it was that when his Vice Lieutenant was escorting The Queen and The Duke of Edinburgh round Eyemouth Museum and fluffed his lines, he was corrected by the Duke, who had studied John's brief. The only recorded time that John Swinton was ever seen completely speechless was in 1994 when he visited the new museum in Coldstream that The Queen was to open next day, particularly important because of the Coldstream Guards, and found not a single exhibit. The staff were still decorating. In the event all was well, the final exhibit being installed half an hour before The Queen's arrival.

John Swinton was active in many organisations, including being President of The Royal British Legion Scotland and, a subject very close to his heart, especially because of his grandfather's direct involvement when it was established, Chairman of the Trustees of The Scottish National War Memorial. He had long service from 1954 as a member of The Royal Company of Archers and was the most senior Captain when he retired from the Active List in 2006. He would tell with great delight how throughout his military career he followed behind Michael Gow in the Scots Guards, but that he was the senior in The Royal Company.

Amid and around his exceptional military career and his dedicated public service lived a great countryman, with a particular affection for and interest in trees. At Kimmerghame there is an avenue of horse chestnuts, planted from conkers collected by him on his travels. Colonsay was the happy and regular family holiday hunting ground. Judy's death from cancer in October 2012 was the greatest sorrow and his final years were marred also by increasing lack of mobility, though mentally he was fully alert and very pleased to see and very welcoming to visitors. Our sympathy goes out now to Jamie, Tilda, Sandy and Willie and their families. Willie followed his father into the Scots Guards and commanded the 1st Battalion, so Swintons in three successive generations became Scots Guards Commanding Officers, an exceptional achievement.

As a soldier John Swinton was firm, fair and straight down the line. He was also deeply respected wherever he went and, by those who knew him well and worked with him, he was loved.