Obituaries
Colonel H G R Boscawen
Late Coldstream Guards
by Major General P G Williams CMG OBE
formerly Coldstream Guards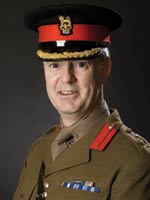 Hugh Geoffrey Robert Boscawen was born on 7th February 1954 and was the only son of the Honourable Robert Boscawen MC MP and his wife, Mary Codrington. He died, aged 64, on 22nd December 2018 after a gallant struggle against cancer and was buried next to his parents at St Michael Penkivel, near Tregothnan in Cornwall.

Hugh was educated at Sunningdale and Eton before going on to read History at Bristol University, where he was a member of the Officers' Training Corps. After university he completed a graduate officer's commissioning course at Sandhurst in early 1977 and was then posted to the 1st Battalion in Fallingbostel. As a serious and bright officer he was in due course selected to be the Regimental Signals Officer. He served in Belfast in 1977 and in South Armagh in late 1982, and went twice to Canada, as a range safety officer at BATUS and on an infantry exercise.

It was as a student on the Army Staff College course at Camberley in 1986 that Hugh's potential as a very capable staff officer was noted and he was posted to a demanding job as SO2 Tactical Doctrine in the Ministry of Defence, where he was a critical member of the team that wrote 'British Military Doctrine', the Army's first ever document of this sort. This was followed by two years commanding No 2 Company in Wellington Barracks, which in 1989 included a physically challenging exercise in Kenya during which Hugh and everyone in his company suffered from a condition akin to food poisoning; his leadership and determination were what saw the company through this nightmarish state of affairs.

His ability to master the unexpected through attention to detail and sheer determination was once again put to the test when in 1991 the 1st Battalion deployed to the Saudi desert on Operation GRANBY and was given the novel task of running the Prisoner of War Guard Force. As the Battalion Second in Command Hugh applied a mixture of historical precedent and common sense to develop and implement solutions that proved to be highly successful in a unique and often chaotic situation.

Having made a success of his earlier MOD staff appointment, Hugh returned to Whitehall at the end of 1992, this time as an SO1 Forward Plans, where he was able to use his understanding of the political world to affect a notable contribution to delivering the defence budget.

It was in August 1994 that Hugh was appointed to be the Commanding Officer of the 1st Battalion, by now an armoured infantry battalion based in Münster. In 1995 he exercised his battlegroup at BATUS and then in 1996 he led his Coldstreamers on a six-month emergency tour in Armagh, for which he was awarded a Queen's Commendation for Valuable Service.

The final years of Hugh's military career saw him serve once again in important roles in the MOD, first in the Joint Warfare branch and then, having been promoted to Colonel, in the Directorate General for Doctrine and Development, where he was a critical member of the team that developed 'British Defence Doctrine' from 'British Military Doctrine'.

Hugh also served twice in Kosovo. Initially, he worked from July 2000 until February 2001 as the military assistant chef de cabinet to Bernard Kouchner, the French politician who was the Special Representative of the United Nations Secretary General in charge of UNMIK (the United Nations Mission in Kosovo). He then returned to Kosovo for six months in 2004, when he was the UK's senior military representative. After some time at Shrivenham Hugh retired from the Army in early 2009 and worked for the Officers' Association, attempting to find satisfying second careers for those who were leaving the Armed Services.

The bald facts of Hugh's military appointments, as given above, fail to do justice, however, to a very remarkable man, whose extraordinarily broad expertise and enthusiasm were applied with great generosity in so many other areas of life.

He was, for example, enormously proud to have been born into one of Cornwall's most ancient and eminent families, the Boscawens of Tregothnan, and in his retirement he became the family's de facto historian and, although based in London, he was honoured and delighted to follow his uncle, Viscount Falmouth, as the President of the Plymouth and Cornwall branch of the Coldstream Guards Association.

Hugh was also a hugely well-informed military historian. It was at Bristol University that he began his life-long study of his forebear, Admiral Boscawen. An undergraduate thesis later became his magnum opus, the scholarly The Capture of Louisbourg, 1758' (published in 2011), detailing his ancestor's seizure of the fortress in a combined naval and military operation that made possible the capture of Quebec in 1759. He also wrote numerous articles for the British Army Review and The Guards Magazine, as well as the Second World War and Gulf War 1991 chapters of Second to None, the updated history of the Regiment (published in 2000). Since 2002 Hugh had also been the inaugural and much respected President of the Cumberland Society, a dining club of experts in 18th and 19th century naval and military history.

It has been suggested by several of his friends that, if Hugh had not been a professional soldier, he would have become a renowned professor or 'beak' because he loved nothing better than to share his military knowledge with all manner of audiences. His battlefield tours were meticulously researched and recced and ranged from the victories of Marlborough to the 20th century campaigns in Europe. For example, no one who was present in 1995, when he led his battalion seniors to Enschede and Lingen to mark the 50th anniversary of those Coldstream battles, has ever forgotten the way in which he was able to bring together complex historical scenarios, tactical considerations and a feel for the ground in a manner that made sense to all ranks.

His love of military history was closely bound to his deep appreciation for his own family's remarkable naval and military service to the country over many centuries. No one had closer links to the Coldstream than Hugh: his ancestors had served in the Regiment from 1769 and three of his forebears were Colonels of the Regiment. His father had won a Military Cross as a troop commander in the 1st (Armoured) Battalion at Enschede on Easter Day in 1945 and his father's service in the Coldstream dominated Hugh's upbringing. His death has deprived the Regiment of its foremost expert on the history and traditions of the Coldstream.

Just as Hugh strove tirelessly to become as professional a soldier as he could be, so too did he take seriously everything else to which he turned his hand. He loved sailing and his yacht, Silvio (previously owned by his father), was frequently seen in Cowes at the Royal Yacht Squadron and Household Division Yacht Club events. He skippered Gladeye and actively encouraged all Coldstreamers to try the sport under his tutelage.

In his final years Hugh worked tirelessly for the Regiment and the Household Division. As chairman of the Regiment's Chattels Committee he undertook a comprehensive audit of its tangible assets and their condition. As a member of the Guards Chapel Advisory Committee and a churchwarden he instigated a detailed survey of the Colours and Standards laid up in the Chapel and wrote directives to ensure that new memorial plaques are designed, approved and installed properly, giving sensitive guidance to the families involved. The project to renew the Chapel's kneelers and cushions was entirely his work. In a world where volunteers for seemingly unglamorous tasks are all too rare, Hugh stood out as someone who was willing to take on these challenges.

Above all else he was a family man. Hugh married Alexandra Eden in the Guards Chapel in 1981 and they had two sons, Veryan and Aldwyn, whom they brought up to respect the values of the Regiment and its members.

Finally, Hugh was perhaps best summed up by one of his former Commanding Officers: 'He was the very embodiment of a Coldstream officer in his own slightly idiosyncratic way. Few have known more about the Regiment or have had more pride in it than Hugh. I never saw a shred of malice or envy and I can truthfully say that he always put others before himself. In an age of 'thrusters', he was his own man. To say that he was a gentleman would be an understatement - he was a very proper man in every sense and highly moral. We shall not see his like again'.