Obituaries
Major Sir Hew Hamilton-Dalrymple GCVO JP Bart
Late Grenadier Guards
by Major P A J Wright OBE
formerly Grenadier Guards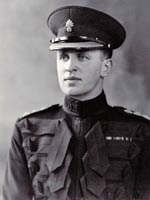 Sir Hew Fleetwood Hamilton-Dalrymple, who has died aged 92, was born on 9th April 1926. One of his ancestors, John Dalrymple, was forced to resign as Secretary of State for Scotland in 1695 for his part in sanctioning the Glencoe Massacre. He was the son of Sir Hew Clifford Hamilton-Dalrymple, 9th Bt, of North Berwick, and his wife Ann (née Thorne). He was educated at Ampleforth and was commissioned into the Grenadier Guards aged 18 in 1944. He served in India during the 1947 partition as ADC to General Sir Frank Messervy, Commander in Chief of the Pakistan Army, and witnessed the ceremony in Pakistan that marked its independence.

Sir Hew was promoted to captain and appointed Adjutant of 3rd Battalion during its tour in Tripoli and the Canal Zone in Egypt from 1951 to 1954. His influence and encouragement of young officers to develop successful careers is well remembered. In 1956 the Grenadiers celebrated their tercentenary with a major exhibition at St James's Palace. Nearly a year was needed to collect the exhibits and, thanks to Sir Hew's dynamic energy as Exhibition Secretary, it opened on time for a special view by The Queen and Prince Philip on 26th May before it opened to the public.

The following year he attended the Staff College at Camberley and was posted as Deputy Assistant Adjutant General at Headquarters 3rd Division from 1958 to 1960. After the death of his father in March 1959, Sir Hew inherited the baronetcy as the 10th Baronet. He was Regimental Adjutant from 1960 to 1962 when he retired from the Army as a Major.

Subsequently he served for ceremonial purposes as Adjutant, later President of the Council, and finally Captain General of the Royal Company of Archers. He held the office of Gold Stick for Scotland from 1996 to 2004 and the office of Justice of the Peace in 1987. He was Lord Lieutenant of East Lothian from 1987 to 2001 and was appointed GCVO in that year.

He was a landowner whose property included the Bass Rock bird sanctuary off East Lothian, which has been in his family since 1706. He worked hand-in-glove with wildlife conservationists to preserve the internationally important gannet colony on it. He was Vice-Chairman of Scottish and Newcastle Breweries from 1983 to 1986 and Chairman of Scottish American Investment Company from 1985 to 1991. He and his wife were strong supporters of many North Berwick and East Lothian charities and community groups, notably North Berwick Royal National Lifeboat Institution and their local church, Our Lady Star of the Sea. They were well known and loved throughout the county.

He married Lady Anne-Louise Keppel, daughter of the 9th Earl of Albemarle, in 1954. They met on a mutual friend's doorstep in April 1954, when both had been invited as Godparents to the same child. In under a month they were engaged and married on 25th September the same year. They celebrated their diamond wedding anniversary in 2014 and he was a much-loved husband, father, grandfather and great grandfather. Lady Anne-Louise predeceased him in January 2017, aged 84. He is survived by their four sons, Hew born in 1955, who succeeds in the title as the 11th baronet, John, Robert, and their youngest son William the historian, travel writer and broadcaster.