Obituaries
Captain Charles Cox TD
Late Grenadier Guards
by Captain Jock Lloyd-Jones
formerly Grenadier Guards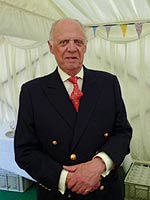 Charles Cox died suddenly on 18th August 2018, aged 70, after a long hard fight against throat cancer and breathing difficulties. He was an immensely kind man, an immaculate Grenadier and then a highly successful professional indemnity insurance broker in the City. Fiercely proud of his family, of his time in the Regiment and with the Honourable Artillery Company, he will be enormously missed by his relations and wide circle of friends.

Charles was born in Wiltshire, where his father was a GP. He was sent to prep school at Beaudesert Park and then on to Marlborough where he excelled at athletics and rugby.

He was commissioned into the Regiment and posted to the 2nd Battalion, then stationed at Victoria Barracks, Windsor. Always well turned out and well prepared, he stood out as a senior subaltern who went out of his way to help the Battalion's new arrivals, lending appropriate bits of kit and often giving guidance on Ceremonial Duties and the pitfalls of life in a Public Duties battalion.

Away from Windsor, Charles served in British Honduras (Belize) and Northern Ireland (Belfast), the latter being a gritty tour, with members of the Battalion killed and wounded.

In 1971, he attended the Parachute Battle School Advanced Patrol Course, which included free fall jumps from a Dakota. What nobody knew was that in addition to his Bergen, he was carrying a grapefruit-sized tumour in his neck. Later, during Spring Drills, his weakening voice rendered him unable to turn the squad about, with obvious consequences. Cancer was diagnosed, and a lifesaving operation took place, but that was the end of life in the Regular Army.

Charles started in the City with Bowrings, before moving to Anthony K Falcon, and then to Howden and then Lockton. He cut a dash in the City with his impeccable double-breasted suits and his smooth Mercedes Benz V12, sporting the number plate PI BKR. For 20 years he organised a Varsity Match client event which was hugely popular.

Charles found time to join the Honourable Artillery Company (closely affiliated to the Grenadiers), where he became the Intelligence Officer, eventually earning him the coveted Territorial Decoration. His forensic attention to detail made him ideal for the task and the HAC Sabre Squadrons soon became experts at identifying Soviet armour of all shapes and sizes.

Charles's marriage, to Anna Bugle, was dissolved in 1982. He then married Fay London, widow of Nick London (Commanding Officer Designate of the HAC). He was a proud father to Oliver and Serena and stepfather to Peter.

In his spare time, he pursued an interest in cars, frequently upgrading them for better models and attending the Goodwood Festival of Speed. He was also a Life Vice President and supporter of the Surrey and East Hampshire branch of the Grenadier Guards Association and was an instrumental co-founder and subsequent Treasurer of the Lloyd's Volunteer Forces Fund (LVFF), a charity set up after the Falklands to encourage young people to join the Armed Forces.

Charles fought his long illness with great dignity and courage. Preparing for his 15th operation (day 41 in hospital), he decided that he should present himself in good order for the surgeon. He wrote:

'My dear Jock, you will be amused to hear I have had a hospital haircut, manicure and pedicure all done by a splendid Chinese girl named Ying. It's only the second time since the late 70s that I have not been to Trumper's, when in 2005 one was carried out at Reid's Palace Hotel in Madeira. The best bit? Ying charged £40 for the lot. I think I'll be back! Yours ever, Charles.'

Sadly, it was not to be. Notwithstanding his illness, he was never far from issuing a compliment or a kind word of encouragement to help someone on their way. Charles was admired and respected by many as the turn out for his thanksgiving service testified.