Obituaries
Lieutenant Colonel (QM) Jimmy Williams MBE
Late Irish Guards
Based on an address given by Major the Lord Bruntisfield
formerly Irish Guards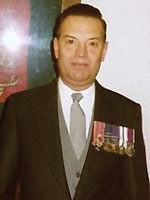 Jimmy's service to his Regiment and the army exceeded 40 years. He joined 1st Battalion Irish Guards in Palestine in May 1946, arriving off the boat dressed as a Piper. Already recognized as someone of considerable intelligence and potential, his future employment was the subject of a wrangle between the Orderly Room Quartermaster Sergeant and Pipe Major. Unsurprisingly, the contest was won by the Quartermaster Sergeant and Jimmy's long and distinguished career as a clerk and administrator commenced. It would prove to be of enormous value to the Battalion, the Regiment and the Army.

Guardsman Williams progressed through the ranks both at Regimental and Extra-Regimental employment, the latter principally at Regimental Headquarters and the Guards Depot. A young officer of that era remembers his excellent singing voice, a welcome talent when so much entertainment was made rather than received. He was well-reported on at every stage, and held the principal senior regimental appointments open to those in the clerical stream, Orderly Room Quartermaster Sergeant and Superintending Clerk. In addition, he spent time at the Depot as a Regimental Quartermaster Sergeant, when astonishingly there were three on the establishment. We forget how demanding clerical work was, in Barracks let alone in the field, before the age of laptops, word processing and spreadsheets.

Jimmy was commissioned on 1st April 1968 and joined the Battalion in Windsor as the Battalion's Transport Officer, never a comfortable berth due to the Micks' carefree approach to driving and navigation, and particularly at that juncture given the commanding officer's determination to train a large number of new drivers whatever their propensity or prior skills. Jimmy's reputation for never panicking, always keeping his cool and never losing his temper was soon recognised beyond the Orderly Room and became legendary over subsequent years. Everyone around him became accustomed to the soft whistle, the twinkle and the chuckle, so characteristic of his personality and the outward manifestations of his inner steadiness.

Jimmy was posted to Headquarters Northern Ireland as Staff Captain Q in October 1970, at a particularly difficult time in the Troubles, before returning to the Battalion as Technical Quartermaster in Hong Kong. The progress of careers like that which Jimmy enjoyed is not inexorable: advancement is a consequence of ability and application, so while his appointment as Quartermaster 1st Battalion Irish Guards might have appeared inevitable, it was not. He was quite simply the outstanding candidate for what he himself surely regarded as the appointment at the pinnacle of his career.

For the Warrant Officers and his fellow Quartermasters, he was an example of what can be achieved by quiet competence. For the junior ranks, he was an approachable and benevolent uncle, and to the young officers he was akin to a father confessor, a role in which he was supported - if somewhat behind the scenes - by Avis, who made it her mission to keep two well-known tearaway brothers out of the Adjutant's, clutches. In sum, he was a critical element of that glue which held the Micks together - namely the morale - which enabled the Battalion to be widely recognised for its operational and administrative excellence in BAOR.

As his Regimental Quartermaster Sergeant re-calls, he was not only efficient and knowledgeable but also was never phased by the myriad demands however unreasonable which landed on his desk; he does not re-call Jimmy ever raising his voice, rather, he counseled others as to how to get their way through quiet appeal to reason rather than noisy bombast. He was available to all and generous in the advice he gave; moreover, he was swift to give others credit for the results achieved, while taking on himself the inevitable flak which a lesser man would have deflected. While not a great one for cutting about in combat kit, Jimmy ensured that the Battalion wanted for nothing when it deployed and made it his business that the messes were well-sited and provisioned for those welcome non-tactical weekends. As his Commanding Officer remarked, nothing was too much trouble for Jimmy; he produced, never allowed problems to escalate too far and could work the system, while being totally incorruptible. He was an outstanding Quartermaster.

Jimmy retired from active duty in 1983 but went on to give some six years additional service to the Regiment as its Assistant Regimental Adjutant. In this role, he worked closely with Colonel Sir William Mahon, the last full time Regimental Lieutenant Colonel Irish Guards. The combination of Willie's historical knowledge of the Regiment and Jimmy's of those who had served in it, which dated back to the war years, was truly encyclopedic. It was put to great use in the management of the Association, the organisation of Battlefield Tours, St Patrick's Day and other gatherings of the old and bold.

In a Regiment of characters, he stands out as a man of great strength of character. But that strength was not austere, rather it was lightly borne and leavened with a sense of humor and fun. He never said a careless or bad word about anyone; nothing was ever a bother to him; his door was always open; his judgment and advice were always sound and without side. Discrete, private by nature and self-effacing, he was professionally respected and personally liked in equal measure by all with whom he served in the Micks and beyond.