Obituaries
Major D V Bendall CMG MBE
Late Grenadier Guards
by his Grandson, Tristan Elbrick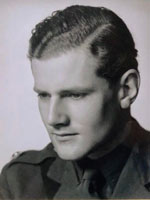 David Bendall, who has died aged 97, was born in Las Palmas, Canary Islands in 1920, He was sent to prep school at West Downs, on to Winchester and then up to Cambridge. There he was awarded a Modern Languages Scholarship at King's, and met his future wife, Merrilees Galpin (herself born in Colombo, Ceylon and brought up in Norfolk). He joined the Regiment in September 1940 and was posted to the 3rd Battalion in December of that year. On 15th March 1941, he was married at St. James's Spanish Place, Marylebone. He became an Intelligence Officer in July 1942 at HQ 1st Army and then GSO 3. In December of 1944 he was appointed senior GSO 2 (Ops) at HQ 5 Corps where he was responsible for planning and overseeing the final campaign in Italy. For his work he was awarded the MBE. He was twice Mentioned in Despatches (July and November 1945). Further staff jobs followed at GHQ CMF until he was released in July 1946. As a talented linguist, a career in the Diplomatic Service followed after the war. He was appointed Third Secretary by the Foreign Office, taking up his post at Allied Forces Headquarters, Caserta, and moving in 1947 to the British Embassy in Rome.

In 1949 he returned to the Foreign Office in London, and was subsequently appointed First Secretary at Santiago, Chile in 1952. Two postings to the NATO International Secretariat at Paris followed in 1957 and in 1962 with the rank of Counsellor, latterly as Deputy Head of the Economic and Finance Division, and Special Advisor on Defence Policy. He was appointed in 1965 to the Embassy at Washington DC (CMG 1967) as Counsellor, before becoming Assistant Secretary of State for Western Europe (1969-1971). Having been sounded out as the next Ambassador to Moscow and tipped as a future Head of the Foreign Office, he elected instead to surrender his diplomatic career owing to the precarious health of his wife, Merrilees.

Joining Morgan Grenfell, he was at the forefront of the merchant bank's international efforts from 23 Great Winchester Street, focusing on opportunities in Europe, the Middle East, and Latin America. He travelled extensively, bringing home tales of trains in Brazil, the Royal Yacht Britannia, and flying Concorde. He would go on to chair the bank's overseas operations in France, Switzerland and Italy, bringing his strong understanding of the European mind to the successful conclusion of commercial business.

In 1971 he and his wife purchased Ashbocking Hall in Suffolk, which they took great pleasure in restoring over nearly half a century. But a sustained love of Italy also led to an appointment as director of Banca Nazionale del Lavoro, and for over 30 years the Tuscan sea-side enticed him for family holidays at Castliglione della Pescaia.

From 1980 to 1985 he was Chairman of the Red Cross in Britain, while for many years he was also a Director of IISS, the International Institute for Strategic Studies.

In Suffolk life he was a stalwart patron of All Saints, Ashbocking, quietly supporting the church's maintenance and other aspects of parish life. He played tennis competitively well into his 80s, and golf at Woodbridge and Aldeburgh. Rarely missing a Branch gathering of the Grenadier Guards Association, he also enjoyed music at Snape or close to his London mews house at Cadogan Hall. Opportunities to meet with friends in town usually centred around Boodle's, which he greatly enjoyed from 1954. He was a keen shot and loved fine wines. An engaging conversationalist until his final months, he illuminated many others' imaginations with breadth of experience, depth of knowledge, and a sharp sense of humour. (Those who enquired would also discover he was exceptionally well-read in several languages and had a continuing mastery of both national and international developments).

His wife predeceased him in 2014, and he is survived by their only child, Fern, who married Captain Alfred Johnson Elbrick, USMC, in Washington DC (1967). He was always closely involved in the lives of his grandchildren Tristan, Sophie, Alexia and Xanthe, for whom he was a source of both warmth and wisdom. A committed internationalist, he succeeded in travelling until his final year, to the Amalfi Coast with his grandson and granddaughter-in-law, and to America to visit his granddaughters and six great-grandchildren.

Through his long and full days, David Bendall lived consistently in the spirit of his own motto: 'Bien ou Rien': 'Done Well or Not at All'.