Obituaries
Sir John Cotterell
Late Royal Horse Guards
(with acknowledgment to The Daily Telegraph)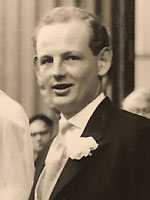 Sir John Cotterell, who has died aged 82, helped to save the Mappa Mundi, a 5ft-high, 13th-century map of the world, from being sold at auction by Hereford Cathedral, and played a leading role in securing approval for the construction of a new building in which to display it. In 1988, a financial crisis in the diocese led the Dean and Chapter of Hereford to announce their intention to sell the map - the largest map of the world to have survived from the Middle Ages - and it seemed almost certain that it would go abroad. A rescue plan necessitated a fundraising campaign in which Cotterell, whose family had been associated with the cathedral for generations, played a vital role in keeping the major donors happy. Deft manoeuvring, involving John Paul Getty Jnr, Martin Charteris and the National Heritage Memorial Fund, led to sufficient funds being raised to provide an endowment as well as to construct a new building to house the Mappa Mundi and the cathedral's valuable Chained Library. Cotterell chaired the newly created charity, Mappa Mundi Trust, from its inception in 1990 and oversaw the choice of architects, builders and other consultants for the new building. The final building, designed by Whitfield Partners, was a triumph, securing the Building of the Year Award from the Royal Fine Art Commission. It was opened by the Queen in 1996.

John Henry Geers Cotterell was born on 8th May 1935 in Belgrave Square, to Richard Cotterell (who would inherit the Cotterell baronetcy when his son was two) and Lady Lettice (nee Lygon) the eldest daughter of the 7th Earl Beauchamp. From Eton College, in 1953 he joined the Army and was commissioned in the Royal Horse Guards, serving in Cyprus and on ceremonial duties at Windsor and Knightsbridge. In 1959 he married Alexandra Bridgewater. After studying at the Royal Agricultural College, Cirencester, in 1961 Cotterell returned to the family estate at Garnons, Herefordshire. His father was a keen forester but had little interest in farming, so John ran the home farm at Garnons and retained a keen interest in it until he died. Farming was his lifelong passion and he was never afraid to try out new ventures, which included chickens, mushrooms and, more recently, cider apples. He became a County Councillor, eventually becoming Chairman of Hereford and Worcester County Council.

Despite never applying for a job, throughout his life he found himself in great demand to serve on public and charitable organisations, ranging from being on the board of Welsh Water and chairing an NHS Trust to being a trustee of the Beauchamp Community, a retirement home for vicars. In the late 1970s he chaired the consortium that started a commercial radio station, Radio Wyvern, based in Worcester, an unusual venture for someone whose musical preferences embraced the Inkspots, male voice choirs and spirituals; he was overheard to proclaim proudly that the station even played "Reggie music". He was National President of the Federation of Young Farmers' Clubs from 1986 to 1991, fondly remembered by a generation of members, not least for his involvement in pushing his wife down the seafront at Blackpool in a bathtub late at night at the annual rally. He was a keen mixer of White Lady cocktails and when his daughter was suspended from school for buying a bottle of Dubonnet, he reprimanded the malefactor, but only because he did not consider Dubonnet a proper drink. He was a keen and competent cricketer, but his real passion was National Hunt Racing. An unaccomplished point to point jockey in his youth, on and off throughout his life he owned shares in various horses, and served as a steward at Hereford, Ludlow, Cheltenham and Wolverhampton, and was a member of the Jockey Club. He is survived by his three sons and one daughter. His eldest son Harry, a former RHG/D officer who served in the 1980s, inherited the baronetcy.