Obituaries
Major Iain Forbes-Cockell
Late The Life Guards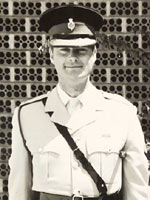 Iain Forbes-Cockell died of heart failure on 3rd March 2018 at the age of 65. His death attracted an obituary in The Times, and Polo Times News. Iain Seton Forbes-Cockell was born in Kensington in 1952, the eldest child of Seton and Ann Forbes-Cockell; he had two younger siblings, Caird and 'Honeybun', who married a brother officer of Iain's, Hastings Read. His extrovert father was successful in the financial world and became the Mayor of Hammersmith in 1969: his mother was also a member of the Greater London Council. Iain's father became a non-playing high goal polo patron and set up the Lavender Farm and Lavender Hill teams from the family home near Ascot using ponies shipped from Argentina. He always hoped that his eldest son Iain would take a shine to the sport. However, Seton died suddenly when Iain was 19 years old. Lavender Farm was sold, and the polo grounds were subsequently turned into a golf range. However, by then Iain had embraced polo. After Eton, he took a gap year to play in Argentina, where he showed a flair.

He joined the Army and did Standard Military Course 1 in October 1972 at RMA Sandhurst and was commissioned into the Life Guards. His 20-year military career began in Germany where he also began to indulge his love for smart cars. There were 3 black Porsches in the Officers' Mess Car Park then as well as a wealth of other smart cars; the perk of service in Germany then, but never again was such motoring magnificence seen at regimental duty. He served on tanks in Detmold, armoured cars at Windsor and at mounted duty at Hyde Park Barracks. He also served in Northern Ireland in the '70s. Peter Sinclair-Knipe tells the story of his arrival at Combermere Barracks coming out of the Officers' Mess one day in the mid-70s:

'When what could only be described as a black roller skate swept into sight and parked up. A tall good-looking man with hair just long enough to attract the displeasure of the Adjutant jumped out of this brand new black 911 Porsche Turbo and bounded up to me "Hello I am Iain Forbes-Cockell good to meet you". After a few minutes talking, I found myself in the passenger seat conducting a Mach 1 tour around Windsor and the surrounding area'.

However, outside and even inside his military life his passion was for polo. He played wherever he served, and wherever he was invited. The Life Guards teams of the late '70s and '80s were particularly strong, drawing on the skills of Peter Hunter, Charlie Graham, James Hewitt, Rupert Mackenzie-Hill, Michael Barlow, Mark Dwerryhouse, Christopher Mitford Slade, and Andrew Fox Pitt to name but some. There was regular success in the Regimental and Captains and Subaltern competitions to such an extent that there had to be a sports bulletin in the Officers club dinner each June. Iain was generous with his ponies and time, a great and determined competitor. The obituary in The Times reported that he had many invitations to play abroad, including from the Sultan of Brunei and Maharaja of Jaipur, and trips to the east coast of America. The Colonel of The Life Guards, Lord Mountbatten, an avid polo player who wrote the essential subject book 'Polo' using a pen name of Marco, strongly encouraged the Regiment's game. Iain was serving at Knightsbridge at the time of the Colonel's assassination and took part in his funeral parade. As polo cannot be played all year, out of season he took time to go skiing, teaching many young soldiers at Val d'Isère in preference to the usual Bavarian ski hut.

He particularly enjoyed his time as C Squadron Leader in 1985/86 at Windsor, so important too to his polo life. Soldiers enjoyed his company, his animated free spirit and easy nature, and his quick forgiving nature after any earlier eruptions. He subsequently served in Cyprus with HQ Land Forces where he met his wife to be, Vanessa, the daughter of his boss, Brigadier Keith Mullins. They were married at the Guards' Chapel, London, in 1989, having two daughters, Annabel and Emma; sadly, the marriage did not last, he and Vanessa separating in 2000.

Iain's time in the Army came to an end in 1993 when he took redundancy. He turned his hand to a variety of activities (consulting and sales) but he always leaned back towards polo. By the millennium he had returned to polo, playing, coaching, commentating and umpiring at Guards Polo Club, which he had joined as a teenager. He made particular efforts to make polo at Smith's Lawn affordable to serving officers and worked to re-establish military connections with the Guards Polo Club.

Iain was a light-hearted and cheerful man, who sought and made fun whenever he could, pursuing the bright lights in his younger years whenever and wherever that took him. Much loved, Holy Trinity Garrison Church, Windsor was packed for his funeral, and the Guards Polo Club gave him a fine send off.