Obituaries
Michael Corkery QC
Late Welsh Guards
by Paul de Zulueta
formerly Welsh Guards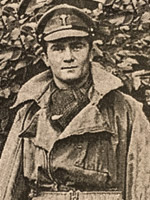 Michael Corkery who has died aged 92, discovered his talent for advocacy while serving with the Welsh Guards. As a lieutenant stationed in Hamburg and Rostock after the war, he found himself defending guardsmen in trouble with the authorities. As a young boy at Bickley Hall preparatory school in Kent, he opened the bowling against Don Bradman, arguably the finest batsman of all time, who was captaining the Australian touring team. It was this experience, coupled with his time in the Regiment, that helped Michael develop his composure under pressure.

Michael's legal career spanned 60 years. He was at the heart of many sensational criminal trials, including the conviction of John Stonehouse, the Labour politician who tried to fake his own death in 1974. He also secured the convictions of Micky McAvoy and Brian Robinson for their part in the £26 million Brink's-Mat heist when three tonnes of gold was stolen from Heathrow. He went on to prosecute the road-rage murderer Kenneth Noye for his part in melting down the bullion stolen in the raid.

Michael looked the part of a QC combining the bearing of a Guardsman with a lightness of touch which seldom failed to win juries over. He never sought a steady wicket in some judicial position preferring, as an old friend remarked, 'to stay on the pitch as a player rather than as a referee'. He made his final court appearance aged 82.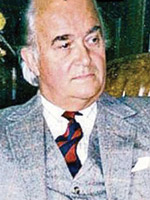 Although Michael was diagnosed with cancer more than 30 years ago, he pressed on with his customary fortitude, flying wherever his services were required. After a three-month trial in Hong Kong, he was so delighted to be at last going home he badly injured himself bowling an imaginary fast ball down the corridor in his hotel.

Apart from the company of his family and his long and happy marriage to Juliet Foulkes, whom he married at the Guards' Chapel, Michael was at his most relaxed at the Garrick, glass of champagne to hand, surrounded by his friends from the Bar. He also had a two-seater Mercedes sports car with no reverse gear. After a long day in Chambers he liked nothing better than cooking for his friends and family, rustling up his signature dish, crepes suzette. He never stood on ceremony, a quality he attributed to his time as a Guardsman; and at a party in New Hall, Lincoln's Inn to celebrate a combined century at the Bar with a friend and fellow QC, everyone from Lord Chancellors to loo attendants were invited.

In 1992, he was appointed treasurer of Lincoln's Inn. In New Hall, the coats of arms of all past treasurers are displayed. The panel for 1992 reads: Michael Corkery, QC, noli cedere - never give in.

With thanks to The Times.