Obituaries
Peter Wilmot-Sitwell
Late Coldstream Guards
by Bernard Cazenove
formerly Coldstream Guards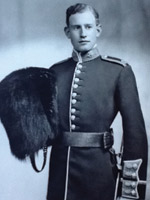 Peter Wilmot-Sitwell died at his home in Dummer, Hampshire on 19th June 2018 aged 83. He was an important figure in the City of London for many years, particularly so during the latter part of the 20th Century when he was the Senior Partner of Rowe & Pitman, one of the leading and successful stockbroking partnerships in London.

In Peter's obituary in the Financial Times it mentions 'More than anything it was his National Service, an eighteen-month stint in the Coldstream Guards that was the making of him as a leader'. A good grounding for many successful young men in the City of London. After Eaton Hall, he joined the 3rd Battalion in April 1954 and spent most of his service at Wellington Barracks doing Public Duties. One day he raced his friend Nicholas Cobbold, and fellow Coldstreamer, to Maidstone in their Ford Populars and took out the two Cobbold sisters for tea. A year later, Peter married one of them, Clare, whose father Ralph was also a Coldstreamer, having served in the 1st Battalion during the last War. The connection to the Regiment was therefore strong.

Peter would have liked to have continued in the Army but his mother, a "determined" New Zealander, Barbara Fisher, thought otherwise and encouraged him to take up his place at Worcester College, Oxford to read Modern History. Although he did not distinguish himself academically, he was a first-class sportsman winning a half blue at fencing – a sport in which he went on to represent England. He was once described as 'the fastest man in the world over two feet'. He was also a good golfer and tennis player.

After Oxford and a brief period with Hambros, he joined Rowe & Pitman and became a partner at the young age of 25. According to a senior merchant banker 'He was very courteous, very shrewd and very tough, in a most polite way. It was a big mistake to misunderstand his politeness for weakness. He had no histrionics but was daunting to work against'. David Kynaston, in his last book about the history of the City of London, called A Club No More, wrote that Peter 'despite the double barrels in his name was intelligent, ambitious and unfrightened of change'. These were skills that were perfect to lead a stockbroking partnership through the challenging and changing times of the 1980s.

Like all the best stockbrokers he had good connections through his time at Eton, Oxford and the Coldstream. He said that he won the Wellcome Foundation float on the golf course. He managed the floatation of the Trustee Savings Bank when for publicity for the issue he was given a new bowler hat that he proudly wore at the British Legion annual parade at Dummer on Remembrance Sunday. He masterminded one of the earlier "dawn raids" on Consolidated Gold Fields by De Beers. There were few major transactions done in the City of London during his time as Senior Partner that Peter was not involved with.

When Rowe & Pitman was taken over by SG Warburg in 1986 he became chairman of the securities arm and vice chairman of the parent company. He was a member of the board of the London Stock Exchange, a non-executive director of WH Smith, Close Brothers, the mining groups Minorco and Anglo American. He was a very busy man but always had a good balance in his life, enjoying living in Dummer where he grew up, as well as spending time in Cornwall in a lovely house that Clare and Peter bought and developed above Port Quin. They travelled frequently to South Africa where they had a number of friends and business connections.

Peter and Clare had three children. Their eldest son Alex became a senior banker with Merrill Lynch and younger son, Christopher helped to build the travel company Cazenove & Lloyd. Their daughter Vanessa is a film producer.

These last ten years were not easy for either Peter or Clare as his health and mobility declined. When he could he would be out in the garden proudly inspecting the lawn that had been laid out by the greenkeeper at Swinley and cutting the rougher area himself by tractor. Throughout his illness he retained his sense of humour and the twinkle in his eye that was so much part of his character and remembered by so many. He will be greatly missed for his good fellowship and loyalty to his family and many friends.