Obituaries
Sir Adrian Swire AE DL
Late Coldstream Guards
by Major General P G Williams CMG OBE
formerly Coldstream Guards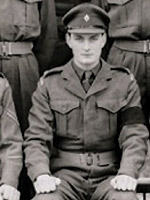 Sir Adrian Swire, who died on 24th August aged 86, was a driving force in the fifth generation of his family's Far Eastern transport, trading and real estate empire and a leader of the British shipping industry. He worked in harmonious partnership with his elder brother Sir John, who maintained a strategic guiding hand while Adrian led many of the entrepreneurial initiatives that kept them abreast of economic and political developments in Hong Kong, 'Greater China' and beyond.

Adrian enjoyed a happy wartime childhood at Hubbards Hall, the family home near Harlow in Essex. It was there that his ambition to fly was born, inspired by witnessing the Battle of Britain overhead.

He was educated first at St Peter's Court prep school, which had been evacuated from Broadstairs to Devon. There on the night of 23rd January 1945, the school suffered a devastating fire in which three boys and a matron died; this was a traumatic experience that he was never to forget. Moving on to Eton, he made more life-long friends, was Captain of his House and got into Pop, and avoided games as much as possible.

In 1950 he joined the Coldstream as a National Service officer. It was much to his regret that he had just missed the battalion's operational tour in Malaya and so he spent most of his time on public duties in London, including standing vigil at the lying-in state of King George VI in Westminster Hall in February 1952.

He often recalled how the closest he had come to the front line was when he was sent by train to escort the monthly pay party to the British Army of the Rhine. He relished the camaraderie and humour of military life, and it gave him the basis for an ongoing and enjoyable rapport with ex soldiers of all ranks.

About the time that his service in the Army came to an end, on the morning of 8th October 1952, he was involved in a second traumatic event: he was on an overnight express from Scotland that collided with two other trains at Harrow and Wealdstone station; it was Britain's worst peacetime rail crash, with 112 fatalities.

During his time at Wellington Barracks he made good use of his spare time by gaining his pilot's licence. He then went on to University College Oxford to read History where he achieved what he called a 'not scholarly, but respectable 2nd Class degree' and joined the University Air Squadron, in which he showed the first signs of becoming a very competent pilot.

When he first moved to Hong Kong in 1956 to work for Butterfield & Swire in shipping Adrian joined the Royal Hong Kong Auxiliary Air Force, where the weather made for some quite dangerous flying; six Auxiliary pilots were killed in accidents in the 1950s. He received the Air Efficiency Award for long service (similar to the Territorial Decoration), and much later was made an honorary air commodore in the Royal Auxiliary Air Force and President of the Spitfire Society.

Over a period of 60 years, in service in Hong Kong and later as a private pilot, he flew some 40 different types of aircraft. The reason he loved flying, he said, was not only the thrill of it, but because the absolute concentration required in piloting made it a complete escape from any problems or worries in his work life.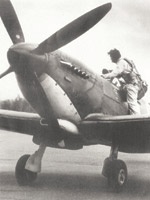 Though he downplayed his skills, he was proud to have owned (and taught himself to fly) Spitfire IX MH434, built in 1943 and one of the few Spitfires to have survived in flying condition without ever having been substantially rebuilt. He also loved to share his love of flying with others, taking them for joyrides in his de Havilland Rapide, a beautiful 1930s vintage airliner. It was entirely appropriate that a Spitfire carried out a low-level fly past as a mark of respect after his funeral.

Adrian Swire was a modest man. His maternal grandmother's family came from a long line of Norfolk Quakers and something of their ethos had filtered down to him through his mother. All his life he retained the qualities of honesty, kindness and a capacity for hard work; these were the solid basis on which other virtues grew over time.

He worked tirelessly and passionately with his brother Johnny to protect and nurture the Swire group of companies in a changing world and especially to care for its employees. When his father handed the business over to them in 1966 he had said 'Run a tight ship - don't worry too much about the money - and, above all, look after the staff'. The brothers never wavered from this sound mantra and by the time Adrian eventually stepped down as Chairman, the family business employed 130,000 people.

Adrian married Lady Judith Compton in 1970 after a 12-day engagement. They made a perfect couple and were wonderful parents to Martha, Merlin and Sam and devoted grandparents. Home life was incredibly important to Adrian and he was happiest in the village of Sparsholt, to which he and Judy had moved in 1979.

At his funeral it was noted that he had left the following instructions with his solicitor: 'I do not wish to have a memorial service. But if anyone gives an address at my funeral I would like them to pay tribute to my wife Judy who has given me loving support throughout our married life, and any small successes which I may have had could not have been achieved without her dedication and invariably wise advice.' And this instruction was duly executed.

Adrian was not all family firm, family, and flying. He was very much more besides. A benefactor of many charities, a lover of the countryside and a farmer, a knowledgeable traveller to far off places, a patron of the arts, and a devoted supporter of the Ridgeway running to the South of his Oxfordshire home. Hospitable, interested in all around him, a witty raconteur, a generous host, and unshakeably and unmistakeably always himself.

Adrian was perhaps best summed up by one of his friends who captured him succinctly: 'A great man. Ability. Wisdom. Integrity. Bravery and Wit. Too few like him'.