Obituaries
John Stilwell MBE
Late Coldstream Guards
by Henry Stilwell
formerly Coldstream Guards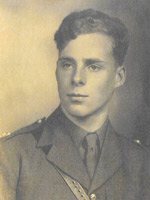 John Stilwell was the fourth of five brothers resident in Portugal who served in the Coldstream Guards during the Second World War; two of whom, Peter and Anthony lost their lives in North Africa and Italy respectively.

Commissioned in October 1943, John joined the 2nd Battalion in Italy in 1944.

The Battle of the Argenta Gap, a Coldstream Battle Honour, was perhaps the most important in which he was engaged.
His Company Commander, Ashley Ponsonby wrote 'After the Company had obtained the first objective John Stilwell's platoon attacked and captured what remained of the houses and sheds around the crossroads. John Stilwell's platoon was following very close behind the barrage and a great number of Germans surrendered'.

Unfortunately, a shell from the supporting barrage fell close to John and killed three of his men, mortally wounded a fourth and badly wounded three more. He himself escaped without injury.

After a close encounter with a German tank, John Stilwell and about twenty men held the village which was under incessant enemy artillery fire until 4pm when reinforcements arrived.

Field Marshal Alexander later visited the battalions to thank them for the vital breakthrough which led to the defeat of the 76th Panzer Corps.

After demobilisation, John returned to Portugal to join the family companies and was one of those responsible for the building and running of the Penina Golf Hotel in the Algarve, where Henry Cotton designed the Golf Course.

His activities in the British Community, hospital, school and other projects earned him an MBE. He was also made a Knight of the Order of St Gregory The Great by Pope John Paul II in recognition of his contribution towards building the Church of St Andrew in the Algarve for the use of the English-speaking community, both Catholic and Anglican.

John's wife Sheila pre-deceased him. They had four sons and a daughter.