Obituaries
Captain Charles Fuglesang
Late Coldstream Guards
by Captain Simon Forster
formerly Coldstream Guards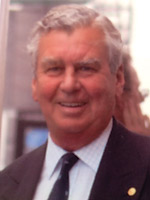 Charles, after leaving Bradfield where he was Captain of the School Shooting Team, went to Mons Officer Cadet School. On commissioning in August 1958 he was posted to the 2nd Battalion Coldstream Guards at Wellington Barracks. In June 1959 the Battalion was posted to Kenya and Charles spent two happy years there taking full advantage of all that Kenya offered. He was granted a Regular Commission at this time. A spell at the Guards Depot and a year of Public Duties followed. Looking for more than Public Duties and Germany it was then that Charles' military career took off on a course of its own. In early 1964 he applied to join the Parachute Company, passed all the courses with flying colours and was accepted. Much of his tour was spent on active service in the jungles of Malaya, Borneo, and Brunei, where the Company operated in an SAS role. 4-man patrols were dropped off into the jungle by helicopter and operated for anything up to two months before they were picked up. A short rest and then back to the jungle again. A gruelling, arduous and hazardous life that required great mental and physical stamina.

In 1965 the SAS was short of numbers and it was decided to form G Squadron, the core of which would be provided by volunteers from the Parachute Company, subject to the required SAS standards being met. Charles sailed through having always kept himself very fit and having already demonstrated the necessary physical and mental stamina. This cadre eventually grew to a full squadron and Charles' experience, influence and quiet leadership played a crucial role in the training and operational development of the squadron. The next two years of his life were hectic; deployment to Malaysia, Thailand, Saudi Arabia and Muscat. At one point Charles led his troop across part of the 'Empty Quarter' in Saudi Arabia to forestall a gun-running operation. Their transport was pink painted Landrovers, the most effective desert camouflage, which caused much amusement. Navigation was by sextant and sun compass, there was no GPS or Satnav in those days; any maps were rudimentary, almost blank sheets with minimal detail. They covered some 2000 miles in all without any back up. A magnificent feat of navigation and self-sufficiency. Charles's journal concludes with the following entry 'It was a fascinating operation and the first proper long-range desert operation carried out by the SAS since the war'.

In 1968 Charles was about to marry Niki Preston and decided that it was not fair to expect his future wife to be subjected to the stresses and uncertainties of being an SAS wife. The orthodox military life held few charms in comparison. Charles left the Army in 1968 and in 1969 married Niki. He started to work for a shipping line while also joining the Territorial Army SAS. He became the Training Officer for 21 SAS where his experience, guidance and counsel were put to good use. Shipping was boring so Charles contacted some of his old SAS contemporaries, which led to him becoming part of Control Risks. Based in Australia, he was placed in charge of operations in the Far East. These were very happy years for Charles, Niki and their two sons, James and Andrew. They returned home after three years with Charles continuing to work for Control Risks until he retired to Hampshire in 1999.

Charles Fredrik Fuglesang was Norwegian and was rightly proud of his heritage. The family have a get together every so often in Norway with members coming from all over the world. This year it would have been Charles' turn to organise the gathering.

Still waters run deep and this was very true of Charles. He was very self-sufficient, physically and mentally strong and resilient but kept himself very much to himself. He was the complete antithesis of the popular image of a 'gung ho' SAS officer. He was discreet and during his time with the SAS and with Control Risks he never let on where he had been, what he was currently doing or what the future held. If this portrays the picture of a rather dreary and over serious officer this is far from the truth. Charles was the greatest fun and excellent company.

Charles will be sorely missed particularly by Niki and all his family to whom he was devoted.