Obituaries
Major The Reverend Teddy Faure Walker DL
Late Coldstream Guards
by Colonel E B L Armitstead CBE
formerly Coldstream Guards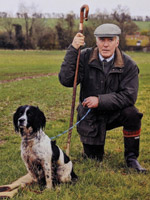 Teddy Faure Walker died in June this year aged 71 at Bear House in Ashwell, Hertfordshire. He was diagnosed with Parkinson's disease 13 years ago and two years ago he learned that he had cancer. He bore his ill health with equanimity and humour, supported by Louise who was at his side 24 hours a day.

Teddy was the youngest child of Colonel Billy, who had served in the Coldstream, and Betty Faure Walker. Shortly after he was born the family moved to Sandon Bury, Hertfordshire, where much of the land had been in his mother's family, the Fordhams, since the 14th Century. As a boy Teddy had a fascination for matches and munitions left behind by the Home Guard, and it was at this time that having blown his teeth out with a toy gun, he acquired his gold teeth which were always revealed with his huge grin!

After Eton, where he rowed in the 3rd Eight, Teddy joined the Coldstream from Sandhurst in 1966 and was posted to the 2nd Battalion in Chelsea Barracks. He was not a natural Public Duties soldier and so was delighted to be selected first to command the Demonstration Platoon at Sandhurst and then to be a member of the Household Division Training Team in Aden. It was at this time that the seeds of Teddy's lifelong love for mountaineering were sown. He volunteered for Ex MONTE BIANCO, an exercise run by the Italian Alpinis in the Alps which involved climbing Mont Blanc. This was the first of many visits to the Alps which included a short stint with the French Chasseurs Alpins.

In 1969 Teddy served with the Guards Independent Parachute Company, which included a tour in Northern Ireland where he was awarded a GOC's Commendation. During an attachment to the French Parachute Regiment he attended the French Free Fall Parachute School in Pau. He did not want to reveal the strings he had pulled to be there and so could not admit that he had never done a free fall jump before going up to 10,000 feet for his first jump. Fortunately in the aeroplane he was sitting next to a Guardsman in the Guards Independent Parachute Company who gave him an instant lesson on free falling on their journey into the sky. Teddy tumbled out and survived. In 1971 Teddy was appointed Adjutant of the 2nd Battalion in Munster, Germany and then London. It was here that his equestrian skills were found wanting. On the approach to Horse Guards one day he dropped his sword. Thankfully a nearby policeman came to his rescue and handed it back to him!

Teddy married Louise in early 1974 and then spent his last few months in the Army with the 2nd Battalion in Cyprus. The Battalion deployed in two halves, with one as part of UNFICYP and the other in Dhekelia, a Sovereign Base Area. Teddy was in Dhekelia. The situation at the start of the tour was peaceful and although it was six months unaccompanied, the marrieds in the Battalion were allowed to take their wives with them provided they made their own accommodation arrangements. Teddy and Louise were enjoying their honeymoon when the Greek coup caused Turkey to invade Cyprus, and suddenly all changed, and wives were evacuated.

Teddy retired from the Army in 1974 and returned to Hertfordshire to help his father farm. With Teddy in control, Sandon Bury Farm became one of the first in the country to regularly produce four tons of wheat per acre. This didn't go unnoticed and he was invited to become Chairman of the Boxworth Farm Advisory Committee as well as Chairman of Royston NFU. Shoots at Sandon Bury were a highlight of the winter that were often enjoyed by the many lifelong friends that Teddy made in the Coldstream.

Alongside farming, Teddy took on other volunteer roles in Hertfordshire. In 1985 he became a Deputy Lieutenant then, later, Vice Lord Lieutenant. In 2000, he became High Sheriff, and for 8 years he served as the only independent councillor on North Hertfordshire District Council. He was particularly interested in helping young people and became chairman of the Hertfordshire Association of Youth Clubs, Honorary Colonel of the Hertfordshire Army Cadet Force and served on the Senate of the University of Hertfordshire. In 2001 Teddy was ordained in the Church of England and served the parish of Pin Green in Stevenage. While in Cyprus he had been impressed by the way the Cypriot priests helped out with their local harvests. With their sleeves rolled up and still wearing their large black hats they looked an incongruous sight working in the fields. But this model of ministry influenced his decision to seek ordination.

As new farming methods developed, a barn that had been in use since 1250 became redundant and so Teddy and Louise set about its renovation. For a building that was already nearly 800 years old, Teddy saw his job as protecting the structure for future generations. This sense of being a custodian led Sandon Bury Farm to receive the support of environmental schemes that saw much wildlife return to the farm after the intensive farming of the 1980s. It is thanks to this work that skylarks can now be heard above the fields of Sandon.

As Teddy's health deteriorated he began to make plans for his retirement and as part of this he and Louise bought a medieval house that was totally dilapidated in nearby Ashwell and over a period of a year and a half they created a beautiful home. Teddy's last 10 days were spent in their new house, drinking cups of tea with family and friends in the garden as the workmen finished off their work and provided him with support and companionship.

Teddy was always independently minded, some would say stubborn, but he was a man of great principle and integrity with a real love and concern for others and particularly the disadvantaged in society. His legacy is not just in the woods, fields and ancient buildings of Sandon but in the hearts of so many to whom he was a warm-hearted and generous friend.

Teddy is survived by Louise, and their children Mark, Kate, Rob and their six grandchildren.