Obituaries
Major Hubert Baillie
Late Grenadier Guards
by Major General Sir Evelyn Webb-Carter KCVO OBE DL
formerly Grenadier Guards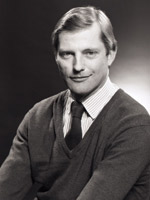 Hubert Baillie who died on 1st June 2018 was an archetypal English (although half Polish and half Scottish!) gentleman, elegant, charming, entertaining, witty and with impeccable manners, whose passion for racing and flying his private aircraft generated a good number of amusing stories. All his life Hubert enjoyed the good things of life, horses, good food and wine, so he would use his aircraft to achieve that enjoyment. On one occasion he flew into a thunderstorm over the Somme on his way to an epicurean treat which caused some considerable turbulence but the pilot, whilst calm and collected but somewhat pale, became disorientated. On landing he enquired if his passengers had noticed they had been upside down for much of the time since the storm!

Hubert Albert Gucewicz-Baillie was born on 18th August 1945. His father, Alexander Gucewicz was a Polish Cavalry officer and his mother something of an heiress from the Borders. He was commissioned into the Grenadiers on account of his uncle, Colonel Simon Baillie who was a Grenadier captured whilst serving in the SAS in 1944. As Second Lieutenant Gucewicz-Baillie he reported to the Adjutant of the 2nd Battalion who promptly informed him that his name was now Baillie and thus it remained. The Polish connection was, in his early military days, a touch inconvenient as it prevented him being selected for high security appointments. Childhood was spent in Ireland, Essex and Scotland but it was somewhat marred by the early death of his father who had taught the young boy to ride, a skill destined to be an important part of his life. Hubert was educated at Ampleforth and it was here that his strong but discreet catholic faith was established.

In 1969 he was the Motor Transport Officer (MTO) of the 2nd Battalion then based in Magilligan Camp on the North Antrim coast at the start of the troubles. Hugh Lockhart, a brother officer, suggested dinner in Coleraine and off they set in a military Land Rover to a hearty meal which apparently culminated in trying out a local digestif, Irish Coffee; maybe they had two. It was time to return and time was short, so Hugh suggested a short cut over the sand which he said he knew well. Hubert did not demur so off they set. However once on the sand the exit to safety was not so easy to find in the dark and the upshot was that they had to abandon the Land Rover and walk the short distance back to camp. The next morning the Land Rover was recovered without any apparent damage much to Hubert's relief as he was the MTO. All was well until the gearbox started playing up and on investigation the damage was found to have been caused by sea water. Oh dear! The outcome was either a Court Martial or pay the £600 (about £5k each today and equivalent to 6 months pay) for the damage. They opted for the latter and had to refrain from further entertainment for some time.

A little later Hubert entered the racehorse owning stakes and now in Germany as the Adjutant of the 1st Battalion he became frustrated by the length of time it took to get back to England to enter a race and return to barracks for the Monday morning. The answer was to buy an aircraft, a Cessna 172, which he did in partnership with Valentine Cecil. Extraordinarily they bought the aircraft through the NAAFI, something I expect has never happened before or since! It even featured in NAAFI News. However Hubert was not sure if his eyes would pass muster, so he arranged for his orderly, Guardsman Upton, to be taught to fly. Upton passed with flying colours first time and became orderly, driver and pilot to Hubert rather outmatching the Commanding Officer! In due course Hubert did indeed learn to fly but he took a little longer than the good Guardsman Upton.

The 1st Battalion in the late 70s was deployed to The Sudan for a joint exercise with the Sudanese Army whilst Hubert was commanding No 2 Company. When it came to prize giving the Battalion was not doing very well for prizes etc, but to great acclaim won 'The Best Visiting Battalion' - there was only one! The prize was a baby camel which was proudly presented to the horrified Commanding Officer, Michael Hobbs. Hubert probably laughed the loudest and was promptly handed the camel and more to the point the problem of what to do with it. The Senior Major managed to get a zoo in England to accept it, the pioneers had a crate made which fitted a Hercules and Rhodri Wynn-Pope was taught how to tranquilise the beast. All going swimmingly until the good old Ministry of Ag and Fish had heart failure and it was all off. Meanwhile Hubert, who was fully occupied with the wretched beast, was briefing the Sudanese who were thrilled and wanted a photograph of the now named Guardsman Digna in his zoo. A good deal of backpedalling followed until somebody said there was a custom of handing back such trophies and saying one would retrieve it next time in the country. With a sigh of relief this was duly done and the Sudanese who watched all this with considerable amusement, accepted with good grace. The prize had been a set up for a good laugh which indeed it was for all except Hubert who vowed never to go back to Sudan in case Guardsman Digna was returned to him.

Hubert loved his hunting and steeplechasing and for a while this was his priority. Although he never had much glory in the Grand Military he was very successful in point-to-points and hunter chases. He had several horses over the years but most memorable was a bay gelding called Half a Sixpence winning about a dozen hunter chases and placed 25 times. He also ran it in point to points winning 9 times. Amongst his other horses was Inkerman, a good name for a Grenadier which ran in many hunter chases and point to points, achieving several wins and placings. Hubert was a fine horseman and I remember well seeing him crossing the country in Leicestershire in a faultless and smooth manner. He was a neat rider and rather like he dressed, always dapper and well turned out. When Regimental Adjutant to David Gordon Lennox they were often both seen hunting in Leicestershire and elsewhere; I imagine the Superintending Clerk had an interesting line in explaining the double absence. At that time Hubert was Chairman of the Guards Saddle Club and his duties required him to catch the 0815 train out of St Pancras and then catch the branch line to Melton where Sergeant Armstrong, long time manager of the Foot Guards yard and incidentally trainer of Hubert's point to pointers, had his horse impeccably turned for a day's hunting. Oh..! Those were the days!

Hubert was a popular and debonair figure in the Regiment, much respected as a firm but fair Adjutant and then Company Commander who, as someone put it, 'commanded with restraint and good manners'. He always had the looks of a 'Peter Pan of eternal youth' and maintained his immaculate figure, sadly too much so at the end. His flying and racing activities, 'nipping over to Le Touquet for lunch' could have placed him apart but he was always modest and generous. There are two examples of his inherent kindness. He was so appalled that Teddy Stanley, the scion of the Derby family, did not ride that he arranged for him to go on a riding course and made sure he was not called back by the Adjutant for duty. On another occasion he arranged and paid for a Guardsman suffering from cancer and his wife to go on pilgrimage to Lourdes.

He spent his latter years in Wiltshire and Dorset working at Warminster for the Director of Infantry both as a serving officer and until very recently as a retired officer. However, his zest for the good life did not diminish; he established a 'Claret Club' in the Officers' Mess so a selected group could enjoy fine wine. In his spare time he was on the Grand Military Committee for 36 years, was head dressage steward at Aldon Horse Trials, a steward at the Bath and West Show, Chairman of the Parish Council and President of Grenadier Association in Bath and finally he helped me run the Mounted Infantry Club. Tragically five years ago he was diagnosed with cancer and so followed the long race during which he displayed uncomplainingly the same great courage and resolution we all saw during his racing career. It was also a considerable blow to Hubert that his elder brother, Richard, a Life Guard in the 60s, died earlier in the year.

Our sympathy and love go to Sarah his loving widow and James his son, a keen hunting man and daughter Charlotte, whose own child, Archie, arrived in January and gave great pleasure to Hubert, a proud grandfather. They have lost a wonderful father and I am sure they and we will always have a smile on our faces when think of him. As one of his friends put it we should remember Hubert as 'sometime soldier, amateur gentleman rider, pilot but always a Grenadier'.