Obituaries
Major Tony Pyman
Late The Life Guards
by Lieutenant Colonel H S J Scott
formerly The Life Guards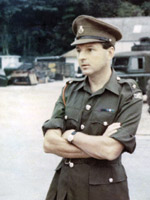 Harold Anthony McArthur Pyman was born on 19th September 1935. He grew up following the drum, spending much of his early life abroad. His father, General H E Pyman, served in Africa, in India, and later became a post war Commander-in-Chief NATO forces in Northern Europe. Tony would travel back to school, to Connaught House in Somerset or Fettes College in Edinburgh, and make the best of his long absences from his parents. The best of it included the flowering of many early loves: the main sport at Fettes was Rugby; several future Scottish internationals were contemporaries. Modestly he said that he had occasionally played in the First XV, but only when someone was away. It was cricket where he shone, and two years in an unbeaten side were the harbingers of so much fun to come. As he left Fettes, he was offered a place to read History at Clare College, Cambridge, to follow in the footsteps of his father. However, it was the time of the Suez Crisis; he said, 'There was a real flap on and we would have felt like rats if we hadn't joined up'. He gave up his place at Cambridge and joined The Life Guards. After Brigade Squad at Caterham in late 1954, he went to Mons as an Officer Cadet from December 1954 to March 1955. He was commissioned as a Second Lieutenant in The Life Guards on 2nd April 1955. He was almost immediately an Armoured Car Troop Leader in Egypt, Canal Zone, Aden and Cyprus (attached to The Blues). A report from this period states he was an 'exceptionally able troop leader'.

He was granted a regular commission, and continued to serve in the Middle East, being back in Aden in 1958/59. In May 1959 he was posted to the Mounted Regiment to be The Life Guards Squadron Second-in-Command. His time included - the visit of President de Gaulle on 7th April 1960 and The King of Nepal in October 1960. The Regiment was commanded at the time by Lt Col Tony Meredith-Hardy, the Squadron by Major C R Philipson, with Simon Cooper and Andrew Wills as Troop Leaders. He was also involved with the Musical Ride. There was so much about the Army life that he loved: the friendship, what would today be called 'banter', the mutual respect, the physical fitness that went with it, the sport, the Mess, the riding and the sense that one really was fulfilling an important role.

His career continued with a staff tour with 4th Guards Brigade at Hubbelrath where more fun was to be had: a photograph records him jumping a fence upsides Sam Gaussen. In 1964 he was back in Cyprus as Intelligence Officer. Among his friends were Nick Gaselee and Richard Head, who both became lifelong friends. In early 1967 he was thanked for the excellent job he had done setting up and running the Household Cavalry Training Squadron at Pirbright. His next post was in the Far East as A Squadron Leader at Selarang Barracks, under Ian Baillie as Commanding Officer. This was followed by a return to mounted duty in 1969 back at Knightsbridge under Jim Scott as Commanding Officer. His tour included taking part in the Sovereign's Escort for The Prince of Wales's Investiture at Caernarfon Castle. The routine of postings then returned him to the staff, working in the Military Attaches Department with Lt Col Blair Stewart-Wilson (Scots Guards), who was later to be a long serving Deputy Master of the Household in Buckingham Palace.

An accomplished and senior major, he returned to the Regiment in Germany, now to Detmold as Second-in-Command, his first tour on Chieftain main battle tank. He played a formidable part in training and preparing the Regiment for its infantry tour in Belfast in 1971/72, serving under Simon Bradish-Ellames and Simon Cooper. Entirely qualified and widely experienced, he was unlucky to miss out on command of the Mounted Regiment. Consequently, he decided that his job at the Joint Warfare Establishment near Salisbury would be his last, retiring in 1975.

He went on to work for many years for the Exmoor National Park Authority where his knowledge of the countryside and kind and patient manner won him great respect and many friends.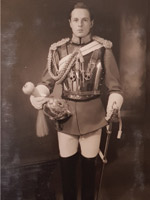 To sum up his military career, and use a metaphor he would have used himself, he had tours in Cyprus, Aden and Oman with the Regiment where the bowling was distinctly unfriendly including periods under heavy fire, fighting the Saudi-Arabian terrorists up the Jebel and elsewhere. Tours in Northern Ireland in the early 70s were perhaps at the very peak of the troubles; but that was the job, and he saw nothing exceptional in getting on with it.
On the matter of cricket, he always said he wouldn't have got a blue at Cambridge, He may well have been right, but for Somerset Under 19, the British Army of the Rhine, the Free Foresters, I Zingari, MCC, and many other clubs he was very successful. His family believe that he gained the greatest enjoyment of all from his times at Burton Court playing for the Guards Cricket Club; he might be opening the batting with Robin Petherick, Simon Cooper or Ronnie Ferguson, the wicket was a good one, the band was playing, the Pimms was on ice, and all was well with the world. So well, indeed, was it with the world one day that he dismissed the famous Australian all- rounder, Keith Miller. When asked, he was typically modest: 'he hit the first three balls for four and for some inexplicable reason was clean bowled by the fourth!'. But Keith Miller saw it differently and said 'well bowled' as he walked off…quite a scalp.

Perhaps his second favourite was horses. He loved all horses; for him, jumping was 90% of it. In his day he had had success point-to-pointing and hunter chasing, with horses such as The Tick, Merry Night, Dollar Pacific and a wonderful horse of Richard Head's, Beau Caprice. He rode this marvellously fast horse, which later won at the Cheltenham Festival over hurdles, in four races over fences, and ranked it as one of the most exciting and hair-raising experiences of his life. In his time in the Army he hunted in Leicestershire, both with friends and brother Charlie too, and loved it: 'The black Household Cavalry horses always went well, and even if you were not the fastest you could keep well up by jumping'. But the Taunton Vale was his favourite, with everything else second best, where he had hunted since his childhood with his mother, brother and sister.

For him, the first and biggest blessing of all was when he met his wife to be, Jane, whom he married in October 1965 in Hodnet Church, Shropshire. Their fifty-three years of marriage were characterised by happiness, variety as they moved around the world, the making and sharing of so many unbreakable friendships, and generosity and endless kindness.

A few years ago, he was diagnosed as having progressive Parkinson's Disease, and for the first time he could offer no shot. Jane fulfilled the promise of 'in sickness and in health' dealing unflinchingly with the challenge. He died on Friday 12th July 2018, aged 82 years old. He is survived by Jane and by his children Victoria and Richard.

Based on the eulogy given by Richard Pyman, Tony Pyman's son