Obituaries
Lieutenant Colonel Sir Seymour Gilbart-Denham KCVO
Late The Life Guards
by Henry Boyt
formerly The Life Guards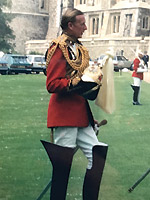 Seymour died peacefully at home in Bungay, on 19th June 2018, with his wife at his side, after a long debilitating illness courageously borne. He was 78, and had been a soldier, courtier, husband, father and grandfather. He was very much loved by his family, and held in deep affection, and loved, by his many friends.

Seymour Vivian Gilbart-Denham was born on 10th October 1939. He was the youngest of three brothers. His father was Major Vivian Vandeleur Gilbart-Denham, Irish Guards. Sadly, when Seymour was seven months old, his father was killed in the abortive Narvik expedition. His mother, born Diana Beaumont, never remarried, although being very beautiful, she had many proposals. Young Seymour had a happy childhood with much sailing and fishing on the Isle of Wight. He was educated at Ludgrove, and then at Tabley House in Cheshire, which he enjoyed, becoming Head Boy.

After leaving school he decided to join the Army, and despite a father and elder brother in the Micks, his cousin, Willie Loyd, was in The Life Guards, and he liked riding, so he decided on the Household Cavalry. After basic training, he found himself as a Trooper in the Royal Horse Guards driving a Ferret scout car, or occasionally riding a donkey, in Cyprus during the EOKA emergency in 1958. After six months, his Squadron Leader, Johnny Watson, and Squadron Second-in-Command, Lord Patrick Beresford, both decided he should go for officer training, so off he went to Mons, impressing the others as he already had a campaign medal. The RSM was the legendary Desmond Lynch, Irish Guards, who had been with his father at Narvik. During the course, RSM Lynch took time in his office to gently and proudly tell Seymour the story of his father's service in Norway.

He was gazetted Second Lieutenant, The Life Guards in December 1959. Two happy years were spent with the regiment, then based at Herford in Germany, with serious soldiering interspersed with ski-ing and fun.

In 1962, Seymour was posted to the Mounted Regiment at Knightsbridge as a Troop Leader. He famously got 'carted' by a bonkers horse, Kestrel, and ended up crashing at Hyde Park Corner with a broken shoulder and a cracked tooth, covered in blood. The horse was shot, but, happily, Seymour wasn't.
He made a generous contribution to the Queen's Life Guard roster after being accompanied on guard by his beloved Labrador, Jespah, who had trotted beside his master all the way from Knightsbridge to the Horse Guards.

In 1964 Seymour was sent to join Ronnie Ferguson's independent A Squadron in Zyggi in Cyprus, in support of the United Nations efforts to keep the Greeks and Turks from each others' throats. He commanded a troop of four Ferret scout cars, driven by young Troopers. His other three car commanders were green young officers, Simon Meredith Hardy, Nigel Percy Davies, and me. We had a wonderful few months, water ski-ing, swimming etc., with some patrolling under Ronnie's eccentric but benign leadership.

After Cyprus, Seymour returned to the Regiment at Windsor, where he was promptly required to take half an Armoured Car Squadron (Saladins and Ferrets) to the Mediterranean on board HMS Fearless. On return, he was sent on a Gunnery course to Lulworth, with a view to an appointment as Regimental Gunnery Officer. However, having completed the course, he was appointed Adjutant! His Commanding Officer was Jim Scott, a most delightful and charming former Grenadier.

In 1966, the Regiment was sent to the Far East, with Seymour still as Adjutant, and with Jim Scott soon handing over command to Ian Baillie. The Regiment was based at Paroi Camp near Seramban in Malaysia, with Squadrons in Singapore, Borneo and Hong Kong. After trips to Singapore and Australia, Seymour handed over as Adjutant to Robin (Stuffy) Petherick and went as Second-in-Command to Arthur Gooch in Hong Kong. This was at the height of the Cultural Revolution, and there were several incidents with demonstrating Chinese on the border fence. One or two lost fingers when the Gurkhas drew their kukris.

The Regiment returned to Windsor in 1968, and Seymour became Second-in-Command to John (Bubbles) Fuller. Life was fairly relaxed, with opportunities for sailing on Gladeye and Bubbles' yacht Jorna and other social occasions. An exercise with the Norwegian Army failed to include a night exercise owing to the absence of night in summer inside the Arctic circle!

Things became much more serious when the 'Troubles' in Northern Ireland started in 1969. Seymour set off with the Squadron at the very start of the deployment to the Province. He was to undertake two more emergency tours.

In 1971 Seymour was promoted to Major and appointed to command the Household Cavalry Training Squadron at the Guards Depot. This was a happy time, with John Ghika (Irish Guards) and later Iain Ferguson (Scots Guards) as his Commanding Officers. During this time he and his brother Brian bought a piece of land and built a house on the Greek island of Paxos, to which they returned for many years for holidays.

1973 saw Seymour back at Windsor as a Squadron Leader. The Commanding Officer, Simon Cooper, who later served with Seymour in The Royal Household, took the Regiment off on what would be Seymour's third emergency tour in Northern Ireland, where he commanded his Squadron effectively in what was known as the 'Bandit Country' of South Armagh.

After a few months back at Windsor, the Regiment moved to Detmold in Germany to take over from The Blues and Royals in the Chieftain equipped Armoured Regiment role. This tour included a six-week deployment to the vast BATUS training area in Alberta, which did enable Seymour and friends to enjoy some R & R leave in the US. Back to Detmold, then some leave in London, where he was introduced to the ravishing Miss Tricia Brooking. A year later, they were engaged.

They were married on 1st April 1976, at which time Seymour was commanding The Life Guards Squadron at Knightsbridge, a fairly eventful time which included The Queen's Silver Jubilee and culminated in the arrival of Miss Sophie, who reported on 27th June 1977 at 9lbs 5oz. She was joined by her sister Georgie on 8th January 1980, at 9lbs 5oz!

Back in Detmold, now as Second-in-Command to Arthur Gooch, Seymour and his family had a happy time, much winter sports and the Field Mastership of the Weser Vale bloodhounds, a Household Cavalry foundation which enjoyed hunting to the 'clean boot' and was usually joined by many local German country sports lovers, which did much for Anglo-German relations.

In 1981 Seymour eventually became a staff officer. To that point he had served in all forms of regimental and Household Division roles, but now needed to become qualified for promotion. He was engaged co-ordinating training at Headquarters 33 Armoured Brigade at Paderborn, much of which involved equine events. His two Brigadiers while he was there, were David Pank, a Shropshire Light Infantryman, who later became a close neighbour and friend in Bungay, and Patrick Brooking formerly the 5th Royal Inniskilling Dragoon Guards, and a distant cousin of Tricia's.

Seymour's next move was a mere twenty miles from Paderborn, to Herford, where he became SO2 Training, Headquarters 4th Armoured Division. This job brought Staff Qualification and the necessary recommendation for promotion to Lieutenant Colonel. A move back to England as a staff officer at United Kingdom Land Forces, Wilton, was short lived, but he and Tricia bought their first house near Tisbury in Wiltshire. After a nasty case of jaundice, Seymour's spirits revived extraordinarily as he was appointed Commanding Officer of the Household Cavalry Mounted Regiment at Knightsbridge, his third tour at Mounted Duty. Knightsbridge work is hard, although almost entirely ceremonial, interspersed with such events as Summer Camp, when the entire regiment in those days rode back to London from Stoney Castle Camp near Pirbright. This was supposed to be a two and a half years' appointment but in the event, only lasted eighteen months.

In late autumn 1986 Seymour had a telephone call from Major-General Lord Michael Fitzalan-Howard, then Colonel of The Life Guards, to ask whether he would be interested in taking over from Sir John Miller as Crown Equerry. Following an interview with The Queen and Prince Philip, just before Christmas, he received a letter from Lord Airlie, the Lord Chamberlain, saying he was commanded by The Queen to invite him to take over on 1st August 1987. Thus started what probably was the high point of Seymour's service life.

The job of Crown Equerry is an extremely demanding one. Not only is he responsible for all the carriages, horses, cars and the staff of the Royal Mews, but is also charged with the co-ordination of many events such as State visits, the Garter Ceremony, State Opening of Parliament, Queen's Birthday Parade, Royal Windsor Horse Show, and Royal Ascot. Seymour did this job for fifteen years.

Major-General Sir Simon Cooper writes:

'Seymour succeeded Colonel Sir John Miller in 1987 as the Crown Equerry. Thus he became responsible for the horses, cars and staff of the Royal Mews. This was a challenging job as the Royal Household was undergoing a major financial reshuffling of all Departmental costs. John had left before the Mews' costs were reviewed by the Privy Purse, and Seymour was faced with putting together a plan to meet the new structure for the Mews. This he did without disrupting the smooth running of the staff he had just inherited.

He was a very popular Crown Equerry who had quickly understood the differing tasks that faced his team of grooms and chauffeurs to meet all the requirements of the Royal Family.

After the annual Carols in the Royal Mews, he and Tricia would give a Christmas party to which The Queen came each year. The Crown Equerry's house was a splendid place in which to entertain and the Gilbart-Denhams will long be remembered for their generous hospitality.

The Mews ran with great success under his stewardship and he will be much missed by all those with whom he worked'.

During his time at the Palace, he and Tricia, plus Sophie and Georgie who had a flat of their own, lived in the beautiful house designed by John Nash for the Crown Equerry, situated inside the grounds of Buckingham Palace at the entrance to the Royal Mews. This was certainly one of the major advantages of the job, and there were many other joyful occasions, with the occasional contretemps such as the two very grand ladies who pitched up for lunch at Windsor Castle prior to the Carriage Procession, both wearing the same dress and scheduled to sit in the same carriage! There were sadnesses too; the fire at Windsor Castle, several Royal divorces and the tragic death of The Princess of Wales.

Seymour still found time and energy to undertake a number of other positions: Liveryman of the Coach and Coach Harness Makers and Loriners, Freedom of the City of London (he could drive his sheep over London Bridge), Vice President of the Royal Parks Equitation Trust, and Vice President of the Greater London Region of Riding for the Disabled.

The summit of his time as Crown Equerry was probably the production of 'All the Queen's Horses' a spectacular hatched up by Seymour, Sir Piers Bengough, Michael Parker and Simon Brooks-Ward, to celebrate the Queen's Golden Jubilee. Held in the arena of the Royal Windsor Horse Show, with the back drop of the Castle, it was an outstanding success, with 1000 horses and 3500 participants, and culminating with a Sovereign's Escort of the Household Cavalry, with the Gold State Coach.

A final note; shortly before his retirement, Seymour received a bidding to the Drawing Room at the palace. On arrival, he was required to kneel, received a tap on his shoulder from his Sovereign, and retired in a seemly manner to tell his astonished wife that she was now Lady Gilbart-Denham, as her husband was now a Knight Commander of the Victorian Order.

On his retirement from the Royal Mews, Seymour and Tricia were technically homeless, having sold their Wiltshire house shortly after moving in to the Crown Equerry's house. To our great good fortune, they decided to move to the Waveney valley, on the Suffolk/Norfolk border.

They had many friends locally, and relations including Seymour's cousin, Belinda Somerleyton, whose husband had been Master of the Horse. Initially they rented Kirby Cane Hall from the Crisp family. Simon Crisp, late RHG, had been an old friend, and their stewardship on behalf of his son, Ed, was immaculate.

Then they bought The Old Rectory in Earsham, a village just outside Bungay. They also acquired some adjacent land and made many other improvements. After a few years, they sold 'The Old Rec' and bought a beautiful town house in the middle of Bungay. There they stayed.

Seymour and Tricia were active participants in the not over restrained social life of the Waveney Valley. Although due to a little hearing loss, he reduced his shooting (he was an excellent shot) he took up golf, at which he became adept, playing locally and at Swinley with many old friends.

As a neighbour, I can only say how much pleasure his and Tricia's presence gave us and our mutual friends.

Let Chaucer sum it all up:

A knight there was, and he a worthy man,
Who, from the moment that he first began
To ride about the world, loved chivalry,
Truth, honour, freedom and all courtesy.
Though so illustrious, he was very wise
And bore himself as meekly as a maid.
He never yet had any vileness said,
In all his life, to whatsoever wight.
He was a truly perfect, gentle knight.