Obituaries
Captain Jeremy Durham Matthews
Late Irish Guards
by Peter Nutting JP DL
formerly Irish Guards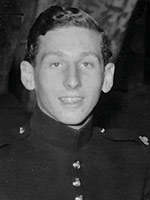 Jeremy Durham Matthews died in May 2017. Initially as a National Serviceman, he served from 1953 to 1959 in Germany, then Egypt and finally the UK. Jeremy's father Jack Durham Matthews was serving with the Regiment in Norway and was killed when a German bomb went down the funnel of the ship they were on. His mother subsequently married another Mick officer, Captain Johnnie Moore.

Jeremy was brought up in Sussex and went to Ludgrove and Eton. Here he excelled on the Athletics field winning both the 100 and 200 meters. He was also a leading member of the School Soccer team where his speed of foot made him a formidable opponent. He left Eton early as it was thought he was not paying enough attention to the academic side of life and went to a crammer to make sure he passed his School Certificate. It was then Brigade Squad culminating in being commissioned from Eaton Hall in February 1953.

He was sent to the Battalion in Germany just in time to assist with packing up and embarking on the Troopship Lancashire to the Middle East. The Battalion's new home was Berwick Camp at Fanara on the Bitter Lakes through which runs the Suez Canal. We were on active service and the Egyptians took the odd pot-shot at us. Jeremy was energetic, full of life and well liked despite his affectionate nickname of 'The Rat'. This was based on his long nose, but perhaps also his penchant and love of playing practical jokes on his fellow officers which was something he continued to perform on friends for the rest of his life. He was also known as 'Pissquick', based on his athletic ability. He organised and ran a very successful Battalion Athletics and Cross-Country team in which he was a star performer as well as being the only officer good enough to be in the Soccer team. He was also an excellent tennis and squash player.

In 1955 he applied for and was granted a Short Service Commission. A year later he was promoted to captain and sent on an Motor Transport Officer's course where his work and interest was described as very unsatisfactory and a recommendation was made that he was unsuitable to be an MTO. Nevertheless, he was appointed MTO. A year later his Commanding Officer reported that he was an outstanding success in this appointment showing great initiative and considerable ability. He was also Intelligence Officer and Adjutant for a month.

After a spell at Pirbright looking after the Boys' Company, he knew he did not want to make a career of the Army, so he left in 1959 to pursue a career as a broker at Lloyd's. He proved to be a great producer of business from mainly overseas clients. Some years later he was managing director of a brokerage firm which was bought by Lonrho run by the legendary Tiny Rowland. Jeremy was able to buy the business back when it is alleged Tiny Rowland discovered Jeremy's expense and travel account was greater than his own. Good times followed, and Jeremy acquired a number of racehorses and became involved in importing silk from Thailand.

Jeremy's Army confidential reports usually said his strong point was not administration and sadly that contributed to his broking business ceasing to trade in the 1980s. Jeremy then retired to Hampshire where he became an enthusiastic grower of vegetables and started to collect stamps.
In 1962 Jeremy married Joanna Hoare. Initially they lived in Essex where they had three daughters and a son. He was immensely proud of his children; Kate danced with the English National Ballet, and Lucy had a short and successful career acting in films and television.

In 2001 they moved to Wincanton where Jeremy had a devastating stroke which knocked the stuffing out of him and slowed him greatly. His wonderful wife, Joanna, helped him recover so he was to be seen regularly at Wincanton Races. He acquired an allotment and continued growing vegetables, as well as concentrating on his stamp collection. He also enjoyed wonderful support from his family. He and Joanna became greatly involved in local affairs and particularly the church so there was a very large turnout for his funeral.