Obituaries
Major Nicholas Barne CVO
Late Scots Guards
by Major The Honourable Sir Lachlan Maclean BT CVO
formerly Scots Guards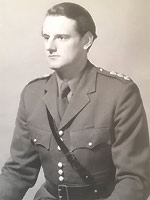 Nicholas died peacefully on Saturday 21st October 2017. After Eton, Nicholas became an officer cadet at Mons on 30th June 1966. He was posted to the 2nd Battalion in BAOR in March 1967.

He had various appointments as a platoon commander and company second in command in the 2nd Battalion which included two tours of Belfast. In 1974 he served with the United Nations in Cyprus. In 1975 he returned to Eton as the Adjutant of the Combined Cadet Force and in 1978 was posted to the 1st Battalion where he served as both Training Officer and as a company commander and which included another tour of Northern Ireland. He retired from the Army on 5th January 1979. Nick was someone who had the ability to both lead and to serve and this is demonstrated in the many different roles and duties he has undertaken throughout his life. In 1974, prior to his deployment to Cyprus, he married my sister Janet and they enjoyed a very happy marriage for over 40 years.

Although he left the Army in 1979, he continued an association through his membership of the Third Guards Club and with the Norfolk Army Cadet Force. His time as Commandant of the latter saw a widespread re-organisation and re-invigoration of that force.

Following his time in the army, he went to work for their Royal Highnesses, The Duke and Duchess of Gloucester and Her Royal Highness Princess Alice in Kensington Palace.

He was admitted to the Order of the Hospital of St John of Jerusalem, as a Brother Officer in 1990 and as a Commander Brother in 1995.
These were positions that Nick took very seriously especially in his support for the Eye Hospital in Jerusalem as well as in the County Priory Group in Norfolk. He also was involved in the Broads Society, which he became chairman of in 2006, and assisted in the formation of the Broads Trust and enabled the creation of the 'Love the Broads' scheme.

Nick has also supported the Church of England, serving on both the Diocesan Board of Finance and the Diocesan Glebe Committee from 2004 to 2013.
But it is not just the things that Nick has done, they are many. It is in the way in which he conducted himself and the manner of his relations with others, which people remember with such affection.

A former chaplain with the Army Cadet Force speaks of the 'breath of fresh air' that Nick provided, and of his energetic enthusiasm and boundless capacity for encouragement. Those in the Eye Hospital staff also noted his capability for encouragement; he was described as having 'a wonderful ability to make you feel you were the person he wanted to talk to and so put you at ease'.

Those who remember his contribution with the Broads Society have described his sensible approach that steered them through times and situations that have been defined as 'an extremely trying and complex number of years'. He left behind a legacy for the new Broads Trust on a more stable footing.
Nick was diagnosed with MS over 30 years ago. Although it took a toll on his physical ability to do some pursuits he had previously enjoyed, it never dampened his urge to work or his spirit to live life to the full. He was never heard to complain and always remained positive. Throughout the last years of his illness, Janet looked after Nick with great compassion with the help and support of their two sons Alasdair and Hamish and their families.

Perhaps the best way to describe Nick came in a letter that Janet received after his death in which he was described as 'kind and generous and a true gentleman'. That has certainly been my experience as a brother-in-law and foremost a friend.