Obituaries
Garrison Sergeant Major
(Warrant Officer I) 'Perry' Mason MBO MBE
Late Coldstream Guards
by Major General Sir Evelyn Webb-Carter KCVO OBE DL
formerly Grenadier Guards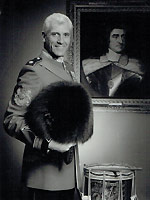 Perry Mason, who would have been known to all Guardsmen for a generation as the immaculate and powerful Garrison Sergeant Major at Horse Guards from 1988 until 2002, died from cancer on 31st October 2017.

As one of his Major Generals, and there were five of us, I admired this paragon of a Guardsman, 6ft 6in tall, impeccably turned out whether in plain clothes or tunic order and with a wonderful sense of humour. I have very happy memories of my association with 'Perry'; one was during the one day of rehearsal for Queen Elizabeth The Queen Mother's 100th Birthday Pageant on Horse Guards in 2000 when he was becoming impatient with the many civilian participants and with his stentorian voice shouted,'unless you get a ....move on Her Majesty will be 101!'.Only a few moments later an emissary of small stature from No 10 Downing Street came over to him to say that 'ladies' in the No 10 Offices were upset by the strong language being used and urged him to desist. Perry gave him a withering look and continued as before whilst the 'little man' retreated in confusion. Perry Mason understood well the power of his position as a Sergeant Major in the Brigade of Guards. The Queen Mother was Lying in State in Westminster Hall in 2002 and The Queen came to pay her respects with almost every dignitary in the land present. As The Queen was leaving, Prime Minister Blair thought he could leave as well and began to move much too early and well before other persons of much greater rank. Perry spotted this and barked, loud enough to be heard by almost everyone 'Stand still the Prime Minister, Sir!' One of my correspondents tells me of a similar story when Perry was organising a Household Cavalry step lining party for a VIP visiting Chief of the Defence Staff at the North Door of the MOD; everybody exiting the building for lunch descended the steps on the outside of the line of Troopers, except the Permanent Under Secretary who walked out straight down the steps. Perry had no compunction in 'rifting him out of it "big time"'. Such was this great man.

Perry had periodic back problems and once early on in his time at Horse Guards he had to go into Woolwich Hospital but unfortunately his absence coincided with the Spring State Visit in the Home Park at Windsor. The Brigade Major at the time tells me that only Perry had the experience of this new site for a Guard of Honour and he arranged for him to be sprung from hospital in the Major General's staff car so that, ashen faced, he could mastermind the rehearsals. He had a great sense of duty.

Perry Mason was a joy to work with, professional, direct and anxious to have no misunderstanding. He was a true professional and his one ambition was to ensure that the Household Division was a 'Study in Excellence'. But be that as it may, several of my correspondents have made much of his 'twinkle' and mischievous sense of humour. He also had a great sense of theatre and in designing ceremonies he understood the impact on the spectator. No more so when he and I had to design a part for The King's Troop, Royal Horse Artillery on The Queen's Birthday Parade in 1998, something which was not universally popular at the time! His suggestions for the parade were approved in their entirety by The Queen. This and other ceremonial innovations which improved the spectacle are a memorial to that sense of theatre he possessed. To many of us he was charming, amusing and, as someone else put it, he was a 'gentleman to the core' although Guardsmen who attracted his ire might not necessarily have thought so!

Alan Mason was born in Middlesbrough and joined the Army in 1962 aged 15 as a Junior Guardsman at Pirbright and soon he assumed his sobriquet 'Perry'. He became The Junior Drum Major and this knowledge and experience became very useful later in life. Clearly, he was a promising young man as his rise through the ranks in the Coldstream Guards was meteoric. He joined the Corps of Drums of the 2nd Battalion in March 1965 when the Battalion was in Aden. It was a difficult time as three Guardsmen had recently been killed but Perry took this in his stride demonstrating his 'sang froid' we all got to know. He was a success on operations and soon there was a tussle as to whether he should remain in the Drums or go to duty. Fortunately, he chose to go to duty. By February the next year he was a lance corporal (interestingly his instructor on the Corporal's course was Alec Dumon) and in the same year to lance sergeant. This man was motoring so it is no surprise to learn that he was sergeant at 22 and a company quartermaster sergeant at 25. Then he was sent to Sandhurst as a Colour Sergeant Instructor where he was to mix with the rest of the Army and make his own particular mark. The Adjutant at Sandhurst at the time, and later one of the five Major Generals he served, remembers that he stood out from the crowd and that cadets and many of the staff were much in awe of this young martinet. Those who surf the net might be amused to view a YouTube clip of him in action at Sandhurst; it's vintage Perry. Seeing him in uniform early in my time in Horse Guards, I could not fail to notice the absence of the LS and GC Medal and when I asked why, the story of his striking a grenadier sergeant at the Depot when Company Sergeant Major was revealed. We laughed at the irony but the CGS at the time, Sir Roger Wheeler, was a great admirer and we set about trying to appeal to the appropriate authority but sadly in vain and regardless of CGS's recommendation. What hurt was not so much the absence of the medal but the fact that he could not join the Yeoman of the Bodyguard. And so, in spite of this hiccup, it was not long before he rose to be Regimental Sergeant Major of the 1st Battalion Coldstream, commanded by Brian Bartellot, and at the age of 36, serving in Caterham, Falkland Islands and Hong Kong where he finished his tenure. Johnny Wardle was the Commanding Officer at the time and cleverly identified him as a 'shoe in' for the post of Garrison Sergeant Major, taking over from Alec Dumon in 1987, no easy task. And so started 15 remarkable years.

His period in London encompassed many major State and Ceremonial events including The Queen's Golden Jubilee, and the funerals of the Queen Mother and Diana, Princess of Wales. He also had to contend with major restructuring issues in 1990 when 'Options for Change' was thrust on us all. This might have affected the Household Division rather more than it did were it not for the powerful arguments deployed by Perry. I was Colonel ASD 1 at the time and I remember a demonstration on Horse Guards of the massed bands for the purposes of deciding if they could be reduced. The audience were civil servants and MOD officers like myself. Act 1 was the full band as established at the time and Act 2 was the bands at the size MOD wanted had. I had to smile as the contrast was dramatic, the civil servants retreated, and the bands were reprieved from any reduction. His final parade was a Review in The Golden Jubilee year of all the Queen's Bodyguards, The Honourable Corps of Gentleman at Arms, The Chelsea Pensioners,The Royal Company of Archers, and Yeoman of The Guard. He had stage managed the whole affair and was the last man at the rear of the march past and it is said that even The Queen shed a small tear for it was the end of a remarkable career. Interestingly at an early stage of his tenure as Garrison Sergeant Major he was put under pressure to apply for a commission, fortunately for us all, and particularly Perry himself, he declined. It is perhaps worth reflecting that although he may well have been better off in rank and pay, his reputation and standing would never have reached the fame he achieved as one of the all-time greats as a legendary Sergeant Major.

Sadly, he contracted lung cancer in 2010 and although he appeared to recover, he succumbed in 2017 to a further appearance. He was characteristically robust and courageous over the period of his illness and even embarked on fundraising activities for Macmillan, Coldstream Kids and Old Coldstreamers Corps of Drums. Perry Mason leaves a wife, a son, who is a serving lieutenant colonel in the Royal Engineers, and two daughters by a previous marriage to whom we convey our deepest sympathy. Perry was a remarkable man and all those who served with him or even admired from afar will mourn his death and treasure his memory.