Obituaries
Major General B C Gordon Lennox CB MBE
Late Grenadier Guards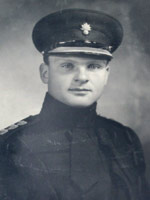 Bernard Gordon Lennox, who has died aged 85, was, to many who served with him, the very embodiment of the Regiment. With a formidable and decisive personality, his reputation for upholding and insisting upon the very highest standards ensured that his presence was felt before, during and after any meeting with him. Highly principled, resolute and with firm views, he commanded the respect of all those he encountered, but it was his understanding, support, concern and care for all that earned him the love and affection of a huge body of devotees.

Born in London, the eldest son of Lieutenant General Sir George and Lady Gordon Lennox (Nan), he was Page of Honour to King George VI between 1946 and 1949. After Eton, where he shone academically and played cricket for the First XI, and Sandhurst, where he won the Sword of Honour, he was commissioned into the Grenadier Guards in 1953. This was the regiment of both his grandfather, Major Lord Bernard Gordon Lennox, who was killed in action near Ypres in 1914, and his father who had served gallantly during the Second World War. Thereafter his career advanced as, forthright and full of ideas, he proved his exceptional ability and relentless energy in both regimental and staff appointments.

Postings to Berlin with the 1st Battalion and Assistant Adjutant of the 2nd Battalion in Egypt were followed by Adjutant of the 1st Battalion. It was here that his formidable reputation for high standards became established. A keen eye for detail ensured that any drop in standards through laziness, lack of effort, or inefficiency was rewarded with extra duties or time in the guardroom. There are not many who served with him then who haven't a story to tell, now fondly remembered, or indeed many (or any) who escaped penalty. Unusually for the time, whilst Adjutant, he found time to make the best decision of his life: to marry Sally-Rose Warner, his devoted wife of over 59 years.

After the Royal Military College of Science and Staff College between 1962 and 1963, he returned in 1964 as Captain of The Queen's Company, 1st Battalion, an appointment he viewed with honour for the rest of his life. In 1965, they deployed on a six-month operational peace keeping tour in Cyprus with the United Nations. When not keeping the peace, he played cricket and polo and on one occasion, while playing polo, he was told that a murder had been committed nearby. He galloped off to investigate, wearing his United Nations blue cravat and carrying his polo stick. The startled villagers had never seen anything like it. Uncomfortable without a tie, he wore that cravat for many years thereafter as his attempt to 'dress down'.

Bernard was Police Military Operations Officer on the staff of HQ Land Forces Hong Kong in the 1966-67 emergency. He organised excellent police and military liaison in quelling serious riots and joint actions against revolutionaries, and recognised the dividend of a strong Special Branch and the firm action taken by the Gurkha Brigade on the Hong Kong border which perhaps influenced his approach later during the Northern Irish troubles. He was appointed MBE at the end of his tour for his 'sympathetic and energetic efforts to quell the riots'.

In 1968, when Bernard went to the Guards Depot as Officer Commanding 14th Company, he was responsible for the Athletics team which swept all before them. This was followed as Senior Major 2nd Battalion during its deployment on one of the first emergency tours to Northern Ireland in 1969. At a Christmas party in the Officers' Mess, a game of charades was played, and Bernard was handed a folded piece of paper with his nickname 'Bernie the Bolt' written on it. He leapt about the room firing imaginary arrows, with his brother officers all pretending that they could not guess what he was attempting to mime.

Swapping his operational combat clothes for a frock coat, he was appointed Brigade Major, Household Division, in 1971, where once again his reputation for high standards was reinforced, this time amongst the whole of the Household Division. His next appointment was Commanding Officer 1st Battalion, stationed in Münster but soon to deploy to Londonderry on a four-month emergency tour from March to July 1974. Bernard set about the task with his customary energy and tough, uncompromising approach, and his priorities were first to dominate the Creggan and neutralize the gunmen, and second to build up the intelligence picture. It was a very successful tour and a final flourish from the local press read: 'Grenadiers - A New Arrest Interrogation Record?'. Londonderry was a safer place as a result and Bernard, who had personally arrested many terrorists, was Mentioned in Despatches. On leaving, as was the custom, he sent a valedictory signal to Brigade HQ to which the Brigadier replied personally with words to the effect 'Thank you for your signal; on the contrary may I say how much I have enjoyed serving under your command'.

The Battalion returned to Chelsea and, during 1975, The Duke of Edinburgh was appointed Colonel and the Battalion trooped the Colour, with Bernard, following some opera training to hone his voice, commanding. He relinquished command in January 1976, to his brother David Gordon Lennox on a six-week training exercise in Kenya. Neither he nor his brother had any hair to speak of which prompted two more nicknames, on this occasion ones that he knew. On handing over, Bernard once again sent a signal, this time to the Major General in London. 'Kojak, handed over to Brojak, I'm alright Jack' to which the response was 'Don't be so bloody cheeky... signed Stavros, 11th Precinct'. Bernard was an aficionado of Kojak, Starsky and Hutch, Dad's Army, 'Allo 'Allo, Agatha Christie, opera and all musical theatre, much of which inspired open, guffawing laughter and enjoyment.

He became a colonel in 1977 and was on the Army Directing Staff at the RAF Staff College. The following year he was promoted to brigadier and appointed Commander 20th Armoured Brigade at Detmold, then temporarily named 'Task Force H'. Still very much at a time of Cold War, this was a plum, much coveted job, and he threw his energies at it. All those under his command didn't quite know what had hit them, but by the time he returned to London, to the Royal College of Defence Studies, in 1980, the Brigade's standards had been vastly improved.

Bernard was posted to HQ South East District as Deputy Commander and Chief of Staff the following year. During this time General Galtieri invaded the Falkland Islands and 5th Infantry Brigade formed part of the Task Force sent to recapture the islands. Try hard as he might, he didn't manage to sail with them, but having made a telephone call to some old family friends, he secured many thousands of acres of Welsh mountains where he trained them in the run-up to embarkation.

He was promoted to major general in 1982 and assumed the appointment of GOC of the British Sector in Berlin from 1983 to 1985. His responsibilities were to train and administer the servicemen under his command, be responsible for Rudolf Hess (the last prisoner in Spandau Prison), the large Berlin budget, to act as the Senior British Diplomatic Representative in West Berlin, and to be the sheet anchor for the British intelligence agencies based in Berlin. He and Sally-Rose were fantastically convivial hosts to Royalty and Ministers, and their house, the Villa Lemm, positively buzzed with life and laughter. It was a challenging but fascinating and ever-changing job and Bernard was appointed CB at the end of his tour. Finally, in 1986 he became Senior Army Member at the Royal College of Defence Studies, before retiring from the Army in 1988.

After a short dalliance with a motoring association, he threw his all, as was his custom, into his next challenges. This was no real retirement, just a different focus, making the most of all his passions.

He remained close to the Regiment and was appointed the first honorary Regimental Lieutenant Colonel in 1989, the same year the Regimental Council was formed and chaired by the Colonel, The Duke of Edinburgh. That Nijmegen Company was retained when the 2nd Battalion finally went into suspended animation in 1994 was in no small measure due to Bernard's drive and determination. He handed over in 1995.

Bernard inherited Gordon Castle on the River Spey on the death of his father in 1988. There was much to do as is so often the case with generational change. He stabilised the situation but at the same time realised what an important role Gordon Castle fishings had to play in the region and on the river as a whole. He brought his trademark directness and common sense to the management of the river and sat on the Spey District Fishery Board until he retired in 2008. He ran the family involvement with fishing, as Chairman of the Brae Water Trust, with a very polite rod of iron. Bernard loved nothing more than entertaining friends, his children and his children's friends at Gordon Castle. He loved supporting and encouraging them and there are many stories of him stalking up and down the river, immaculately dressed as ever, willing fish to get on the end of their lines, it's surprising that they didn't just do as they were told and there are a few stories of him taking off shoes and socks and plunging into the river to net a fish. He ran Gordon Castle and the fishing on the Spey, the largest single managed fishery in Britain, often catching thousands of salmon a year, for 20 years.

Bernard was asked to be Chairman of the Guards Polo Club at Smith's Lawn at the point at which it morphed from a military to a civilian club. He was an accomplished and respected Chairman from 1992 to 1999. These were testing times with old military traditions trying to meld with the high stakes and the pressures of the modern, commercial, sponsor driven, world. He did it with aplomb, toughness and diplomacy, although many suspected he would have loved to have treated some of the billionaire 'patrons' as he had dealt with those young officers all those years ago when he was Adjutant. He was gloriously unaware of the 'A list' celebrities he had to entertain in the Royal Box, although he did once observe that a certain Oscar winning female American movie star was 'very well put together'!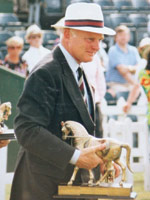 Bernard may have had soldiering in his blood, but he was a sportsman at heart and a family man to the core. He had played all manner of sports to a high standard and was an excellent shot and accomplished fisherman.

Although there are famous stories about his unique batting stance and slow scoring as an opening batsman, none compare with the serendipitous story of him eking out a single to reach a century when well over the normal playing age, and the Regimental Band at Burton's Court striking up 'The British Grenadiers' on the boundary as if to celebrate. Thereafter, he kept up with his love of cricket, having previously played extensively for the Eton Ramblers, I Zingari, Free Forresters and at Burton's Court, by following his children and grandchildren across the country to support and cajole them. Having previously embarrassed many an ADC, beaten by a man twice their age, he was still playing squash, another passion, well into retirement, humiliating younger players, including his sons. Having said that, his children and grandchildren have benefited enormously from Bernard's genes, excelling at cricket, squash and tennis.

He married Sally-Rose Warner in 1958 and she was a wonderful support all his life. They had three sons: Edward, who followed him into the Grenadiers and also won the Sword of Honour at Sandhurst, and is now a leadership consultant; Angus, also a Grenadier, who later became an investment banker and now runs the family Gordon Castle Estate; and Charlie, who founded the Keyholding Company in London. He was 'Bompa' to his eight grandchildren. His wife and sons all survive him.

'Legendary, awe inspiring Grenadier, the like of which may never be seen again'

There will be a Thanksgiving Service to celebrate the life of Bernard Gordon Lennox at The Guards Chapel at 2.30 pm on Friday 23rd March 2018