Obituaries
David Yorke DL
Late The Life Guards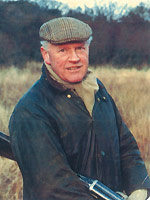 David Yorke, who has died aged 89, joined the Army as a National Serviceman in January 1946, and trained at Windsor and the Brigade Squad at Caterham. Commissioned into The Life Guards in March 1947, he returned briefly to Combermere Barracks before serving for two years, mostly in Palestine. He was a talented jazz pianist who made several records with Humphrey Lyttelton and, on one occasion, accompanied Bing Crosby.

David was the only son of Major John (Jock) Yorke and Eleanor, daughter of Sir Ralph Assheton, first Baronet Assheton of Downham, and was born in London in 1927. The Yorke family of Halton Place trace their ancestry directly back to Sir Richard Yorke, a Lord Mayor of the city of York, who was knighted by Henry VII shortly after the Battle of Bosworth; David was the 15th generation to descend from him.

David and his sister, Anne, enjoyed an idyllic childhood at the family home, Halton Place, near Hellifield, riding ponies and swimming in the River Ribble. They spent a great deal of time with their cousins at Downhall Hall, a special place in David's heart, and he later managed the Downham estate for his uncle, the first Lord Clitheroe. Music was an integral part of family life and when friends were invited to dinner, there would always be a sing-song around the piano, with the family playing different instruments. In later life he said that his happiest memories derived from playing music together as a family. His father and grandfather could play a tune by ear, a gift passed on to young David. Being able to play the piano without seeing the keys was, David always said, useful when people wanted to dance in the dark at parties. David and his father Jock played at local dances and hunt balls when the band was having a rest and there were yearly revues and concerts in Downham village hall and Christmas dances in the Institute at Halton West. After Aysgarth and Eton, David decided to join the Army, and sought an interview with The Life Guards. When asked by the Colonel why he wanted to join the Regiment, he replied: 'Because there's a marvellous band, Sir!', to which the Colonel replied 'Nobody's ever said that before. You'd better come along'. Following initial training at Combermere, including motorbike training, at which he did not excel, with a tree and a damaged leg bringing that to a close. Eight weeks of hard training at Caterham was a shock in contrast to his initial training at Windsor, many evenings of which he spent playing the piano in pubs. Pressed into service as a street liner for the Victory parade in 1945 at Hyde Park Corner, that evening he caroused outside Buckingham Palace, led by Humphrey Lyttleton playing the trumpet as he was carted along in a wheelbarrow. After being commissioned there followed many nights in London clubland (The Coconut Room, the Four Hundred, The Milroy, and his favourite, The Orchid Room), with an agreeably easy time at Combermere, broken by orders for cross country runs at 0700hrs. In June 1947 he sailed for Palestine, arriving at Port Said, from where he travelled extensively in the area, including Aqaba and on to Jerusalem, Tel Aviv, Amman, and Jaffa.

David recalled that they did not have an easy time with patrols and convoys and being shot at quite frequently. He led a troop of two Daimlers and two Dingos, the best command in the British Army under his Squadron Leader, Derek Cooper. There was also time for polo, hunting jackal with a pack formed from the hounds left behind by previous regiments, shooting ducks and chukar for the troop to eat.

After being demobbed at Easter 1948 he went up to Trinity College, Cambridge to study Land Agency where he spent considerably more time socialising and riding than studying. He played in a rumba band, a reel band, and for the Cambridge Foot Lights, and frequently returned to the family home in Yorkshire. In his early career as a young land agent he spent a very enjoyable year as an assistant on the Chatsworth estate and later worked on the Gawthorpe estate at Burnley. In 1956 he met Susie Egerton at a Harewood Three Day Event and they married the following year, eventually settling at Hall Foot in Worston, Clitheroe, where they lived happily with their three children for 38 years before moving to a smaller house close to Halton Place. With his beloved Susie by his side, David was able to focus on his career as a land agent. In 1954 he had been approached by the fellow land agent Russell Ingham, who suggested they join forces. They took over an office in Clitheroe and with £20 in the kitty, opened an account and worked happily together until Russell Ingham's untimely death in his 50s. They were both well-known and respected locally and had created a strong reputation. Later the firm managed 30 estates in Yorkshire and Lancashire, carrying out sales and valuations of a variety of properties, including agriculture and forestry, shooting and fishing rights. The company amalgamated with the family firm of Miller and Miller based in Burnley in 1960 but after this, Ingham and Yorke politely declined repeated offers to merge with firms, both local and national. His youngest son Charlie, who did a Short Service Limited Commission with The Life Guards, joined the firm in 1996. In addition to being a country land-owner, he was a former Chairman of the Bench, and a Deputy Lieutenant for Lancashire.

Country pursuits were a vital part of David's life and he particularly enjoyed shooting with friends and family. The Yorke family had formerly owned the Bewerley Estate in Nidderdale which was sold at the time of the great crash in 1923 owing to double death duties. The Estate contained some grouse moors of note including Grimwith, Bewerley, Grassington, Sigsworth, Ramsgill, Heathfield, Middlesmoor and Sixsmith. David felt understandably at home on these moors, and was glad that John Yorke's butt on the first drive of Ramsgill moor is still known by that name.

Music continued to play a significant role in David's life, leading to some entertaining episodes which he loved to relate. One of these took place at Swinton Park, North Yorkshire, in 1975 when David and Susie attended a party where an elderly Bing Crosby was a fellow guest. After dinner, Bing was persuaded to start singing but his son Harry found it difficult to accompany him as he responded to requests, not having the sheet music to hand. Someone suggested that David should play, knowing of his gift of playing by ear. Bing looked askance at the idea of an amateur pianist but soon realised that David was easily capable, and could even ask him what key he required before embarking on the next tune. Bing would reply with a smile 'Keep it down, Dave, keep it down'. Bing found it hard to recall the lyrics, but Susie and a friend were able to whisper them into his ears, and an unforgettable evening followed. Despite several years of ill health, David's sense of fun, his charm, manners and good humour remained with him to the end of his life. His wife Susie survives him together with their children Johnny, Sophia and Charlie and their six grandchildren.