Forthcoming Publications
THE DRUM HORSE IN THE FOUNTAIN & OTHER TALES OF
THE HEROES AND ROGUES IN THE GUARDS
The Authors:
Christopher Joll, formerly The Life Guards and
Anthony Weldon, formerly Irish Guards
In conversation with The Editor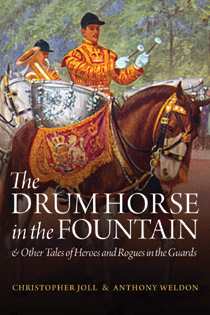 Christopher Joll and Anthony Weldon have written a book, The Drum Horse in the Fountain, the main title of which perhaps needs some explanation. Alfred Reginald Jones, a Welshman born in 1907, joined the Royal Horse Guards (The Blues) in 1925. Three years later, he bought himself out of the Army, and in 1929 had his first break in films, changed his name to Ray Milland, and never looked back. He did, however, later recall an incident during the Escort for the State Visit of the King of Afghanistan, when he was drunk on parade, and lost control of his horse. 'I went right through the Mounted Band… The drum horse, who was at least nineteen years old, ended up in the [Queen Victoria] Memorial fountain, and I finished up in Buckingham Palace courtyard, alone and without a friend in the world'.

Ray Milland probably falls into both the 'Heroes' and 'Rogues' category, but this matters not; he has provided a delightfully obscure title to whet the appetite, and there are plenty more surprises in this book to keep the reader both interested and intrigued.

The idea was originally Anthony's … 'I always thought that the Household Division is viewed by most people as an establishment institution, while I think it is rather more than that, and sometimes not establishment at all'. Or perhaps, as both authors acknowledged, the seemingly strict and hierarchical structure that is the Guards is indeed a wider mirror of the British way of life. Cosmopolitan and tolerant in style, the Household Division is a 'broad church' that is far more inclusive than outsiders might imagine, capable of adapting and changing, while hanging onto its core values. And part of that is the ability to absorb a wide range of talented and diverse people within its ranks.

There have indeed been some extraordinary Guardsmen over the years who do not fall into the typical, predictable, or conventional category and, with that in mind, Anthony began to compile a list of possible candidates. When Christopher came on board as co-author, both he and Anthony agreed some ground-rules for inclusion; rules that on occasions have been subtlety adapted to include those that are too good to miss. Like, for example, the dodgy but charming Bob Boothby, friend of the Kray Brothers, an adulterer who had a long affair with the wife of a prime minister and former Guardsman, Harold Macmillan. Boothby, who served in the Household Brigade Officer Cadet Battalion, was never actually commissioned, but he nearly was, and wanted to be had the First World War not ended in 1918.

Another rule that the authors have applied is one that, for sensible and pragmatic reasons, they really have followed. Barring the occasional mention of living 'Heroes', there is no explicit discussion of 'Rogues' who are still alive. We all know that there are a few around, and their stories may in due course be recorded in print!

The careers of 'absolutely obvious people' are briefly illustrated with little known anecdotes. In the main, however, the book covers obscure individuals who may be known only to a few readers, while there are others whose inclusion in the book will come as a delightful surprise. The authors started with 100 names, the list soon grew to 300, they very nearly missed one or two that should and have now been included, and as Christopher says, the list of those who are not here 'is almost endless'. And who knows? There may indeed be another volume in due course!

As Christopher says, 'this is not a book about all the Guards' Greats; it's more about casting a light into the Guards' shadows, where there are some incredible people' who deserve to be remembered, for various reasons. They range from the 'very good to the very bad' and Christopher suggests that there is probably 'no other organisation in the United Kingdom that could happily accommodate quite so many eccentrics as the Household Division does'.

This book is not intended to be a history. It has been written in a thematic rather than a chronological style, and it is certainly not a simple anthology. For example, there is a chapter on relatively conventional heroes, those who are remembered for acts of valour, and then later chapters on spies, gentlemen adventurers, those in entertainment, sportsmen, and those who have been collectively described as Doolally. For example, Captain Evan Morgan, 2nd Viscount Tredegar, formerly Welsh Guards, who became an occultist, lived alone with a zoo of animals and birds and, in the Second World War, joined MI8, in charge of the carrier pigeon service to and from occupied France.

The unfortunate King George IV, who had to be literally tipped onto his horse, could have been included in the Doolally chapter but actually appears later in the book, the same king who convinced himself that he had served in the Household Cavalry at Waterloo, a claim that The Iron Duke would tactfully acknowledge by observing that 'I have often heard your Majesty say so'.

As Anthony describes it, this book aims to 'animate' the more formal regimental histories, mentioning characteristics or individuals that might not otherwise have received a mention. The authors also seek to 'debunk' some public misconceptions about the Household Division. Anthony cites the example of John Kenneally, VC, formerly Irish Guards, who wrote to The Daily Telegraph shortly before his death in 2000 to rebuke Peter Mandelson for calling Irish Guards officers 'chinless wonders'. The Guards can often be a tempting and easy target, and this book acts as a healthy anecdote to the cheap jibe.

I asked the authors to identify some of their favourites. For Christopher, one high on the list was Eddie Chapman (Agent ZigZag), a former Coldstream Guardsman, 'the ultimate rogue', but also 'an incredibly brave man'. Offering himself to the Germans as a spy while languishing in a Jersey jail, the story might have ended there - in treachery and with no redemption. However, once he had convinced the Germans that he wanted to spy for them (not an easy task) he was parachuted into Norfolk, turning himself in to the local police who handed him over to the Army; one of his guards was a Coldstreamer who recognised him immediately. From there on, Chapman was an effective and loyal MI5 double-agent. The fact that he acquired an Iron Cross along the way, and immediately slipped back to a life of crime when the war was over, merely adds to the story. A rogue who was also something of a hero, extraordinarily brave, and loyal to his country, despite his natural tendency as a profiteer.

Anthony recalls an entirely different kind of Guardsman, Father 'Dolly' Brookes, who served in the First World War as an Irish Guardsman (in Harold Alexander's battalion), became a Catholic priest in the 1930s, and then applied to re-join his regiment as a Chaplain. In 1942, during the same fighting that earned John Kenneally his Victoria Cross, Father Dolly was awarded a Military Cross, for not only capturing six German soldiers, carrying just his blackthorn, but for comforting the dying without any thought for his safety. To quote his citation 'The sight of Father Brookes pacing up and down reading his breviary under heavy fire has restored the confidence of many a shaken man'. A remarkable, inspiring, and humble person, who did not even think to mention his Military Cross in his memoirs. Anthony recalls meeting Father Dolly briefly, in 1968, when he visited the Irish Guards on exercise in Canada. By then a Downside monk, 'he was amazing, carrying his blackthorn, and still an Irish Guardsman, through and through'.

The story of Father Dolly appears in a chapter entitled The Church Militant, which Christopher suggests will surprise some readers with the number of senior churchmen who have been Guardsmen. For example, Lieutenant Robert Runcie MC, known in the Scots Guards as 'Killer Runcie', and later an Anglian priest and Archbishop of Canterbury. Or Cardinal Edward Howard, a former officer in the 2nd Life Guards, who took part in the Escort at the funeral of The Duke of Wellington before departing for Rome. As a footnote, another scion of the distinguished Catholic family, the House of Howard, was Michael Fitzalan-Howard, a much-revered Colonel of The Life Guards and former Scots Guardsman. He recalled that in the early 1970s, he and a group of other Guardsmen actively lobbied for Robert Runcie to be the next Archbishop of Canterbury because, being a Guardsman, he was the right person for the job. The Household Division is indeed a 'broad church'.

The book is not all just about Guardsmen. There is even a chapter on the menagerie of animals that have formed close attachments to the Household Division. The horses (especially), and dogs, parrots, geese, and a bear, to name just a few. And, of course, the Scots Guards cows, Bella and Bertha, that provided fresh milk during the First World War.

Another story told here is one of Anthony's favourites: the account of the 'Welsh Guards lady that followed the Welsh Guards all the way up through Italy with her Naafi wagon'. A camp-follower 'in the nicest way possible' she also married a Welsh Guards officer, and then another when the first one died. She was fiercely protected by the Welsh Guards; she was one of them.

Both authors were very aware that they might be accused of being biased towards their own regiments, but they hope that this is not the case. They have tried to be balanced, while reflecting the longevity of each regiment. The rules for inclusion are strict, in that individuals needed to have been members of the Household Division as now constituted. But here again, the rules have just occasionally been bent, a bit, when the story is a good one.

Like for example, the completely eccentric Lieutenant Colonel Alfred Wintle MC, formerly the 1st Royal Dragoons (now amalgamated with the Royal Horse Guards), who tried to commandeer an RAF aeroplane to fly to France after the French surrender in 1940, to collect some French pilots. When a senior RAF officer refused this demand, Wintle threatened to shoot him, and was arrested and taken to the Tower of London.

And that's just a brief taster! There are plenty more in this delightful book - more than just a stocking filler for Christmas 2018!

The Drum Horse in the Fountain & Other Tales of the Heroes and Rogues in The Guards, by Christopher Joll and Anthony Weldon. Published by Nine Elms Publishing. www.bene-factum.co.uk

The book will be published in December 2018, in time for Christmas.