More Features
THE CAMBRIAN PATROL 2017
by Captain J Cochrane-Dyet
The Blues and Royals
Cambrian Patrol is a physically demanding military skills competition designed to assess individual and team military skills as well as testing leadership and navigation over difficult terrain and through often changing and challenging weather conditions. It is the largest military competition worldwide and this year HCMR competed with 126 teams including 26 overseas teams, as well as the Brazilian Special Forces team we hosted again at Hyde Park Barracks.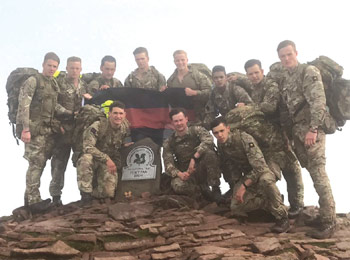 The Team stop for a photograph on top of Pen Y Fan
during the Fan Dance
Entering a strong team was a challenge because of the burden of a busy ceremonial schedule and the relative lack of conventional soldiering experience amongst our junior soldiers. Scheduling training around our ceremonial duties was challenging, but we made the best of what we had. For example, to simulate the arduous demands of loaded marches across the Black Mountains, we did the same up the stairwells in Peninsula Tower. We also conducted two preparatory exercises: one week in the Brecon Beacons focusing on physical training and navigation, which included the completion of the infamous Fan Dance route march; and an invaluable week on a field exercise on Bovington Training Area taught by CoH Lewis LG which focused on developing outstanding recce skills. CoH Lewis' instruction was superb and the whole team developed automatic SOPs, while individuals were given responsibility for specific roles, ensuring our drills were performed confidently in the competition itself.

We also spent a preparatory week with the Brazilian Patrol team, and CoH Lewis and I ensured that they were confident in handling our weapons and understanding our orders process. We both benefited from observing the other team's SOPs. We conducted physical training together including river-crossing in the local Imperial College swimming centre, and combat PT where the Brazilians showed us some terrifyingly effective Brazilian Ju-jitsu techniques. I think they enjoyed watching the Changing of the Queen's Life Guard and the 4 o'clock Inspection, and they were interested in our ceremonial duties that are a far cry from their work which focuses mainly on combating arms-smugglers and drug cartels in the favelas of Rio and the Amazon jungle.

We drew the short-straw on our start time on Monday (0400) and therefore began the patrol already sleep-deprived. We also lost one of the JNCOs who became very ill the day before, and therefore we conducted the patrol with only one JNCO and officer, making us the most junior patrol in the competition phase. However, the whole team worked incredibly hard, and we managed numerous minor injuries including twisted knees and barbed-wire gashes to ensure that we completed the patrol as a team. The team's enthusiasm for something different was contagious and ensured morale and competitive spirit were high throughout. The team's good humour was essential in conquering some particularly challenging climbs over drenched gradients, and a freezing river crossing, and ensuring that we put in a performance worthy of our gold-medal result, the first ever for HCMR! We all benefited from the experience, it was a good challenge, particularly the physical demands of carrying 40kg of kit over the Black Mountains and the sleep deprivation made the tactical challenges even more difficult. The Troopers especially have learned a huge amount and it will serve them well when they move to Windsor to join the Household Cavalry Regiment. They should be proud of their achievement, especially in beating 117 other teams, including some very experienced infantry teams, and 59 teams who failed to finish altogether.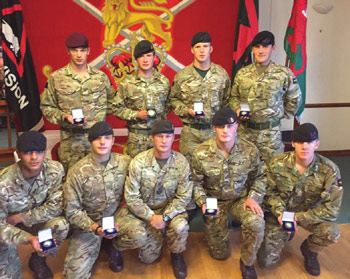 The Team celebrate winning gold